First updated 08/09/2002(ver.1-3)
Last updated 05/31/2021(ver.2-5)
Written in Japanese roman letters by Eiichi Shibuya (C)
Picture "Eiri Genji Monogatari"(1650 1st edition)


  
AHUHI
Tale of Hikaru-Genji's Konoe-Daisho era from January at the age of 22 to January at the age of 23

1 Tale of Lady Rokujo Aoi and Rokujo contest for the seat to viewing a parade

New Mikado accedes, Genji feels everything changed---Yononaka kahari te noti, yorodu mono-uku obosa re
Viewing a parade, Aoi and Rokujo contest for the seat---Sonokoro, Saiwin mo ori wi tamahi te
Genji views Kamo-matsuri with Murasaki---Kehu ha, Nideu-no-win ni hanare ohasi te
2 Tale of Aoi Aoi is possessed by Lady Rokujo's evil spirit

3 Tale of Murasaki Genji gets married to Murasaki

Genji gets married to Murasaki---Nideu-no-win ni ha, kata-gata harahi migaki te
Ceremony in the marriaged night---Sono yo-sari, wi-no-ko-motihi mawira se tari
New Year greeting to Court and Sadaijin's residence---Tuitati no hi ha, rei no, Win ni mawiri tamahi te zo
1 Tale of Lady Rokujo Aoi and Rokujo contest for the seat to viewing a parade
[1-1 New Mikado accedes, Genji feels everything changed]
 Yononaka kahari te noti, yorodu mono-uku obosa re, ohom-mi no yamgotonasa mo sohu ni ya, karugarusiki ohom-sinobiariki mo tutumasiu te, koko mo kasiko mo, obotukanasa no nageki wo kasane tamahu, mukuyi ni ya, naho ware ni turenaki hito no mikokoro wo, tuki se zu nomi obosi nageku.

 Ima ha, masite hima nau, tadaudo no yau nite sohi ohasimasu wo, Imagisaki ha kokoroyamasiu obosu ni ya, Uti ni nomi saburahi tamahe ba, tatinarabu hito nau kokoroyasuge nari. Worihusi ni sitagahi te ha, ohom-asobi nado wo konomasiu, yo no hibiku bakari se sase tamahi tutu, ima no ohom-arisama simo medetasi. Tada, Touguu wo zo ito kohisiu omohi kikoye tamahu. Ohom-usiromi no naki wo, usirometau omohi kikoye te, Daisyau-no-kimi ni yorodu kikoye tuke tamahu mo, kataharaitaki monokara, uresi to obosu.

 Makoto ya, kano Rokudeu-no-miyasumdokoro no ohom-hara no Zenbau no Himegimi, Saiguu ni wi tamahi ni sika ba, Daisyau no mikokorobahe mo ito tanomosige naki wo, "Wosanaki ohom-arisama no usirometasa ni kototuke te kudari ya si na masi." to, kanete yori obosi keri.

 Win ni mo, kakaru koto nam to, kikosimesi te,

 "Komiya no ito yamgotonaku obosi, tokimekasi tamahi si monowo, karugarusiu osinabe taru sama ni motenasu naru ga, itohosiki koto. Saiguu wo mo, kono miko-tati no tura ni nam omohe ba, idukata ni tuke te mo, oroka nara zara m koso yokara me. Kokoro no susabi ni makase te, kaku sukiwaza suru ha, ito yo no modoki ohi nu beki koto nari."

 nado, mikesiki asikere ba, waga mikokoti ni mo, geni to omohi sira rure ba, kasikomari te saburahi tamahu.

 "Hito no tame, hadigamasiki koto naku, idure wo mo nadaraka ni motenasi te, womna no urami na ohi so."

 to notamahasuru ni mo, "Kesikara nu kokoro no ohokenasa wo kikosimesi tuke tara m toki." to, osorosikere ba, kasikomari te makade tamahi nu.

 Mata, kaku Win ni mo kikosimesi, notamahasuru ni, hito no ohom-na mo, waga tame mo, sukigamasiu itohosiki ni, itodo yamgotonaku, kokorogurusiki sudi ni ha omohi kikoye tamahe do, mada arahare te ha, wazato motenasi kikoye tamaha zu.
 Womna mo, nigenaki ohom-tosi no hodo wo hadukasiu obosi te, kokoro toke tamaha nu kesiki nare ba, sore ni tutumi taru sama ni motenasi te, Win ni kikosimesi ire, yononaka no hito mo sira nu naku nari ni taru wo, hukau simo ara nu mikokoro no hodo wo, imiziu obosi nageki keri.

Kakaru koto wo kiki tamahu ni mo, Asagaho-no-himegimi ha, "Ikade, hito ni ni zi." to hukau obose ba, hakanaki sama nari si ohom-kaheri nado mo, wosawosa nasi. Saritote, hito nikuku, hasitanaku ha motenasi tamaha nu mikesiki wo, Kimi mo, "Naho koto nari." to obosi wataru.

 Ohotono ni ha, kaku nomi sadame naki mikokoro wo, kokorodukinasi to obose do, amari tutuma nu mikesiki no, ihukahinakere ba ni ya ara m, hukau mo we'zi kikoye tamaha zu. Kokorogurusiki sama no mikokoti ni nayami tamahi te, mono-kokorobosoge ni oboi tari. Medurasiku ahare to omohi kikoye tamahu. Tare mo tare mo uresiki monokara, yuyusiu obosi te, samazama no ohom-tutusimi se sase tatematuri tamahu. Kayau naru hodo ni, itodo mikokoro no itoma naku te, obosi okotaru to ha nakere do, todaye ohokaru besi.

 [1-2 Viewing a parade, Aoi and Rokujo contest for the seat]

 Sonokoro, Saiwin mo oriwi tamahi te, Kisakibara no Womna-sam-no-miya wi tamahi nu. Mikado, Kisaki to, koto ni omohi kikoye tamahe ru Miya nare ba, sudi koto ni nari tamahu wo, ito kurusiu obosi tare do, koto miya tati no saru beki ohase zu. Gisiki nado, tune no kamwaza nare do, ikamesiu nonosiru. Maturi no hodo, kagiri aru ohoyakegoto ni sohu koto ohoku, midokoro koyonasi. Hitokara to miye tari.

 Gokei no hi, kamdatime nado, kazu sadamari te tukaumaturi tamahu waza nare do, oboye koto ni, katati aru kagiri, sitagasane no iro, uhe no hakama no mon, muma kura made mina totonohe tari. Toriwaki taru senzi nite, Daisyau-no-kimi mo tukau maturi tamahu. Kanete yori, monomiguruma kokorodukahi si keri.
 Itideu no ohodi, tokoro naku, mukutukeki made sawagi tari. Tokoro dokoro no ohom-saziki, kokorogokoro ni si tukusi taru siturahi, hito no sodeguti sahe imiziki mimono nari.

 Ohotono ni ha, kayau no ohom-ariki mo wosawosa si tamaha nu ni, mikokoti sahe nayamasi kere ba, obosi kake zari keru wo, wakaki hitobito,

 "Ide ya! Onoga-doti hiki-sinobi te mi habera m koso, haye nakaru bekere! Ohoyosobito dani, kehu no monomi ni ha, Daisyau-dono wo koso ha, ayasiki yamagatu sahe mi tatematura m to su nare. Tohoki kuniguni yori, meko wo hiki-gusi tutu mo maude ku naru wo. Goranze nu ha, ito amari mo haberu kana!"

 to ihu wo, Ohomiya kikosimesi te,

 "Mikokoti mo yorosiki hima nari. Saburahu hitobito mo sauzausige na' meri."

 tote, nihaka ni megurasi ohose tamahi te, mi tamahu.

 Hi take yuki te, gisiki mo wazato nara nu sama nite ide tamahe ri. Hima mo nau tati watari taru ni, yosohosiu hiki-tuduki te tati wadurahu. Yoki nyoubau-guruma ohoku te, zahuzahu no hito naki hima wo omohi sadame te, mina sasi-noke sasuru naka ni, amziro no sukosi nare taru ga, sitasudare no sama nado yosibame ru ni, itau hiki-iri te, honoka naru sodeguti, mo no suso, kazami nado, mono no iro, ito kiyora nite, kotosara ni yature taru kehahi siruku miyuru kuruma, hutatu ari.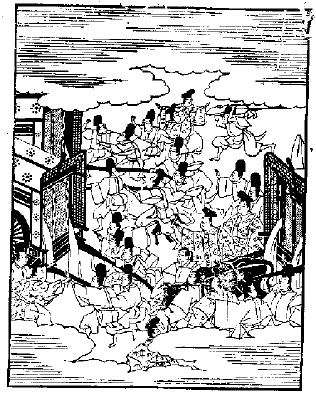 "Kore ha, sarani, sayau ni sasi-noke nado subeki mikuruma ni mo ara zu."

 to, kutigohaku te, te hure sase zu. Idukata ni mo, wakaki mono-domo wehi sugi, tati-sawagi taru hodo no koto ha, e sitatame ahe zu. Otonaotonasiki gozen no hitobito ha, "Kaku na!" nado ihe do, e todome ahe zu.
 Saiguu no ohom-haha Miyasumdokoro, mono-obosi midaruru nagusame ni mo ya to, sinobi te ide tamahe ru nari keri. Turenasi tukure do, onodukara mi siri nu.

 "Sabakari nite ha, sa na iha se so."

 "Daisyau-dono wo zo, gauke ni ha omohi kikoyu ram."

 nado ihu wo, sono ohom-kata no hito mo mazire ba, itohosi to mi nagara, youi se m mo wadurahasikere ba, sirazugaho wo tukuru.

 Tuhini, mikuruma-domo tate tuduke ture ba, hitodamahi no oku ni osiyara re te, mono mo miye zu. Kokoroyamasiki wo ba saru mono nite, kakaru yature wo sore to sira re nuru ga, imiziu netaki koto, kagiri nasi. Sidi nado mo mina osi-wora re te, suzuro naru kuruma no dou ni uti-kake tare ba, mata nau hitowaroku kuyasiu, "Nani ni, ki tura m" to omohu ni kahi nasi. Mono mo mi de kahera m to si tamahe do, tohori ide m mo hima naki ni,

 "Koto nari nu."

 to ihe ba, sasuga ni, turaki hito no omahewatari no mata ruru mo, kokoroyowasi ya! Sasano kuma ni dani ara ne ba ni ya, turenaku sugi tamahu ni tuke te mo, nakanaka mikokorodukusi nari.

 Geni, tune yori mo konomi totonohe taru kuruma-domo no, ware mo ware mo to nori kobore taru sitasudare no sukima-domo mo, saranu kaho nare do, hohowemi tutu sirime ni todome tamahu mo ari. Ohotono no ha, sirukere ba, mamedati te watari tamahu. Ohom-tomo no hitobito uti-kasikomari, kokorobahe ari tutu wataru wo, osi-keta re taru arisama, koyonau obosa ru.

 "Kage wo nomi mitarasigaha no turenaki ni
 mi no uki hodo zo itodo sira ruru"

 to, namida no koboruru wo, hito no miru mo hasitanakere do, me mo aya naru ohom-sama, katati no, "Itodosiu idebaye wo mi zara masika ba." to obosa ru.

 Hodohodo ni tuke te, sauzoku, hito no arisama, imiziku totonohe tari to miyuru naka ni mo, kamdatime ha ito koto naru wo, hitotokoro no ohom-hikari ni ha osi-keta re ta'meri. Daisyau no ohom-kari no zuizin ni, tenzyau no zou nado no suru koto ha tune no koto ni mo ara zu, medurasiki gyaugau nado no wori no waza naru wo, kehu ha Ukon no Kuraudo-no-zou tukaumature ri. Saranu Mizuizin-domo mo, katati, sugata, mabayuku totonohe te, yo ni mote-kasidukare tamahe ru sama, ki kusa mo nabika nu ha aru mazige nari.

 Tubo-sauzoku nado ihu sugata nite, nyoubau no iyasikara nu ya, mata ama nado no yo wo somuki keru nado mo, tahure madohi tutu, monomi ni ide taru mo, rei ha, "Anagati nari ya! Ana niku." to miyuru ni, kehu ha kotowari ni, kuti uti-sugemi te, kami ki kome taru ayasi no mono-domo no, te wo tukuri te, hitahi ni ate tutu mi tatematuri age taru mo. Wokogamasige naru sidunowo made, onoga kaho no nara m sama wo ba sira de, wemi sakaye tari. Nani to mo miire tamahu maziki, ese-zuryau no musume nado sahe, kokoro no kagiri tukusi taru kuruma-domo ni nori, sama kotosarabi kokorogesau si taru nam, wokasiki yauyau no mimono nari keru.
 Masite, koko kasiko ni uti-sinobi te kayohi tamahu tokorodokoro ha, hito sire zu nomi kazu nara nu nageki masaru mo, ohokari.

 Sikibukyau-no-miya, saziki nite zo mi tamahi keru.

 "Ito mabayuki made nebi yuku hito no katati kana! Kami nado ha me mo koso tome tamahe."

 to, yuyusiku obosi tari. Himegimi ha, tosigoro kikoye watari tamahu mikokorobahe no yo no hito ni ni nu wo,

 "Nanome nara m nite dani ari. Masite, kau simo, ikade."

 to mikokoro tomari keri. Itodo tikaku te miye m made ha obosi yora zu. Wakaki hitobito ha, kikinikuki made mede kikoye aheri.

 Maturi no hi ha, Ohotono ni ha mono mi tamaha zu. Daisyau-no-kimi, kano mikuruma no tokoro arasohi wo, manebi kikoyuru hito ari kere ba, "Ito itohosiu usi" to obosi te,

 "Naho, atara omorika ni ohasuru hito no, mono ni nasake okure, sukusukusiki tokoro tuki tamahe ru amari ni, midukara ha sasimo obosa zari keme domo, kakaru nakarahi ha nasake kahasu beki mono to mo oboi tara nu ohom-okite ni sitagahi te, tugitugi yokara nu hito no se sase taru nara m kasi. Miyasumdokoro ha, kokorobase no ito hadukasiku, yosi ari te ohasuru mono wo, ikani obosi umzi ni kem."

 to, itohosiku te, maude tamahe ri kere do, Saiguu no mada moto no miya ni ohasimase ba, sakaki no habakari ni kototuke te, kokoroyasuku mo taimen si tamaha zu. Kotowari to ha obosi nagara, "Nazo ya, kaku katami ni sobasobasikara de ohase kasi." to, uti-tubuyaka re tamahu.

 [1-3 Genji views Kamo-matsuri with Murasaki]

 Kehu ha, Nideu-no-win ni hanare ohasi te, maturi mi ni ide tamahu. Nisi-no-tai ni watari tamahi te, Koremitu ni kuruma no koto ohose tari.

 "Nyoubau idetatu ya?"

 to notamahi te, Himegimi no ito utukusige ni tukurohi tate te ohasuru wo, uti-wemi te mi tatematuri tamahu.

 "Kimi ha, iza tamahe. Morotomoni mi m yo."

 tote, migusi no tune yori mo kiyora ni miyuru wo, kaki nade tamahi te,

 "Hisasiu sogi tamaha za' meru wo kehu ha, yoki hi nara m kasi."

 tote, koyomi-no-hakase mesi te, toki toha se nado si tamahu hodo ni,

 "Madu, Nyoubau ide ne."

 tote, waraha no sugata-domo no wokasige naru wo goran zu. Ito rautage naru kami-domo no suso, hanayaka ni sogi watasi te, ukimon no uhe-no-hakama ni kakare ru hodo, kezayaka ni miyu.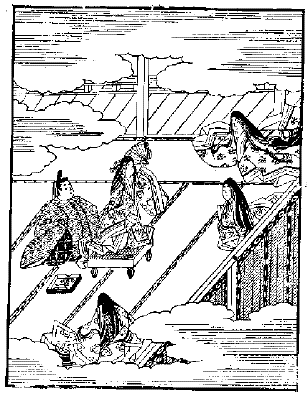 "Kimi no migusi ha, ware soga m." tote, "Utate, tokoroseu mo aru kana! Ikani ohi yara m to su ram?"

 to, sogi wadurahi tamahu.

 "Ito nagaki hito mo, hitahigami ha, sukosi mizikau zo a' meru wo, muge ni okure taru sudi no naki ya, amari nasake nakara m."

 tote, sogi hate te, "Tihiro" to ihahi kikoye tamahu wo, Seunagon, "Ahare ni katazikenasi" to mi tatematuru.

 "Hakari naki tihiro no soko no mirubusa no
 ohi yuku suwe ha ware nomi zo mi m"

 to kikoye tamahe ba,

 "Tihiro to mo ikade ka sira m sadame naku
 miti hiru siho no nodokekara nu ni"

 to, mono ni kaki tuke te ohasuru sama, raurauziki monokara, wakau wokasiki wo, medetasi to obosu.

 Kehu mo, tokoro mo naku tati ni keri. Mumaba-no-otodo no hodo ni tate wadurahi te,

 "Kamdatime no kuruma-domo ohoku te, mono-sawagasige naru watari kana!"

 to, yasurahi tamahu ni, yorosiki womna-guruma no, itau nori kobore taru yori, ahugi sasi-ide te, hito wo maneki yose te,

 "Koko ni yaha tata se tamaha nu? Tokoro sari kikoye m."

 to kikoye tari. "Ika naru sukimono nara m?" to obosa re te, tokoro mo geni yoki watari nare ba, hikiyose sase tamahi te,

 "Ikade e tamahe ru tokoro zo to, netasa ni nam."

 to notamahe ba, yosi aru ahugi no tuma wo wori te,

 "Hakanasi ya hito no kazase ru ahuhi yuwe
 kami no yurusi no kehu wo mati keru
 Sime no uti ni ha."

 to aru te wo obosi idure ba, kano Naisi-no-suke nari keri. "Asamasiu, huri gataku mo imameku kana!" to, nikusa ni, hasitanau,

 "Kazasi keru kokoro zo ada ni omohoyuru
 yaso-udibito ni nabete ahu hi wo"

 Womna ha, "Turasi" to omohi kikoye keri.

 "Kuyasiku mo kazasi keru kana na nomi si te
 hito-danome naru kusaba bakari wo"

 to kikoyu. Hito to ahinori te, sudare wo dani age tamaha nu wo, kokoroyamasiu omohu hito ohokari.
 "Hitohi no ohom-arisama no uruhasikari si ni, kehu uti-midare te ariki tamahu kasi. Tare nara m? Nori narabu hito, kesiu ha arazi haya!" to, osihakari kikoyu. "Idomasikara nu, kazasi arasohi kana!" to, sauzausiku obose do, kayau ni ito omonakara nu hito hata, hito ahinori tamahe ru ni tutuma re te, hakanaki ohom-irahe mo, kokoroyasuku kikoye m mo, mabayusi kasi.

2 Tale of Aoi Aoi is possessed by Lady Rokujo's evil spirit
[2-1 Lady Rokujo gets ill after not viewing the parade]
 Miyasumdokoro ha, mono wo obosi midaruru koto, tosigoro yori mo ohoku sohi ni keri. Turaki kata ni omohi hate tamahe do, ima ha tote, huri hanare kudari tamahi na m ha, "Ito kokorobosokari nu beku, yo no hitogiki mo hitowarahe ni nara m koto." to obosu. Saritote tati-tomaru beku obosi naru ni ha, "Kaku koyonaki sama ni mina omohi kutasu beka' meru mo, yasukara zu, turi suru ama no uke nare ya." to, okihusi obosi wadurahu ke ni ya, mikokoti mo uki taru yau ni obosa re te, nayamasiu si tamahu.

 Daisyau-dono ni ha, kudari tamaha m koto wo, "Mote-hanare te aru maziki koto." nado mo, samatage kikoye tamaha zu,

 "Kazu nara nu mi wo, mimauku obosi sute m mo kotowari nare do, ima ha naho, ihukahinaki nite mo, goranzi hate m ya, asakara nu ni ha ara m."

 to, kikoye kakadurahi tamahe ba, sadame kane tamahe ru mikokoro mo ya nagusamu to, tatiide tamahe ri si misogi-gaha no arakari si se ni, itodo, yorodu ito uku obosi ire tari.

 Ohotono ni ha, ohom-mononoke meki te, itau wadurahi tamahe ba, tare mo tare mo obosi nageku ni, ohom-ariki nado bin-naki koro nare ba, Nideu-no-win ni mo tokidoki zo watari tamahu. Saha ihe do, yamgotonaki kata ha, koto ni omohi kikoye tamahe ru hito no, medurasiki koto sahe sohi tamahe ru ohom-nayami nare ba, kokorogurusiu obosi nageki te, misuhohu ya nani ya nado, waga ohom-kata nite, ohoku okonaha se tamahu.

 Mononoke, ikisudama nado ihu mono ohoku ideki te, samazama no nanori suru naka ni, hito ni sarani utura zu, tada midukara no ohom-mi ni tuto sohi taru sama nite, koto ni odoroodorosiu, wadurahasi kikoyuru koto mo nakere do, mata, katatoki hanaruru wori mo naki mono hitotu ari. Imiziki Genza-domo ni mo sitagaha zu, sihuneki kesiki, oboroke no mono ni ara zu to miye tari.

 Daisyau-no-kimi no ohom-kayohi dokoro, koko kasiko to obosi aturu ni,

 "Kono Miyasumdokoro, Nideu-no-kimi nado bakari koso ha, osinabete no sama ni ha obosi tara za' mere ba, urami no kokoro mo hukakara me."

 to sasameki te, mono nado toha se tamahe do, sasite kikoye aturu koto mo nasi. Mononoke tote mo, wazato hukaki ohom-kataki to kikoyuru mo nasi. Sugi ni keru ohom-menoto datu hito, mosiha, oya no ohom-kata ni tuke tutu tutahari taru mono no, yowame ni ideki taru nado, munemunesikara zu zo, midare araha ruru. Tada tukuduku to, ne wo nomi naki tamahi te, woriwori ha mune wo seki age tutu, imiziu tahe gatage ni madohu waza wo si tamahe ba, ikani ohasu beki ni ka to, yuyusiu kanasiku obosi awate tari.

 Win yori mo, ohom-toburahi hima naku, ohom-inori no koto made obosi yora se tamahu sama no katazikenaki ni tuke te mo, itodo wosige naru hito no ohom-mi nari.
 Yononaka amaneku wosimi kikoyuru wo kiki tamahu ni mo, Miyasumdokoro ha tada nara zu obosa ru. Tosigoro ha ito kaku simo ara zari si ohom-idomi gokoro wo, hakanakari si tokoro no kuruma arasohi ni, hito no mikokoro no ugoki ni keru wo, kano Tono ni ha, sa made mo obosi yora zari keri.

 [2-2 Genji visits to Lady Rokujo]
 Kakaru ohom-monoomohi no midare ni, mikokoti, naho rei nara zu nomi obosa rure ba, hoka ni watari tamahi te, misuhohu nado se sase tamahu. Daisyau-dono kiki tamahi te, ika naru mikokoti ni ka to, itohosiu, obosi okosi te watari tamahe ri.
 Rei nara nu tabidokoro nare ba, itau sinobi tamahu. Kokoro yori hoka naru okotari nado, tumi yurusa re nu beku kikoye tuduke tamahi te, nayami tamahu hito no ohom-arisama mo, urehe kikoye tamahu.

 "Midukara ha sasimo omohi ire habera ne do, oya-tati no ito kotokotosiu omohi madoha ruru ga kokorogurusisa ni, kakaru hodo wo mi sugusa m tote nam. Yorodu wo obosi nodome taru mikokoro nara ba, ito uresiu nam."
 nado, katarahi kikoye tamahu. Tune yori mo kokorogurusige naru mikesiki wo, kotowari ni, ahare ni mi tatematuri tamahu.

 Utitoke nu asaborake ni, ide tamahu ohom-sama no wokasiki ni mo, naho huri hanare na m koto ha obosi kahesa ru.
 "Yamgotonaki kata ni, itodo kokorozasi sohi tamahu beki koto mo ideki ni tare ba, hitotu kata ni obosi sidumari tamahi na m wo, kayau ni mati kikoye tutu ara m mo, kokoro nomi tuki nu beki koto."
 Nakanaka monoomohi no odorokasa ruru kokoti si tamahu ni, ohom-humi bakari zo, kuretukata aru.

 "Higoro, sukosi okotaru sama nari turu kokoti no, nihaka ni ito itau kurusige ni haberu wo, e hiki-yoka de nam."

 to aru wo, "Rei no kototuke" to, mi tamahu monokara,

 "Sode nururu kohidi to katu ha siri nagara
 ori tatu tago no midukara zo uki
 'Yamanowi no midu' mo kotowari ni."

 to zo aru. "Ohom-te ha, naho kokora no hito no naka ni sugure tari kasi." to mi tamahi tutu, "Ikanizoya mo aru yo kana! Kokoro mo katati mo, toridori ni sutu beku mo naku, mata omohi sadamu beki mo naki wo." Kurusiu obosa ru. Ohom-kaheri, ito kurau nari ni tare do,
 "Sode nomi nururu ya, ikani? Hukakara nu ohom-koto ni nam.

 Asami ni ya hito ha ori tatu waga kata ha
 mi mo sobotu made hukaki kohidi wo

 Oboroke nite ya, kono ohom-kaheri wo, midukara kikoye sase nu."
 nado ari.

 [2-3 Lady Rokujo's evil spirit appears on Aoi]

 Ohotono ni ha, ohom-mononoke itau okori te, imiziu wadurahi tamahu. "Kono ohom-ikisudama, ko-titi Otodo no goryau nado ihu mono ari." to kiki tamahu ni tuke te, obosi tudukure ba,
 "Mi hitotu no uki nageki yori hoka ni, hito wo asikare nado omohu kokoro mo nakere do, mono-omohi ni akugaru naru tamasihi ha, sa mo ya ara m."
 to obosi sira ruru koto mo ari.

 Tosigoro, yorodu ni omohi nokosu koto naku sugusi ture do, kau simo kudake nu wo, hakanaki koto no wori ni, hito no omohi keti, naki mono ni motenasu sama nari si misogi no noti, hitohusi ni obosi ukare ni si kokoro, sidumari gatau obosa ruru ke ni ya, sukosi uti-madoromi tamahu yume ni ha, kano Himegimi to obosiki hito no, ito kiyora nite aru tokoro ni iki te, tokaku hiki-masaguri, ututu ni mo ni zu, takeku ikaki hitaburu kokoro ideki te, uti-kanaguru nado miye tamahu koto, tabi kasanari ni keri.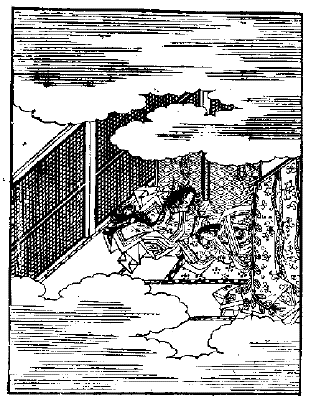 "Ana, kokorou ya! Geni, mi wo sute te ya, ini kem." to, utusigokoro nara zu oboye tamahu woriwori mo are ba, "Sa nara nu koto dani, hito no ohom-tame ni ha, yosama no koto wo simo ihi ide nu yo nare ba, masite kore ha, ito you ihi nasi tu beki tayori nari." to obosu ni, ito nadatasiu,
 "Hitasura yo ni nakunari te, noti ni urami nokosu ha yo no tune no koto nari. Sore dani, hito no uhe nite ha, tumi hukau yuyusiki wo, ututu no waga mi nagara, saru utomasiki koto wo ihi tuke raruru sukuse no uki koto. Subete, turenaki hito ni ikade kokoro mo kake kikoye zi."
 to obosi kahese do, omohu mo mono wo nari.

 [2-4 In this fall, Saigu moves her plase]

 Saiguu ha, kozo uti ni iri tamahu bekari si wo, samazama saharu koto ari te, kono aki iri tamahu. Nagatuki ni ha, yagate Nonomiya ni uturohi tamahu bekere ba, hutatabi no ohom-harahe no isogi, tori kasane te aru beki ni, tada ayasiu hokehokesiu te, tukuduku to husi nayami tamahu wo, miyabito, imiziki daizi nite, ohom-inori nado, samazama tukaumaturu.

 Odoroodorosiki sama ni ha ara zu, sokohakatonaku te, tukihi wo sugusi tamahu. Daisyau-dono mo, tune ni, toburahi kikoye tamahe do, masaru kata no itau wadurahi tamahe ba, mikokoro no itoma nage nari.

 Mada saru beki hodo ni mo ara zu to, minahito mo tayumi tamahe ru ni, nihakani mikesiki ari te, nayami tamahe ba, itodosiki ohom-inori, kazu wo tukusi te se sase tamahe re do, rei no sihuneki ohom-mononoke hitotu, sarani ugoka zu, yamgotonaki Genzya-domo, meduraka nari to mote-nayamu. Sasugani, imiziu teuze rare te, kokorokurusige ni naki wabi te,

 "Sukosi yurube tamahe ya! Daisyau ni kikoyu beki koto ari." to notamahu.

 "Sare ba yo! Aru yau ara m."

 tote, tikaki mikityau no moto ni ire tatematuri tari. Muge ni kagiri no sama ni monosi tamahu wo, kikoye oka mahosiki koto mo ohasuru ni ya tote, Otodo mo Miya mo sukosi sirizoki tamahe ri. Kadi-no-sou-domo, kowe sidume te Hokekyau wo yomi taru, imiziu tahutosi.

 Mikityau no katabira hikiage te mi tatematuri tamahe ba, ito wokasige nite, ohom-hara ha imiziu takau te husi tamahe ru sama, yosobito dani, mi tatematura m ni kokoro midare nu besi. Masite wosiu kanasiu obosu, kotowari nari. Siroki ohom-zo ni, iroahi ito hanayaka nite, migusi no ito nagau kotitaki wo, hiki-yuhi te uti-sohe taru mo, "Kau te koso, rautage ni namameki taru kata sohi te wokasikari kere!" to miyu. Mite wo torahe te,

 "Ana, imizi! Kokorouki me wo mise tamahu kana!"

 tote, mono mo kikoye tamaha zu naki tamahe ba, rei ha ito wadurahasiu hadukasige naru ohom-mami wo, ito tayuge ni miage te, uti-mamori kikoye tamahu ni, namida no koboruru sama wo mi tamahu ha, ikaga ahare no asakara m.

 Amari itau naki tamahe ba, "Kokorogurusiki oya-tati no ohom-koto wo obosi, mata, kaku mi tamahu ni tuke te, kutiwosiu oboye tamahu ni ya?" to obosi te,

 "Nanigoto mo, ito kau na obosi ire so. Saritomo kesiu ha ohase zi. Ika nari to mo, kanarazu ahuse a' nare ba, taimen ha ari na m. Otodo, Miya nado mo, hukaki tigiri aru naka ha, meguri te mo taye za' nare ba, ahi miru hodo ari na m to obose."

 to, nagusame tamahu ni,

 "Ide, ara zu ya! Minouhe no ito kurusiki wo, sibasi yasume tamahe to kikoye m tote nam. Kaku mawiri ko m to mo sarani omoha nu wo, mono omohu hito no tamasihi ha, geni akugaruru mono ni nam ari keru."

 to, natukasige ni ihi te,

 "Nageki wabi sora ni midaruru waga tama wo
 musubi todome yo sitagahe no tuma"

 to notamahu kowe, kehahi, sono hito ni mo ara zu, kahari tamahe ri. "Ito ayasi." to obosi megurasu ni, tada, kano Miyasumdokoro nari keri. Asamasiu, hito no tokaku ihu wo, yokara nu mono-domo no ihi iduru koto mo, kiki nikuku obosi te, notamahi ketu wo, me ni misu misu, "Yo ni ha, kakaru koto koso ari kere." to, utomasiu nari nu. "Ana, kokorou!" to obosa re te,

 "Kaku notamahe do, tare to koso sira ne. Tasika ni notamahe."

 to notamahe ba, tada sore naru ohom-arisama ni, asamasi to ha yo no tune nari. Hitobito tikau mawiru mo, kataharaitau obosa ru.

 [2-5 Aoi gives birth to a boy]

 Sukosi ohom-kowe mo sidumari tamahe re ba, hima ohasuru ni ya tote, Miya no ohom-yu mote-yose tamahe ru ni, kaki-okosa re tamahi te, hodo naku mumare tamahi nu. Uresi to obosu koto kagirinaki ni, hito ni kari utusi tamahe ru ohom-mononoke-domo, netagari madohu kehahi, ito mono sahagasiu te, noti no koto, mata ito kokoromotonasi.
 Ihu kagiri naki gwan-domo tate sase tamahu ke ni ya, tahiraka ni koto nari hate nure ba, Yama-no-zasu, nanikure yamgotonaki sou-domo, sitarigaho ni ase osi-nogohi tutu, isogi makade nu.

 Ohoku no hito no kokoro wo tukusi turu higoro no nagori, sukosi uti-yasumi te, "Ima ha saritomo." to obosu. Misuhohu nado ha, mata mata hazime sohe sase tamahe do, madu ha, kyou ari, medurasiki ohom-kasiduki ni, minahito yurube ri.
 Win wo hazime tatematuri te, miko-tati, kamdatime, nokoru naki ubuyasinahi-domo no, meduraka ni ikamesiki wo, yo-goto ni mi nonosiru. Wotoko nite sahe ohasure ba, sono hodo no sahohu, nigihahasiku medetasi.

 Kano Miyasumdokoro ha, kakaru ohom-arisama wo kiki tamahi te mo, tada nara zu. "Kanete ha, ito ayahuku kikoye si wo, tahiraka ni mo hata." to, uti-obosi keri.
 Ayasiu, ware ni mo ara nu mikokoti wo obosi tudukuru ni, ohom-zo nado mo, tada kesi no ka ni simi kaheri taru ayasisa ni, ohom-yusuru mawiri, ohom-zo kikahe nado si tamahi te, kokoromi tamahe do, naho onazi yau ni nomi are ba, waga mi nagara dani utomasiu obosa ruru ni, masite, hito no ihi omoha m koto nado, hito ni notamahu beki koto nara ne ba, kokoro hitotu ni obosi nageku ni, itodo mikokorogahari mo masari yuku.

 Daisyau-dono ha, kokoti sukosi nodome tamahi te, asamasikari si hodo no tohazugatari mo, kokorouku obosi ide rare tutu, "Ito hodo he ni keru mo kokorogurusiu, mata kedikau mi tatematura m ni ha, ikani zo ya? Utate oboyu beki wo, hito no ohom-tame itohosiu.", yorodu ni obosi te, ohom-humi bakari zo ari keru.

 Itau wadurahi tamahi si hito no, ohom-nagori yuyusiu, kokoroyurubi nage ni, tare mo obosi tare ba, kotowari nite, ohom-ariki mo nasi. Naho ito nayamasige ni nomi si tamahe ba, rei no sama nite mo mada taimen si tamaha zu. Wakagimi no ito yuyusiki made miye tamahu ohom-arisama wo, ima kara, ito sama koto ni mote-kasiduki kikoye tamahu sama, oroka nara zu, koto ahi taru kokoti si te, Otodo mo uresiu imizi to omohi kikoye tamahe ru ni, tada, kono mikokoti okotari hate tamaha nu wo, kokoromotonaku obose do, "Sabakari imizikari si nagori ni koso ha." to obosi te, ikadekaha, sa nomi ha kokoro wo mo madohasi tamaha m.

 Wakagimi no ohom-mami no utukusisa nado no, Touguu ni imiziu ni tatematuri tamahe ru wo, mi tatematuri tamahi te mo, madu, kohisiu omohiide rare sase tamahu ni, sinobi gataku te, mawiri tamaha m tote,

 "Uti nado ni mo amari hisasiu mawiri habera ne ba, ibusesa ni, kehu nam uhidati si haberu wo, sukosi kedikaki hodo nite kikoye sase baya. Amari obotukanaki mikokoro no hedate kana!"

 to, urami kikoye tamahe re ba,

 "Geni, tada hitohe ni en ni nomi aru beki ohom-naka ni mo ara nu wo, itau otorohe tamahe ri to ihi nagara, monogosi nite nado a' beki kaha."

 tote, husi tamahe ru tokoro ni, omasi tikau mawiri tare ba, iri te mono nado kikoye tamahu.

 Ohom-irahe, tokidoki kikoye tamahu mo, naho ito yowage nari. Saredo, muge ni nakihito to omohi kikoye si ohom-arisama wo obosi idure ba, yume no kokoti si te, yuyusikari si hodo no koto-domo nado kikoye tamahu tuide ni mo, kano muge ni iki mo taye taru yau ni ohase si ga, hikikahesi, tubutubu to notamahi si koto-domo obosi iduru ni, kokoroukere ba,

 "Isaya, kikoye mahosiki koto ito ohokare do, mada ito tayuge ni obosi ta' mere ba koso."

 tote, "Ohom-yu mawire." nado sahe, atukahi kikoye tamahu wo, itu narahi tamahi kem to, hitobito aharegari kikoyu.

 Ito wokasige naru hito no, itau yowari sokonaha re te, arukanakika no kesiki nite husi tamahe ru sama, ito rautage ni kokorogurusige nari. Migusi no midare taru sudi mo naku, harahara to kakare ru makura no hodo, arigataki made miyure ba, "Tosigoro, nanigoto wo aka nu koto ari te omohi tu ram." to, ayasiki made uti-mamora re tamahu.

 "Win nado ni mawiri te, ito tou makade na m. Kayau nite, obotukanakara zu mi tatematura ba, uresikaru beki wo, Miya no tuto ohasuru ni, kokotinaku ya to tutumi te sugusi turu mo kurusiki wo, naho yauyau kokoroduyoku obosi nasi te, rei no omasidokoro ni koso. Amari wakaku motenasi tamahe ba, katahe ha, kaku mo monosi tamahu zo."

 nado, kikoye oki tamahi te, ito kiyoge ni uti-sauzoki te ide tamahu wo, tune yori ha me todome te, miidasi te husi tamahe ri.

 [2-6 Aoi deies on the personnel changes naight in the fall]

 Aki no tukasamesi aru beki sadame nite, Ohotono mo mawiri tamahe ba, Kimitati mo itahari nozomi tamahu koto-domo ari te, Tono no ohom-atari hanare tamaha ne ba, mina hiki-tuduki ide tamahi nu.

 Tono no uti, hito-zukuna ni simeyaka naru hodo ni, nihaka ni rei no ohom-mune wo sekiage te, ito itau madohi tamahu. Uti ni ohom-seusoko kikoye tamahu hodo mo naku, taye iri tamahi nu. Asi wo sora nite, tare mo tare mo, makade tamahi nure ba, dimoku no yo nari kere do, kaku wari naki ohom-sahari nare ba, mina koto yabure taru yau nari.
 Nonosiri sawagu hodo, yonaka bakari nare ba, Yama-no-zasu, nanikure no soudu-tati mo, e sauzi ahe tamaha zu. Ima ha saritomo, to omohi tayumi tari turu ni, asamasikere ba, Tono no uti no hito, mono ni zo ataru. Tokorodokoro no ohom-toburahi no tukahi nado, tati-komi tare do, e kikoye tuka zu, yusuri miti te, imiziki mikokoro madohi-domo, ito osorosiki made miye tamahu.

 Ohom-mononoke no tabitabi tori-ire tatematuri si wo obosi te, ohom-makura nado mo sanagara, hutuka, mika mi tatematuri tamahe do, yauyau kahari tamahu koto-domo no are ba, kagiri, to obosi haturu hodo, tare mo tare mo ito imizi.
 Daisyau-dono ha, kanasiki koto ni, koto wo sohe te, yononaka wo ito uki mono ni obosi simi nure ba, tada nara nu ohom-atari no toburahi-domo mo, kokorousi to nomi zo, nabete obosa ruru. Win ni, obosi nageki, toburahi kikoye sase tamahu sama, kaheri te omodatasige naru wo, uresiki se mo maziri te, Otodo ha ohom-namida no itoma nasi.
 Hito no mausu ni sitagahi te, ikamesiki koto-domo wo, iki ya kaheri tamahu to, samazama ni nokoru koto naku, katu sokonaha re tamahu koto-domo no aru wo miru miru mo, tuki se zu obosi-madohe do, kahinaku te higoro ni nare ba, ikagaha se m tote, Toribeno ni wi te tatematuru hodo, imizige naru koto, ohokari.

 [2-7 Aoi's funeral and ever since]

 Konata kanata no ohom-okuri no hito-domo, tera dera no nenbutusou nado, sokora hiroki no ni tokoro mo nasi. Win wo ba sarani mo mausa zu, Kisai-no-miya, Touguu nado no, ohom-tukahi, saranu tokoro dokoro no mo mawiri tigahi te, aka zu imiziki ohom-toburahi wo kikoye tamahu. Otodo ha e tatiagari tamaha zu,

 "Kakaru yohahi no suwe ni, wakaku sakari no ko ni okure tatematuri te, mogoyohu koto."

 to hadi naki tamahu wo, kokora no hito kanasiu mi tatematuru.

 Yomosugara imiziu nonosiri turu gisiki nare do, ito mo hakanaki ohom-kabane bakari wo ohom-nagori nite, akatuki hukaku kaheri tamahu.
 Tune no koto nare do, hito hitori ka, amata simo mi tamaha nu koto nare ba ni ya, taguhinaku obosi kogare tari. Hatigwati nizihuyo niti no ariake nare ba, sora mo kesiki mo ahare sukunakara nu ni, Otodo no yami ni kure madohi tamahe ru sama wo mi tamahu mo, kotowari ni imizikere ba, sora nomi nagame rare tamahi te,

 "Nobori nuru keburi ha sore to waka ne domo
 nabete kumowi no ahare naru kana"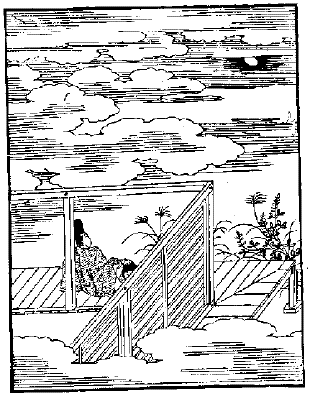 Tono ni ohasi tuki te, tuyu madoroma re tamaha zu. Tosigoro no ohom-arisama wo obosi ide tutu,
 "Nado te, tuhi ni ha onodukara minahosi tamahi te m to, nodoka ni omohi te, nahozari no susabi ni tuke te mo, turasi to oboye rare tatematuri tamahi kem. Yo wo he te, utoku hadukasiki mono ni omohi te sugi hate tamahi nuru."
 nado, kuyasiki koto ohoku, obosi tuduke rarure do, kahi nasi. Nibame ru ohom-zo tatemature ru mo, yume no kokoti si te, "Ware sakidata masika ba, hukaku zo some tamaha masi." to, obosu sahe,

 "Kagiri are ba usuzumigoromo asakere do
 namida zo sode wo huti to nasi keru"

 tote, nenzu si tamahe ru sama, itodo namamekasisa masari te, kyau sinobiyaka ni yomi tamahi tutu, "Hohukai zanmai Hugen daisi" to uti-notamahe ru, okonahi nare taru hohusi yori ha ke nari. Wakagimi wo mi tatematuri tamahu ni mo, "Nani ni sinobu no" to, itodo tuyuke kere do, "Kakaru katami sahe nakara masika ba." to, obosi nagusa mu.
 Miya ha sidumi iri te, sono mama ni okiagari tamaha zu, ayahuge ni miye tamahu wo, mata obosi sawagi te, ohom-inori nado se sase tamahu.

 Hakanau sugi yuke ba, ohom-waza no isogi nado se sase tamahu mo, obosi kake zari si koto nare ba, tuki se zu imiziu nam. Nanome ni kataho naru wo dani, hito no oya ha ikaga omohu meru, masite kotowari nari. Mata, taguhi ohase nu wo dani, sauzausiku obosi turu ni, sode no uhe no tama no kudake tari kem yori mo, asamasige nari.

 Daisyau-no-kimi ha, Nideu-no-win ni dani, akarasama ni mo watari tamaha zu, ahare ni kokorohukau omohi nageki te, okonahi wo mame ni si tamahi tutu, akasi kurasi tamahu. Tokoro dokoro ni ha, ohom-humi bakari zo tatematuri tamahu.

 Kano Miyasumdokoro ha, Saiguu ha Sawemon-no-tukasa ni iri tamahi ni kere ba, itodo itukusiki ohom-kiyomahari ni kototuke te, kikoye mo kayohi tamaha zu. Usi to omohi-simi ni si yo mo, nabete itohasiu nari tamahi te, "Kakaru hodasi dani soha zara masika ba, negahasiki sama ni mo nari na masi." to obosu ni ha, madu Tai-no-himegimi no, sauzausiku te monosi tamahu ram arisama zo, huto obosi yara ruru.

 Yoru ha, mityau no uti ni hitori husi tamahu ni, tonowi no hitobito ha tikau meguri te saburahe do, katahara sabisiku te, "Toki simo are" to nezame gati naru ni, kowe sugure taru kagiri eri saburaha se tamahu nenbutu no, akatukigata nado, sinobi gatasi.

 "Hukaki aki no ahare masari yuku kaze no oto, mi ni simi keru kana!" to, naraha nu ohom-hitorine ni akasi kane tamahe ru asaborake no kiri watare ru ni, kiku no kesikibame ru eda ni, koki awonibi no kami naru humi tuke te, sasi-oki te ini keri. "Imamekasiu mo" tote, mi tamahe ba, Miyasumdokoro no ohom-te nari.

 "Kikoye nu hodo ha, obosi siru ram ya?

 Hito no yo wo ahare to kiku mo tuyukeki ni
 okururu sode wo omohi koso yare

 Tada ima no sora ni omohi tamahe amari te nam."

 to ari. "Tune yori mo iu ni mo kai tamahe ru kana!" to, sasuga ni oki gatau mi tamahu monokara, "Turena no ohom-toburahi ya!" to kokoro-usi. Saritote, kaki-taye oto nau kikoye zara m mo itohosiku, hito no ohom-na no kuti nu beki koto wo obosi midaru.
 "Sugi ni si hito ha, totemo kakutemo, sarubeki ni koso ha monosi tamahi keme, nani ni saru koto wo, sadasada to kezayaka ni mi kiki kem." to kuyasiki ha, waga mikokoro nagara, naho e obosi nahosu maziki na' meri kasi.
 "Saiguu no ohom-kiyomahari mo wadurahasiku ya." nado, hisasiu omohi wadurahi tamahe do, "Wazato aru ohom-kaheri naku ha, nasake naku ya." tote, murasaki no nibame ru kami ni,

 "Koyonau hodo he haberi ni keru wo, omohi tamahe okotara zu nagara, tutumasiki hodo ha, saraba, obosi siru ram ya tote nam.

 Tomaru mi mo kiye si mo onazi tuyu no yo ni
 kokoro oku ram hodo zo hakanaki

 Katu ha obosi keti te yo kasi. Goranze zu mo ya tote, tare ni mo."

 to kikoye tamahe ri.

 Sato ni ohasuru hodo nari kere ba, sinobi te mi tamahi te, honomekasi tamahe ru kesiki wo, kokoro-no-oni ni siruku mi tamahi te, "Sareba yo!" to obosu mo, ito imizi.

 "Naho, ito kagirinaki mi no usa nari keri. Kayau naru kikoye ari te, Win ni mo ikani obosa m? Ko-Zenbau no, onaziki ohom-harakara to ihu naka ni mo, imiziu omohi-kahasi kikoye sase tamahi te, kono Saiguu no ohom-koto wo mo, nemgoro ni kikoye tuke sase tamahi sika ba, 'Sono ohom-kahari ni mo, yagate mi tatematuri atukaha m.' nado, tune ni notamaha se te, 'Yagate utizumi si tamahe.' to, tabitabi kikoye sase tamahi si wo dani, ito aru maziki koto, to omohi hanare ni si wo, kaku kokoro yori hoka ni wakawakasiki mono-omohi wo si te, tuhi ni ukina wo sahe nagasi hate tu beki koto."

 to, obosi midaruru ni, naho rei no sama ni mo ohase zu.

 Saruha, ohokata no yo ni tuke te, kokoronikuku yosi aru kikoye ari te, mukasi yori nadakaku monosi tamahe ba, Nonomiya no ohom-uturohi no hodo ni mo, wokasiu imameki taru koto ohoku sinasi te, "Tenzyaubito-domo no konomasiki nado ha, asayuhu no tuyu wake ariku wo, sonokoro no yaku ni nam suru." nado kiki tamahi te mo, Daisyau-no-kimi ha, "Kotowari zo kasi. Yuwe ha aku made tuki tamahe ru mono wo. Mosi, yononaka ni aki hate te kudari tamahi na ba, sauzausiku mo aru beki kana!" to, sasuga ni obosa re keri.

 [2-8 Genji grieves over Aoi's death with her brother]

 Ohom-hohuzi nado sugi nure do, syauniti made ha, naho komori ohasu. Naraha nu ohom-turedure wo, kokorogurusigari tamahi te, Samwi-no-Tiuzyau ha, tune ni mawiri tamahi tutu, yononaka no ohom-monogatari nado, mameyaka naru mo, mata rei no midari gahasiki koto wo mo kikoye ide tutu, nagusame kikoye tamahu ni, kano Naisi zo, uti-warahi tamahu kusahahi ni ha naru meru. Daisyau-no-kimi ha,

 "Ana, itohosi ya! Oba-otodo-no-uhe, na itau karome tamahi so."

 to isame tamahu monokara, tune ni wokasi to obosi tari.

 Kano izayohi no, sayaka nara zari si aki no koto nado, saranu mo, samazama no sukigoto-domo wo, katamini kumanaku ihi arahasi tamahu, hate hate ha, ahare naru yo wo ihi ihi te, uti-naki nado mo si tamahi keri.

 Sigure uti-si te, mono-ahare naru yuhutukata, Tiuzyau-no-kimi, nibiiro no nahosi, sasinuki, usuraka ni koromogahe si te, ito wowosiu azayaka ni, kokorohadukasiki sama si te mawiri tamahe ri.
 Kimi ha, nisi no tuma no kauran ni osi-kakari te, simogare no sensai mi tamahu hodo nari keri. Kaze araraka ni huki, sigure sato si taru hodo, namida mo arasohu kokoti si te,

 "Ame to nari kumo to ya nari ni kem, ima ha sira zu."

 to, uti-hitorigoti te, turaduwe tuki tamahe ru ohom-sama, "Womna nite ha, misute te naku nara m tamasihi kanarazu tomari na m kasi." to, iromekasiki kokoti ni, uti-mamora re tutu, tikau tui-wi tamahe re ba, sidokenaku uti-midare tamahe ru sama nagara, himo bakari wo sasi nahosi tamahu.
 Kore ha, ima sukosi komayaka naru natu no ohom-nahosi ni, kurenawi no tuyayaka naru hiki-kasane te, yature tamahe ru simo, mi te mo aka nu kokoti zo suru.
 Tiuzyau mo, ito ahare naru mami ni nagame tamahe ri.

 "Ame to nari sigururu sora no ukigumo wo
 idure no kata to waki te nagame m

 Yukuhe nasi ya!"

 to, hitorigoto no yau naru wo,

 "Mi si hito no ame to nari ni si kumowi sahe
 itodo sigure ni kaki-kurasu koro"

 to notamahu mikesiki mo, asakara nu hodo siruku miyure ba,

 "Ayasiu, tosigoro ha ito simo ara nu mikokorozasi wo, Win nado, witati te notamaha se, Otodo no ohom-motenasi mo kokorogurusiu, Ohomiya no ohom-kata zama ni, mote-hanaru maziki nado, katagata ni sasi-ahi tare ba, e simo huri-sute tamaha de, mono-uge naru mikesiki nagara, ari he tamahu na' meri kasi to, itohosiu miyuru woriwori ari turu wo, makoto ni, yamgotonaku omoki kata ha, koto ni omohi kikoye tamahi keru na' meri."

 to mi siru ni, iyoiyo kutiwosiu oboyu. Yorodu ni tuke te hikari use nuru kokoti si te, kunzi itakari keri.

 Kare taru sitakusa no naka ni, rindau, nadesiko nado no, saki ide taru wo wora se tamahi te, Tiuzyau no tati tamahi nuru noti ni, Wakagimi no ohom-menoto no Saisyau-no-kimi site,

 "Kusa gare no magaki ni nokoru nadesiko wo
 wakare si aki no katami to zo miru

 Nihohi otori te ya goranze raru ram."

 to kikoye tamahe ri. Geni nanigokoro naki ohom-wemigaho zo, imiziu utukusiki. Miya ha, huku kaze ni tuke te dani, konoha yori keni moroki ohom-namida ha, masite, tori ahe tamaha zu.

 "Ima mo mi te nakanaka sode wo kutasu kana
 kakiho are ni si yamatonadesiko"

 Naho, imiziu turedure nare ba, Asagaho-no-miya ni, "Kehu no ahare ha, saritomo misiri tamahu ram." to osihakara ruru mikokorobahe nare ba, kuraki hodo nare do, kikoye tamahu. Tayema tohokere do, sa no mono to nari ni taru ohom-humi nare ba, toga naku te goranze sasu. Sora no iro si taru kara no kami ni,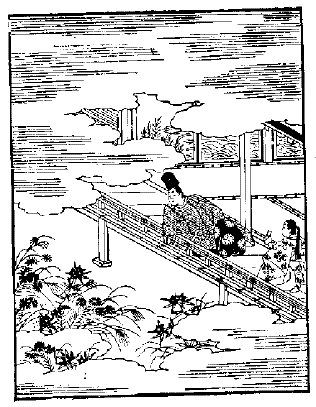 "Waki te kono kure koso sode ha tuyuke kere
 mono omohu aki ha amata he nure do

 Itumo sigure ha."

 to ari. Ohom-te nado no kokoro todome te kaki tamahe ru, tune yori mo midokoro ari te, "Sugusi gataki hodo nari." to hito mo kikoye, midukara mo obosa re kere ba,

 "Ohoutiyama wo, omohiyari kikoye nagara, e yaha." tote,

 "Akigiri ni tati-okure nu to kiki si yori
 sigururu sora mo ikaga to zo omohu"

 to nomi, honoka naru sumi tuki nite, omohinasi kokoronikusi.
 Nanigoto ni tuke te mo, mimasari ha kataki yo na' meru wo turaki hito simo koso to, ahare ni oboye tamahu mikokorozama naru.

 "Turena nagara, sarubeki woriwori no ahare wo sugusi tamaha nu, kore koso, katami ni nasake mo mi hatu beki waza nare. Naho, yuweduki yosiduki te, hitome ni miyu bakari naru ha, amari no nan mo ideki keri. Tai-no-himegimi wo, saha ohosi tate zi." to obosu. "Turedure nite kohi si to omohu ram kasi." to, wasururu wori nakere do, tada meoya naki ko wo, oki tara m kokoti si te, mi nu hodo, usirometaku, "Ikaga omohu ram?" to oboye nu zo, kokoroyasuki waza nari keru.

 Kure hate nure ba, ohotonabura tikaku mawira se tamahi te, sarubeki kagiiri no hitobito, omahe nite monogatari nado se sase tamahu.
 Tiunagon-no-kimi to ihu ha, tosigoro sinobi obosi sika do, kono ohom-omohi no hodo ha, nakanaka sayau naru sudi ni mo kake tamaha zu. "Ahare naru mikokoro kana!" to mi tatematuru. Ohokata ni ha natukasiu uti-katarahi tamahi te,

 "Kau, kono higoro, arisi yori keni, tare mo tare mo magiruru kata naku, minare minare te, e simo tune ni kakara zu ha, kohisi kara zi ya. Imiziki koto wo ba saru mono nite, tada uti-omohi megurasu koso, tahe gataki koto ohokari kere."

 to notamahe ba, itodo mina naki te,

 "Ihukahinaki ohom-koto ha, tada kaki-kurasu kokoti si haberu ha, saru mono nite, nagori naki sama ni akugare hate sase tamaha m hodo, omohi tamahuru koso."

 to, kikoye mo yara zu. Ahare to miwatasi tamahi te,

 "Nagori naku ha, ikaga ha? Kokoroasaku mo torinasi tamahu kana! Kokoronagaki hito dani ara ba, mihate tamahi na m mono wo. Inoti koso hakanakere."

 tote, hi wo uti-nagame tamahe ru mami no, uti-nure tamahe ru hodo zo, medetaki.
 Toriwaki te rautaku si tamahi si tihisaki waraha no, oya-domo mo naku, ito kokorobosoge ni omohe ru, kotowari ni mi tamahi te,
 "Ateki ha, ima ha ware wo koso ha omohu beki hito na' mere."
 to notamahe ba, imiziu naku. Hodo naki akome, hito yori ha kurou some te, kuroki kazami, kwanzau no hakama nado ki taru mo, wokasiki sugata nari.

 "Mukasi wo wasure zara m hito ha, turedure wo sinobi te mo, wosanaki hito wo misute zu, monosi tamahe. Mi si yo no nagori naku, hitobito sahe kare na ba, taduki nasa mo masari nu beku nam."
 nado, mina kokoronagakaru beki koto-domo wo notamahe do, "Ide ya, itodo matidoho ni zo nari tamaha m." to omohu ni, itodo kokorobososi.

 Ohotono ha, hitobito ni, kiha giha hodo oki tutu, hakanaki mote-asobi mono-domo, mata, makoto ni kano ohom-katami naru beki mono nado, wazato nara nu sama ni torinasi tutu, mina kubara se tamahi keri.

 [2-9 Genji leaves Sadaijin's residence]

 Kimi ha, kakute nomi mo, ikadekaha tukuduku to sugusi tamaha m tote, Win he mawiri tamahu. Mikuruma sasi-ide te, gozen nado mawiri atumaru hodo, worisirigaho naru sigure uti-sosoki te, konoha sasohu kaze, awatatasiu huki-harahi taru ni, omahe ni saburahu hitobito, mono ito kokorobosoku te, sukosi hima ari turu sode-domo uruhi watari nu.
 Yosari ha, yagate Nideu-no-win ni tomari tamahu besi tote, saburahi no hitobito mo, kasiko nite mati kikoye m to naru besi, onoono tati-iduru ni, kehu ni simo todimu maziki koto nare do, mata naku mono-ganasi.

 Otodo mo Miya mo, kehu no kesiki ni, mata kanasisa aratame te obosa ru. Miya no omahe ni ohom-seusoko kikoye tamahe ri.

 "Win ni obotukanagari notamahasuru ni yori, kehu nam mawiri haberu. Akarasama ni tati-ide haberu ni tuke te mo, kehu made nagarahe haberi ni keru yo to, midarigokoti nomi ugoki te nam, kikoye sase m mo nakanaka ni haberu bekere ba, sonata ni mo mawiri habera nu."

 to are ba, itodosiku Miya ha, me mo miye tamaha zu, sidumi iri te, ohom-kaheri mo kikoye tamaha zu.

 Otodo zo, yagate watari tamahe ru. Ito tahe gatage ni obosi te, ohom-sode mo hiki-hanati tamaha zu. Mi tate maturu hitobito mo ito kanasi.
 Daisyau-no-kimi ha, yo wo obosi tudukuru koto, ito samazama nite, naki tamahu sama, ahare ni kokorohukaki monokara, ito sama yoku namameki tamahe ri. Otodo, hisasiu tamerahi tamahi te,

 "Yohahi no tumoru ni ha, sasimo aru maziki koto ni tuke te dani, namidamoro naru waza ni haberu wo. Masite, hiru yo nau omohi tamahe madoha re haberu kokoro wo, e nodome habera ne ba, hitome mo, ito midarigahasiu, kokoroyowaki sama ni haberu bekere ba, Win nado ni mo mawiri habera nu nari. Koto no tuide ni ha, sayau ni omomuke souse sase tamahe. Ikubaku mo haberu maziki oyi no suwe ni, uti-sute rare taru ga, turau mo haberu kana!"

 to, semete omohi sidume te notamahu kesiki, ito warinasi. Kimi mo, tabitabi hana uti-kami te,

 "Okure sakidatu hodo no sadame nasa ha, yo no saga to mi tamahe siri nagara, sasi-atari te oboye haberu kokoromadohi ha, taguhi arumaziki waza to nam. Win ni mo, arisama sousi habera m ni, osihakara se tamahi te m." to kikoye tamahu.

 "Saraba, sigure mo hima naku haberu meru wo, kure nu hodo ni." to, sosonokasi kikoye tamahu.

 Uti-mimahasi tamahu ni, mikityau no usiro, sauzi no anata nado no aki tohori taru nado ni, nyoubau samzihu-nin bakari osikori te, koki, usuki nibiiro-domo wo ki tutu, mina imiziu kokorobosoge nite, uti-sihotare tutu wi atumari taru wo, ito ahare, to mi tamahu.

 "Obosi sutu maziki hito mo tomari tamahe re ba, saritomo, mono no tuide ni ha tatiyora se tamaha zi ya nado, nagusame haberu wo, hitohe ni omohiyari naki nyoubau nado ha, kehu wo kagiri ni, obosi sute turu hurusato to omohi kunzi te, nagaku wakare nuru kanasibi yori mo, tada tokidoki nare tukaumaturu tosituki no nagori nakaru beki nageki haberu meru nam, kotowari naru. Uti-toke ohasimasu koto ha habera zari ture do, saritomo tuhini ha to, aina-danome si haberi turu wo. Geni koso, kokorobosoki yuhube ni habere."

 tote mo, naki tamahi nu.

 "Ito asahaka naru hitobito no nageki ni mo haberu naru kana! Makoto ni, ikanari tomo to, nodoka ni omohi tamahe turu hodo ha, onodukara ohom-me karuru wori mo haberi tura m wo, nakanaka ima ha, nani wo tanomi nite kaha okotari habera m. Ima goranzi te m."

 tote ide tamahu wo, Otodo miokuri kikoye tamahi te, iri tamahe ru ni, ohom-siturahi yori hazime, arisi ni kaharu koto mo nakere do, utusemi no munasiki kokoti zo si tamahu.
 Mityau no mahe ni, ohom-suzuri nado uti-tirasi te, tenarahi sute tamahe ru wo tori te, me wo osi-sibori tutu mi tamahu wo, wakaki hitobito ha, kanasiki naka ni mo, hohowemu aru besi. Ahare naru hurukoto-domo, kara no mo yamato no mo kaki kegasi tutu, sau ni mo mana ni mo, samazama medurasiki sama ni kaki maze tamahe ri.

 "Kasiko no ohom-te ya!"

 to, sora wo ahugi te nagame tamahu. Yosobito ni mi tatematuri nasa m ga, wosiki naru besi.

"Huruki makura huruki husuma, tare to tomoni ka?"

to aru tokoro ni,

 "Naki tama zo itodo kanasiki nesi toko no
 akugare gataki kokoro narahi ni"

 mata, "Simo no hana sirosi" to aru tokoro ni,

 "Kimi naku te tiri tumori nuru tokonatu no
 tuyu uti-harahi ikuyo ne nu ram"

 Hitohi no hana naru besi, kare te mazire ri.

 Miya ni goranze sase tamahi te,

 "Ihukahinaki koto wo ba saru mono nite, kakaru kanasiki taguhi, yo ni naku yaha to, omohinasi tutu, tigiri nagakara de, kaku kokoro wo madohasu beku te koso ha ari keme to, kaheri te ha turaku, sakinoyo wo omohiyari tutu nam, samasi haberu wo, tada, higoro ni sohe te, kohisisa no tahe gataki to, kono Daisyau-no-kimi no, ima ha to yoso ni nari tamaha m nam, akazu imiziku omohi tamahe raruru. Hitohi, hutuka mo miye tamaha zu, karegare ni ohase si wo dani, akazu mune itaku omohi haberi si wo, asayuhu no hikari usinahi te ha, ikadeka nagarahu bekara m."

 to, ohom-kowe mo e sinobi ahe tamaha zu nai tamahu ni, omahe naru otonaotonasiki hito nado, ito kanasiku te, sato uti-naki taru, sozoro-samuki yuhube no kesiki nari.

 Wakaki hitobito ha, tokorodokoro ni mure wi tutu, onoga-doti, ahare naru koto-domo uti-katarahi te,

 "Tono no obosi notamaha suru yau ni, Wakagimi wo mi tatematuri te koso ha, nagusamu beka' mere to omohu mo, ito hakanaki hodo no ohom-katami ni koso."

 tote, onoono, "Akarasama ni makade te, mawira m." to ihu mo are ba, katamini wakare wosimu hodo, onogazisi ahare naru koto-domo ohokari.

 Win he mawiri tamahe re ba,

 "Ito itau omoyase ni keri! Sauzin nite hi wo huru ke ni ya?"

 to, kokorogurusige ni obosimesi te, omahe nite mono nado mawira se tamahi te, toya kakuya to obosi atukahi kikoye sase tamahe ru sama, ahare ni katazikenasi.

 Tiuguu no ohom-kata ni mawiri tamahe re ba, hitobito, medurasigari mi tatematuru. Myaubu-no-kimi site,

 "Omohi tuki se nu koto-domo wo, hodo huru ni tuke te mo ikani?"

 to, ohom-seusoko kikoye tamahe ri.

 "Tune naki yo ha, ohokata ni mo omou tamahe siri ni si wo, me ni tikaku mi haberi turu ni, itohasiki koto ohoku omou tamahe midare si mo, tabitabi no ohom-seusoko ni nagusame haberi te nam, kehu made mo."

 tote, saranu wori dani aru mikesiki tori-sohe te, ito kokorogurusige nari. Mumon no uhe no ohom-zo ni, nibiiro no ohom-sitagasane, ei maki tamahe ru yature sugata, hanayaka naru ohom-yosohi yori mo namamekasisa masari tamahe ri.

 Touguu ni mo hisasiu mawira nu obotukanasa nado, kikoye tamahi te, yo huke te zo, makade tamahu.

3 Tale of Murasaki Genji gets married to Murasaki
[3-1 Genji gets married to Murasaki]
 Nideu-no-win ni ha, katagata harahi migaki te, wotoko womna, mati kikoye tari. Zyaurau-domo mina maunobori te, ware mo ware mo to sauzoki, kesauzi taru wo miru ni tuke te mo, kano winami kunzi tari turu kesiki-domo zo, ahare ni omohi-ide rare tamahu.
 Ohom-sauzoku tatematuri kahe te, nisi-no-tai ni watari tamahe ri. Koromogahe no ohom-siturahi, kumori naku azayaka ni miye te, yoki wakaudo warahabe no, nari, sugata meyasuku totonohe te, "Seunagon ga motenasi, kokoromotonaki tokoro nau, kokoronikusi." to mi tamahu.

 Himegimi, ito utukusiu hiki-tukurohi te ohasu.

 "Hisasikari turu hodo ni, ito koyonau koso otonabi tamahi ni kere!"

 tote, tihisaki mikityau hiki-age te mi tatematuri tamahe ba, uti-sobami te warahi tamahe ru ohom-sama, aka nu tokoro nasi.
 "Hokage no ohom-kataharame, kasiratuki nado, tada, kano kokoro tukusi kikoyuru hito ni, tagahu tokoro naku nari yuku kana!"to mi tamahu ni, ito uresi.

 Tikaku yori tamahi te, obotukanakari turu hodo no koto-domo nado kikoye tamahi te,

 "Higoro no monogatari, nodoka ni kikoye mahosikere do, imaimasiu oboye habere ba, sibasi kotokata ni yasurahi te, mawiri ko m. Ima ha, todaye naku mi tatematuru bekere ba, itohasiu sahe ya obosa re m."

 to, katarahi kikoye tamahu wo, Seunagon ha uresi to kiku monokara, naho ayahuku omohi kikoyu. "Yamgotonaki sinobidokoro ohou kakadurahi tamahe re ba, mata wadurahasiki ya tati-kahari tamaha m." to omohu zo, nikuki kokoro naru ya!

 Ohom-kata ni watari tamahi te, Tiuzyau-no-kimi to ihu, miasi nado mawiri susabi te, ohotonogomori nu.
 Asita ni ha, Wakagimi no ohom-moto ni ohom-humi tatematuri tamahu. Ahare naru ohom-kaheri wo mi tamahu ni mo, tuki se nu koto-domo nomi nam.

 Ito turedure ni nagamegati nare do, nani to naki ohom-ariki mo, mono-uku obosi nara re te, obosi mo tata re zu.
 Himegimi no, nanigoto mo aramahosiu totonohi hate te, ito medetau nomi miye tamahu wo, nigenakara nu hodo ni, hata, minasi tamahe re ba, kesikibami taru koto nado, woriwori kikoye kokoromi tamahe do, mi mo siri tamaha nu kesiki nari.

 Turedure naru mama ni, tada konata nite go uti, hentugi nado si tutu, hi wo kurasi tamahu ni, kokorobahe no raurauziku aigyauduki, hakanaki tahaburegoto no naka ni mo, utukusiki sudi wo si ide tamahe ba, obosi hanati taru tosituki koso, tada saru kata no rautasa nomi ha ari ture, sinobi gataku nari te, kokorogurusikere do, ikaga ari kem, hito no kedime mi tatematuri waku beki ohom-naka ni mo ara nu ni, Wotokogimi ha toku oki tamahi te, Womnagimi ha sarani oki tamaha nu asita ari.

 Hitobito, "Ika nare ba, kaku ohasimasu nara m? Mikokoti no rei nara zu obosa ruru ni ya?" to mi tatematuri nageku ni, Kimi ha watari tamahu tote, ohom-suzuri no hako wo, mityau no uti ni sasi-ire te ohasi ni keri.
 Hitoma ni karausite kasira motage tamahe ru ni, hiki-musubi taru humi, ohom-makura no moto ni ari. Nanigokoro mo naku, hiki-ake te mi tamahe ba,

 "Ayanaku mo hedate keru kana yo wo kasane
 sasuga ni nare si yoru no koromo wo"

 to, kaki susabi tamahe ru yau nari. "Kakaru mikokoro ohasu ram." to ha, kakete mo obosi yora zari sika ba,
 "Nado te kau kokoroukari keru mikokoro wo, uranaku tanomosiki mono ni omohi kikoye kem."
 to, asamsiu obosa ru.

 Hirutukata, watari tamahi te,

 "Nayamasige ni si tamahu ram ha, ikanaru mikokoti zo? Kehu ha, go mo uta de, sauzausi ya!"

 tote, nozoki tamahe ba, iyoiyo ohom-zo hiki-kaduki te husi tamahe ri. Hitobito ha sirizoki tutu saburahe ba, yori tamahi te,

 "Nado, kaku ibuseki ohom-motenasi zo? Omohi no hoka ni kokorouku koso ohasi kere na! Hito mo ikani ayasi to omohu ram."

 tote, ohom-husuma wo hiki-yari tamahe re ba, ase ni osi-hitasi te, hitahigami mo itau nure tamahe ri.

 "Ana, uatate! Kore ha ito yuyusiki waza zo yo."

 tote, yorodu ni kosirahe kikoye tamahe do, makoto ni, ito turasi to omohi tamahi te, tuyu no ohom-irahe mo si tamaha zu.

 "Yosi yosi. Sarani miye tatematura zi. Ito hadukasi."

 nado wenzi tamahi te, ohom-suzuri ake te mi tamahe do, mono mo nakere ba, "Waka no ohom-arisama ya!" to, rautaku mi tatematuri tamahi te, hi hitohi, iri wi te nagusame kikoye tamahe do, toke gataki mikesiki, itodo rautage nari.

 [3-2 Ceremony in the marriaged night]

 Sono yosari, winokomotihi mawira se tari. Kakaru ohom-omohi no hodo nare ba, kotokotosiki sama ni ha ara de, konata bakari ni, wokasige naru hiwarigo nado bakari wo, iroiro nite mawire ru wo mi tamahi te, Kimi, minami no kata ni ide tamahi te, Koremitu wo mesi te,

 "Kono motihi, kau kazu-kazu ni tokoroseki sama ni ha ara de, asu no kure ni mawira se yo. Kehu ha imaimasiki hi nari keri."

 to, uti-hohowemi te notamahu mikesiki wo, kokorotoki mono nite, huto-omohi yori nu. Koremitu, tasika ni mo uketamahara de,

 "Geni, aigyau no hazime ha, hi eri si te kikosimesu beki koto ni koso. Sate mo, nenoko ha ikutu ka tukaumaturasu beu habera m?"

 to, mamedati te mause ba,

 "Mitu ga hitotu ka nite mo ara m kasi."

 to notamahu ni, kokoroe hate te, tati nu. "Mono-nare no sama ya!" to Kimi ha obosu. Hito ni mo iha de, tedukara to ihu bakari, sato nite zo, tukuri wi tari keru.

 Kimi ha, kosirahe wabi tamahi te, ima hazime nusumi mote ki tara m hito no kokoti suru mo, ito wokasiku te, "Tosigoro ahare to omohi kikoye turu ha, katahasi ni mo ara zari keri. Hito no kokoro koso utate aru mono ha are! Ima ha hitoyo mo hedate m koto no warinakaru beki koto." to obosa ru.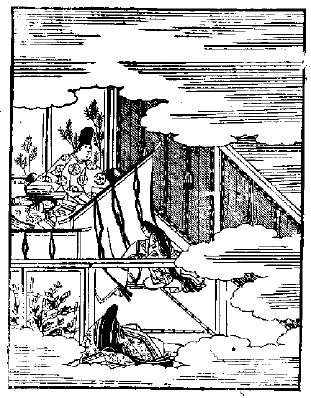 Notamahi si motihi, sinobi te, itau yo hukasi te mote mawire ri. "Seunagon ha otonasiku te, hadukasiku ya obosa m?" to, omohiyari hukaku kokorosirahi te, musume no Ben to ihu wo yobi ide te,

 "Kore, sinobi te mawira se tamahe."

 tote, kaugo no hako wo hitotu, sasi-ire tari.

 "Tasika ni, ohom-makuragami ni mawirasu beki ihahi no mono ni haberu. Ana, kasiko! Ada ni na."

 to ihe ba, "Ayasi" to omohe do,

 "Ada naru koto ha, mada naraha nu mono wo."

 tote, tore ba,

 "Makoto ni, ima ha saru mozi ima se tamahe yo. Yomo maziri habera zi."

 to ihu. Wakaki hito nite, kesiki mo e hukaku omohiyora ne ba, mote mawiri te, ohom-makuragami no mikityau yori sasi-ire taru wo, Kimi zo, rei no kikoye sira se tamahu ram kasi.

 Hito ha e sira nu ni, tutomete, kono hako wo makade sase tamahe ru ni zo, sitasiki kagiri no hitobito, omohi ahasuru koto-domo ari keru. Ohom-sara-domo nado, itu no ma ni ka si ide kem. Kesoku ito kiyora ni si te, motihi no sama mo, kotosarabi, ito wokasiu totonohe tari.

 Seunagon ha, "Ito, kau simo ya!" to koso omohi kikoye sase ture, ahare ni katazikenaku, obosi itara nu koto naki mikokorobahe wo, madu uti-naka re nu.

 "Sate mo, utiuti ni notamahase yo na! Kano hito mo, ikani omohi tu ram?"

 to, sasameki ahe ri.

 Kakute noti ha, Uti ni mo Win ni mo, akarasama ni mawiri tamahe ru hodo dani, sidukokoro naku, omokage ni kohisikere ba, "Ayasi no kokoro ya!" to, ware nagara obosa ru. Kayohi tamahi si tokorodokoro yori ha, uramesige ni odorokasi kikoye tamahi nado sure ba, itohosi to obosu mo are do, nihitamakura no kokorogurusiku te, "Yo wo ya hedate m?" to, obosi waduraha rure ba, ito mono-uku te, nayamasige ni nomi motenasi tamahi te,
 "Yononaka no ito uku oboyuru hodo sugusi te nam, hito ni mo miye tatematuru beki."
 to nomi irahe tamahi tutu, sugusi tamahu.

 Imagisaki ha, Mikusigedono naho kono Daisyau ni nomi kokorotuke tamahe ru wo,

 "Geni hata, kaku yamgotonakari turu kata mo use tamahi nu meru wo, satemo ara m ni, nadoka kutiwosikara m."

 nado, Otodo notamahu ni, "Ito nikusi" to, omohi kikoye tamahi te,

"Miyadukahe mo, wosawosasiku dani si nasi tamahe ra ba, nadoka asikara m?"

 to, mawira se tatematura m koto wo obosi hagemu.

 Kimi mo, osinabe te no sama ni ha oboye zari si wo, kutiwosi to ha obose do, tadaima ha kotozama ni wakuru mikokoro mo naku te,

 "Nanikaha, kabakari mizikaka' meru yo ni. Kakute omohi sadamari na m. Hito no urami mo ohu mazikari keri."

 to, itodo ayahuku obosi kori ni tari.

 "Kano Miyasumdokoro ha, ito itohosikere do, makoto no yorube to tanomi kikoye m ni ha, kanarazu kokorooka re nu besi. Tosigoro no yau nite misugusi tamaha ba, sarubeki worihusi ni mono kikoye ahasuru hito nite ha ara m." nado, sasugani, koto no hoka ni ha obosi hanata zu.

 "Kono Himegimi wo, ima made yohito mo sono hito to mo siri kikoye nu mo, monogenaki yau nari. Titi-miya ni sirase kikoye te m." to, omohosi nari te, ohom-mogi no koto, hito ni amaneku ha notamaha ne do, nabete nara nu sama ni obosi-maukuru ohom-youi nado, ito arigatakere do, Womnagimi ha, koyonau utomi kikoye tamahi te, "Tosigoro yorodu ni tanomi kikoye te, matuhasi kikoye keru koso, asamasiki kokoro nari kere!" to, kuyasiu nomi obosi te, sayaka ni mo mi ahase tatematuri tamaha zu, kikoye tahabure tamahu mo, kurusiu warinaki mono ni obosi-musubohore te, arisi ni mo ara zu nari tamahe ru ohom-arisama wo, wokasiu mo itohosiu mo obosa re te,
 "Tosigoro, omohi kikoye si ho'i naku, nare ha masara nu mikesiki no, kokorouki koto." to, urami kikoye tamahu hodo ni, tosi mo kaheri nu.

 [3-3 New Year greeting to Court and Sadaijin's residence]

 Tuitati no hi ha, rei no, Win ni mawiri tamahi te zo, Uti, Touguu nado ni mo mawiri tamahu. Sore yori Ohotono ni makade tamahe ri. Otodo, atarasiki tosi to mo iha zu, mukasi no ohom-koto-domo kikoye ide tamahi te, sauzausiku kanasi to obosu ni, itodo kaku sahe watari tamahe ru ni tuke te, nenzi kahesi tamahe do, tahe gatau obosi tari.
 Ohom-tosi no kuhaha ru ke ni ya, monomonosiki ke sahe sohi tamahi te, arisi yori keni, kiyora ni miye tamahu. Tati-ide te, ohom-kata ni iri tamahe re ba, hitobito mo medurasiu mi tatematuri te, sinobi ahe zu.

 Wakagimi mi tatematuri tamahe ba, koyonau oyosuke te, warahi-gati ni ohasuru mo, ahare nari. Mami, kutituki, tada Touguu no ohom-onazi sama nare ba, "Hito mo koso mi tatematuri togamure." to mi tamahu.

 Ohom-siturahi nado mo kahara zu, mizokake no ohom-sauzoku nado, rei no yau ni si kake rare taru ni, Womna no ga naraba nu koso, haye naku sauzausiku haye nakere.
 Miya no ohom-seusoko nite,

 "Kehu ha, imiziku omohi tamahe sinoburu wo, kaku watara se tamahe ru ni nam, nakanaka."

 nado kikoye tamahi te,

 "Mukasi ni narahi haberi ni keru ohom-yosohi mo, tukigoro ha, itodo namida ni kiri hutagari te, iroahi naku goranze rare habera m to omohi tamahure do, kehu bakari ha, naho yature sase tamahe."

 tote, imiziku si tukusi tamahe ru mono-domo, mata kasane te tatemature tamahe ri. Kanarazu kehu tatematuru beki, to obosi keru ohom-sitagasane ha, iro mo orizama mo, yo no tune nara zu, kokoro koto naru wo, kahinaku yaha tote, kigahe tamahu. Ko zara masika ba, kutiwosiu obosa masi to, kokorogurusi. Ohom-kaheri ni,

 "Haru ya ki nuru to mo, madu goranze rare ni nam, mawiri haberi ture do, omohi tamahe ide raruru koto ohoku te, e kikoye sase habera zu.

 Amata tosi kehu aratame si irogoromo
 ki te ha namida zo huru kokoti suru

 e koso omohi tamahe sidume ne."
 to kikoye tamahe ri. Ohom-kaheri,

 "Atarasiki tosi to mo iha zu huru mono ha
 huri nuru hito no namida nari keri"

 Oroka naru beki koto ni zo ara nu ya.

to HomePage
Classic Text
Modern Version
Original Text(Ohoshima-bon)
Teika's Note

---