First updated 08/04/2002(ver.1-3)
Last updated 11/25/2020(ver.2-5)
Written in Japanese roman letters by Eiichi Shibuya (C)
Picture "Eiri Genji Monogatari"(1650 1st edition)


  
MOMIDI-NO-GA
Tale of Hikaru-Genji's Konoe-Chujo era from October in winter at the age of 18 to July in fall at the age of 19

1 Tale of Fujitsubo Genji dances in front of Fujitsubo

2 Tale of Murasaki Genji comforts himself by seeing Murasaki

3 Tale of Fujitsubo(2) A baby boy is born on Fujitsubo

4 Tale of Gen-no-Naihsi Scandal with an old erotic woman

5 Tale of Fujitsubo(3) Fujitsubo ascends the empress, and Genji is promoted Saisho in July


 Fujitsubo ascends the empress in July---Siti-gwati ni zo kisaki wi tamahu meri si


 
1 Tale of Fujitsubo Genji dances in front of Fujitsubo
[1-1 Genji dances Seigaiha on the rehearsal]
 Suzakuwin no gyaugau ha, kamnaduki no towoka amari nari. Yo no tune nara zu, omosirokaru beki tabi no koto nari kere ba, ohom-katagata, mono mi tamaha nu koto wo kutiwosigari tamahu. Uhe mo, Huditubo no mi tamaha zara m wo, akazu obosa rure ba, sigaku wo gozen nite, se sase tamahu.

 Genzi-no-tiuzyau ha, 'Seigaiha' wo zo mahi tamahi keru. Katate ni ha Ohotono no Tou-no-tiuzyau. Katati, youi, hito ni ha koto naru wo, tati narabi te ha, naho hana no katahara no miyamagi nari.

 Irigata no hikage, sayaka ni sasi taru ni, gaku no kowe masari, mono no omosiroki hodo ni, onazi mahi no asibumi, omomoti, yo ni miye nu sama nari. Ei nado si tamahe ru ha, "Kore ya, hotoke no ohom-Kareubinga no kowe nara m" to kikoyu. Omosiroku ahare naru ni, Mikado, namida wo nogohi tamahi, Kamdatime, Miko-tati mo, mina naki tamahi nu. Ei hate te, sode uti-nahosi tamahe ru ni, mati tori taru gaku no nigihahasiki ni, kaho no iroahi masari te, tune yori mo hikaru to miye tamahu.

 Touguu-no-nyougo, kaku medetaki ni tuke te mo, tada nara zu obosi te, "Kami nado, sora ni mede tu beki katati kana! Utate yuyusi." to notamahu wo, wakaki nyoubau nado ha, kokorousi to mimi todome keri. Huditubo ha, "Ohokenaki kokoro no nakara masika ba, masite medetaku miye masi." to obosu ni, yume no kokoti nam si tamahi keru.

 Miya ha, yagate ohom-tonowi nari keru.
 "Kehu no sigaku ha, 'Seigaiha' ni koto mina tuki nu na! Ikaga mi tamahi turu?"
 to, kikoye tamahe ba, ainau, ohom-irahe kikoye nikuku te,
 "Koto ni haberi tu." to bakari kikoye tamahu.
 "Katate mo kesiu ha ara zu koso miye ture. Mahi no sama, tedukahi nam, ihe-no-ko ha koto naru. Konoyo ni na wo e taru mahi no wonoko-domo mo, geni ito kasikokere do, kokosiu namamei taru sudi wo, e nam mise nu. Kokoromi no hi, kaku tukusi ture ba, momidi no kage ya sauzausiku to omohe do, mise tatematura m no kokoro nite, youi se sase turu." nado kikoye tamahu.

 [1-2 Genji and Fujitsubo compose and exchange waka the next day]

 Tutomete, Tiuuzyau-no-kimi,
 "Ikani goranzi kem? Yo ni sira nu midarigokoti nagara koso.

 Mono omohu ni tati mahu beku mo ara nu mi no
 sode uti-huri si kokoro siri ki ya

 Ana kasiko."
 to aru ohom-kaheri, me mo ayanari si ohom-sama, katati ni, mi tamahi sinoba re zu ya ari kem,

 "Karahito no sode huru koto ha tohokere do
 tatiwi ni tuke te ahare to ha mi ki

 Ohokata ni ha."
 to aru wo, kagirinau medurasiu, "Kayau no kata sahe, tadotadosikara zu, hito-no-mikado made omohosi yare ru ohom-kisakikotoba no, kanete mo." to, hohowema re te, dikyau no yau ni hiki hiroge te mi wi tamahe ri.

 [1-3 Mikado goes to Suzaku-in at 10 something in October]

 Gyaugau ni ha, Miko-tati nado, yo ni nokoru hito naku tukaumaturi tamahe ri. Touguu mo ohasimasu. Rei no, gaku no hune-domo kogi meguri te, Morokosi, Koma to, tukusi taru mahi-domo, kusa ohokari. Gaku no kowe, tudumi no oto, yo wo hibikasu.

 Hitohi no Genzi no ohom-yuhukage, yuyusiu obosa re te, mizukyau nado tokorodokoro ni se sase tamahu wo, kiku hito mo kotowari to aharegari kikoyuru ni, Touguu-no-nyougo ha, anagati nari to, nikumi kikoye tamahu.

 Kaisiro nado, tenzyaubito, dige mo, kokoro koto nari to yohito ni omohare taru iusoku no kagiri totonohe sase tamahe ri. Saisyau hutari, Sawemon-no-kami, Uwemon-no-kami, hidari migi no gaku no koto okonahu. Mahi no si-domo nado, yo ni nabete nara nu wo tori tutu, onoono komori wi te nam narahi keru.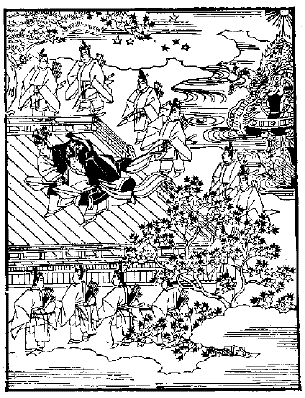 Kodakaki momidi no kage ni, yoso-bito no kaisiro, ihi sira zu huki tate taru mono-no-ne-domo ni ahi taru matukaze, makoto no miyamaorosi to kikoye te huki mayohi, iroiro ni tiri kahu konoha no naka yori, 'Seigaiha' no kakayaki ide taru sama, ito osorosiki made miyu. Kazasi no momidi itau tiri suki te, kaho no nihohi ni keosare taru kokoti sure ba, omahe naru kiku wo wori te, Sa-daisyau sasi-kahe tamahu.

 Hi kure kakaru hodo ni, kesiki bakari uti-sigure te, sora no kesiki sahe misiri-gaho naru ni, saru imiziki sugata ni, kiku no iroiro uturohi, e nara nu wo kazasi te, kehu ha matanaki te wo tukusi taru iriaya no hodo, sozorosamuku, konoyo no koto to mo oboye zu. Mono mi siru maziki simobito nado no, ko no moto, iha gakure, yama no konoha ni udumore taru sahe, sukosi mono no kokoro siru ha namida otosi keri.

 Syoukyauden no ohom-hara no Si-no-miko, mada waraha nite, 'Siuhuuraku' mahi tamahe ru nam, sasitugi no mimono nari keru. Korera ni omosirosa no tuki ni kere ba, kotogoto ni me mo utura zu, kaheri te ha kotozamasi ni ya ari kem.

 Sono yo, Genzi-no-tiuzyau, zyau-zam-wi si tamahu. Tou-no-tiuzyau, zyauge no kakai si tamahu. Kamdatime ha, mina sarubeki kagiri yorokobi si tamahu mo, kono Kimi ni hika re tamahe ru nare ba, hito no me wo mo odorokasi, kokoro wo mo yorokoba se tamahu, mukasi no yo yukasige nari.

 [1-4 Aoi is disleased for Genji's flighty behavior]

 Miya ha, sonokoro makade tamahi nure ba, rei no, hima mo ya, to ukagahi ariki tamahu wo koto nite, Ohoidono ni ha sawaga re tamahu. Itodo, kano Wakakusa tadune tori tamahi te si wo, "Nideu-no-win ni ha hito mukahe tamahu nari." to hito no kikoye kere ba, ito kokorodukinasi to oboi tari.

 "Utiuti no arisama ha siri tamaha zu, samo obosa m ha kotowari nare do, kokoroutukusiku, rei no hito no yau ni urami notamaha ba, ware mo uranaku uti-katari te, nagusame kikoye te m mono wo, omoha zu ni nomi tori-nai tamahu kokorodukinasa ni, samo arumaziki susabigoto mo idekuru zo kasi. Hito no ohom-arisama no, kataho ni, sono koto no aka nu to oboyuru kizu mo nasi. Hito yori saki ni mi tatematuri some te sika ba, ahare ni yamgotonaku omohi kikoyuru kokoro wo mo, siri tamaha nu hodo koso ara me, tuhini ha obosi nahosa re m." to, "Odasiku karugarusikara nu mikokoro no hodo mo, onodukara." to, tanoma ruru kata ha koto nari keri.

2 Tale of Murasaki Genji comforts himself by seeing Murasaki
[2-1 Murasaki is harmonious to Genji]
 Wosanaki hito ha, mitui tamahu mama ni, ito yoki kokorozama, katati nite, nanigokoro mo naku muture matohasi kikoye tamahu. "Sibasi, tono no uti no hito ni mo tare to sirase zi." to obosi te, naho hanare taru tai ni, ohom-siturahi ninaku si te, ware mo akekure iri ohasi te, yorodu no ohom-koto-domo wo wosihe kikoye tamahi, tehon kaki te naraha se nado si tutu, tada hoka nari keru ohom-musume wo mukahe tamahe ram yau ni zo obosi taru.

 Mandokoro, keisi nado wo hazime, kotoni wakati te, kokoromotonakara zu tukaumatura se tamahu. Koremitu yori hoka no hito ha, obotukanaku nomi omohi kikoye tari. Kano Titimiya mo, e siri kikoye tamaha zari keri.

 Himegimi ha, naho, tokidoki omohi ide kikoye tamahu toki, Amagimi wo kohi kikoye tamahu wori ohokari. Kimi no ohasuru hodo ha, magirahasi tamahu wo, yoru nado ha, tokidoki koso tomari tamahe, koko kasiko no ohom-itoma naku te, kurure ba ide tamahu wo, sitahi kikoye tamahu wori nado aru wo, ito rautaku omohi kikoye tamahe ri.

 Ni, sam-niti uti ni saburahi, Ohotono ni mo ohasuru wori ha, ito itaku ku'si nado si tamahe ba, kokorogurusiu te, haha naki ko mo' tara m kokoti si te, ariki mo sidugokoro naku oboye tamahu. Soudu ha, kaku nam, to kiki tamahi te, ayasiki mono kara, uresi to nam omohosi keru. Kano ohom-hohuzi nado si tamahu ni mo, ikamesiu toburahi kikoye tamahe ri.

 [2-2 Genji visits Fujitsubo's residence on Samjo]

 Huditubo no makade tamahe ru Samdeu-no-miya ni, ohom-arisama mo yukasiu te, mawiri tamahe re ba, Myaubu, Tiunagon-no-kimi, Nakatukasa nado yau no hitobito taime si tari. "Kezayaka ni mo motenasi tamahu kana!" to, yasukara zu omohe do, sidume te, ohokata no ohom-monogatari kikoye tamahu hodo ni, Hyaubukyau-no-miya mawiri tamahe ri.

 Kono Kimi ohasu to kiki tamahi te, taime' si tamahe ri. Ito yosi aru sama si te, iromekasiu nayobi tamahe ru wo, "Womna nite mi m ha wokasikari nu beku", hito sire zu mi tatematuri tamahu ni mo, katagata mutumasiku oboye tamahi te, komayaka ni ohom-monogatari nado kikoye tamahu. Miya mo, kono ohom-arisama no tune yori koto ni natukasiu utitoke tamahe ru wo, "Ito medetasi" to mi tatematuri tamahi te, muko ni nado ha obosi yora de, "Womna nite mi baya" to, iromeki taru mikokoro ni ha omohosu.

 Kure nure ba, misu no uti ni iri tamahu wo, urayamasiku, mukasi ha, Uhe no ohom-motenasi ni, ito kedikaku, hitodute nara de, mono wo mo kikoye tamahi si wo, koyonau utomi tamahe ru mo, turau oboyuru zo warinaki ya!

 "Sibasiba mo saburahu bekere do, koto zo to habera nu hodo ha, onodukara okotari haberu wo, sarubeki koto nado ha, ohosegoto mo habera m koso, uresiku."

 nado, sukusukusiu te ide tamahi nu. Myaubu mo, tabakari kikoye m kata naku, Miya no mikesiki mo arisi yori ha, itodo uki husi ni obosi oki te, kokoro toke nu mikesiki mo, hadukasiku itohosikere ba, nani no sirusi mo naku te, sugi yuku. "Hakana no tigiri ya!" to obosi midaruru koto, katamini tuki se zu.

 [2-3 Out of mourning for Murasaki's grandmother]

 Seunagon ha, "Oboye zu wokasiki yo wo miru kana! Kore mo, ko-Amauhe no, kono ohom-koto wo obosi te, ohom-okonahi ni mo inori kikoye tamahi si hotoke no ohom-sirusi ni ya?" to oboyu. "Ohoidono, ito yamgotonaku te ohasimasu. Koko kasiko amata kakadurahi tamahu wo zo, makoto ni otonabi tamaha m hodo ha, mutukasiki koto mo ya?" to oboye keru. Saredo, kaku tori-waki tamahe ru ohom-oboye no hodo ha, ito tanomosige nari kasi.

 Ohom-buku, hahagata ha mi-tuki koso ha tote, tugomori ni ha nuga se tatematuri tamahu wo, mata oya mo naku te ohiide tamahi sika ba, mabayuki iro ni ha ara de, kurenawi, murasaki, yamabuki no di no kagiri ore ru ohom-koutiki nado wo ki tamahe ru sama, imiziu imamekasiku wokasige nari.

 [2-4 In newyear Murasaki plays dolls]

 Wotokogimi ha, teuhai ni mawiri tamahu tote, sasi-nozoki tamahe ri.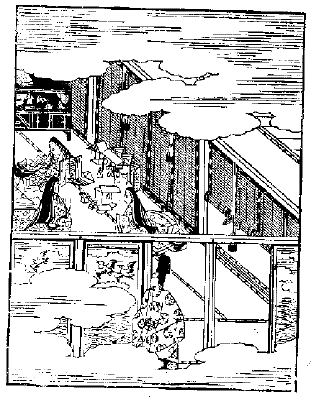 "Kehu yori ha, otonasiku nari tamahe ri ya?"
 tote, uti-wemi tamahe ru, ito medetau aigyauduki tamahe ri. Itusika, hihina wo si suwe te, sosoki wi tamahe ru. Sam-zyaku no midusi hitoyorohi ni, sinazina siturahi suwe te, mata tihisaki ya-domo tukuri atume te, tatematuri tamahe ru wo, tokoroseki made asobi hiroge tamahe ri.

 "Na yarahu tote, Inuki ga kore wo koboti haberi ni kere ba, tukurohi haberu zo."
 tote, ito daizi to oboi tari.
 "Geni, ito kokoronaki hito no siwaza ni mo haberu naru kana! Ima tukoroha se habera m. Kehu ha kotoimi si te, na nai tamahi so."
 tote, ide tamahu kesiki, tokoroseki wo, hitobito hasi ni ide te mi tatemature ba, Himegimi mo tatiide te mi tatematuri tamahi te, hihina no naka no Genzi-no-kimi tukurohi tate te, uti ni mawira se nado si tamahu.

 "Kotosi dani sukosi otonabi sase tamahe. Towo ni amari nuru hito ha, hihinaasobi ha imi haberu mono wo. Kaku ohom-wotoko nado mauke tatematuri tamahi te ha, aru bekasiu simeyaka nite koso, miye tatematura se tamaha me. Migusi mawiru hodo wo dani, monouku se sase tamahu."

 nado, Seunagon kikoyu. Ohom-asobi ni nomi kokoro ire tamahe re ba, hadukasi to omoha se tatematura m tote ihe ba, kokoro no uti ni, "Ware ha, saha, wotoko mauke te keri. Kono hitobito no wotoko tote aru ha, minikuku koso are. Ware ha kaku wokasige ni wakaki hito wo mo mo' tari keru kana!" to, ima zo omohosi siri keru. Sahaihedo, ohom-tosi no kazu sohu sirusi na' meri kasi. Kaku wosanaki ohom-kehahi no, koto ni hure te sirukere ba, tono no uti no hitobito mo, ayasi to omohi kere do, ito kau yoduka nu ohom-sohibusi nara m to ha omoha zari keri.

3 Tale of Fujitsubo(2) A baby boy is born on Fujitsubo
[3-1 Genji visits to Sadaijin's residence]
 Uti yori Ohoidono ni makade tamahe re ba, rei no uruhasiu yosohosiki ohom-sama nite, kokoroutukusiki mikesiki mo naku, kurusikere ba,
 "Kotosi yori dani, sukosi yoduki te aratame tamahu mikokoro miye ba, ikani uresikara m."
 nado, kikoye tamahe do, "Wazato hito suwe te, kasiduki tamahu." to kiki tamahi si yori ha, "Yamgotonaku obosi sadame taru koto ni koso ha." to, kokoro nomi oka re te, itodo utoku hadukasiku obosa ru besi. Sihite mi sira nu yau ni motenasi te, midare taru ohom-kehahi ni ha, e simo kokoroduyokara zu, ohom-irahe nado uti-kikoye tamahe ru ha, naho hito yori ha ito koto nari.

 Yo-tose bakari ga konokami ni ohasure ba, uti-sugusi, hadukasige ni, sakari ni totonohori te miye tamahu. "Nanigoto ka ha kono hito no aka nu tokoro ha monosi tamahu. Waga kokoro no amari kesikara nu susabi ni, kaku urami rare tatematuru zo kasi." to, obosi sira ru. Onazi otodo to kikoyuru naka ni mo, oboye yamgotonaku ohasuru ga, miyabara ni hitori ituki kasiduki tamahu mikokoroogori, ito koyonaku te, "Sukosi mo oroka naru wo ba mezamasi." to omohi kikoye tamahe ru wo, Wotokogimi ha, "Nadoka ito sasimo" to, narahai tamahu, mikokoro no hedate-domo naru besi.

 Otodo mo, kaku tanomosige naki mikokoro wo, turasi to omohi kikoye tamahi nagara, mi tatematuri tamahu toki ha, urami mo wasure te, kasiduki itonami kikoye tamahu. Tutomete, ide tamahu tokoro ni sasi-nozoki tamahi te, ohom-sauzoku si tamahu ni, nadakaki ohom-obi, ohom-tedukara mota se te watari tamahi te, ohom-zo no usiro hiki-tukurohi nado, ohom-kutu wo tora nu bakari ni si tamahu, ito ahare nari.

 "Kore ha, naien nado ihu koto mo haberu naru wo, sayau no wori ni koso."
 nado kikoye tamahe ba,
 "Sore ha, masare ru mo haberi. Kore ha tada me nare nu sama nare ba nam."
 tote, sihite sasa se tatematuri tamahu. Geni, yorodu ni kasiduki tate te mi tatematuri tamahu ni, ikeru kahi ari, "Tamasaka nite mo, kakara m hito wo idasi ire te mi m ni, masu koto ara zi." to miye tamahu.

 [3-2 A baby boy is born on 10 something day in February]

 Samza si ni tote mo, amata tokoro mo ariki tamaha zu, Uti, Touguu, Iti-no-win bakari, sateha, Huditubo no Samdeu-no-miya ni zo mawiri tamahe ru.
 "Kehu ha mata koto ni mo miye tamahu kana!"
 "Nebi tamahu mama ni, yuyusiki made nari masari tamahu ohom-arisama kana!"
 to, hitobito mede kikoyuru wo, Miya, kityau no hima yori, hono-mi tamahu ni tuke te mo, omohosu koto sigekari keri.

 Kono ohom-koto no, sihasu mo sugi ni si ga, kokoromotonaki ni, kono tuki ha saritomo to, Miyabito mo mati kikoye, uti ni mo, saru mikokoro mauke-domo ari, turenaku te tati nu. "Ohom-mononoke ni ya?" to, yohito mo kikoye sawagu wo, Miya, ito wabisiu, "Kono koto ni yori, mi no itadura ni nari nu beki koto." to obosi nageku ni, mikokoti mo ito kurusiku te nayami tamahu.

 Tiuzyau-no-kimi ha, itodo omohi ahase te, misuhohu nado, sa to ha naku te tokorodokoro ni se sase tamahu. "Yononaka no sadame naki ni tuke te mo, kaku hakanaku te ya yami na m?" to, tori-atume te nageki tamahu ni, ni-gwatu zihu-yo-niti no hodo ni, Wotokomiko mumare tamahi nure ba, nagori naku, uti ni mo miyabito mo yorokobi kikoye tamahu.

 "Inoti nagaku mo" to omohosu ha kokoroukere do, "Koukiden nado no, ukehasige ni notamahu." to kiki si wo, "Munasiku kiki nasi tamaha masika ba, hitowaraha re ni ya." to obosi tuyori te nam, yauyau sukosi dutu sahayai tamahi keru.

 Uhe no, itusika to yukasige ni obosimesi taru koto, kagiri nasi. Kano, hito sire nu mikokoro ni mo, imiziu kokoromotonaku te, hitoma ni mawiri tamahi te,
 "Uhe no obotukanagari kikoyesase tamahu wo, madu mi tatematuri te kuhasiku sousi habera m."
 to kikoye tamahe do,
 "Mutukasige naru hodo nare ba."
 tote, mise tatematuri tamaha nu mo, kotowari nari. Saruha, ito asamasiu, meduraka naru made utusi tori tamahe ru sama, tagahu beku mo ara zu. Miya no, mikokoro no oni ni ito kurusiku, "Hito no mi tatematuru mo, ayasikari turu hodo no ayamari wo, masani hito no omohi togame zi ya? Saranu hakanaki koto wo dani, kizu wo motomuru yo ni, ika naru na no tuhini mori-idu beki ni ka." to obosi tudukuru ni, mi nomi zo ito kokorouki.

 Myaubu-no-kimi ni, tamasaka ni ahi tamahi te, imiziki koto-domo wo tukusi tamahe do, nani no kahi aru beki ni mo ara zu. Wakamiya no ohom-koto wo, warinaku obotukanagari kikoye tamahe ba,
 "Nado, kau simo anagati ni notamahasu ram? Ima, onodukara mi tatematura se tamahi te m."
 to kikoye nagara, omohe ru kesiki, katamini tada nara zu. Kataharaitaki koto nare ba, maho ni mo e notamaha de,
 "Ika nara m yo ni, hitodute nara de, kikoye sase m."
 tote, nai tamahu sama zo, kokorogurusiki.

 "Ika sama ni mukasi musube ru tigiri nite
 Konoyo ni kakaru naka no hedate zo
 Kakaru koto koso kokoroe gatakere."

 to notamahu.
 Myaubu mo, Miya no omohosi taru sama nado wo mi tatematuru ni, e hasitanau mo sasi-hanati kikoye zu.

 "Mi te mo omohu mi nu hata ikani nageku ram
 koya yonohito no madohu tehu yami
 Ahare ni, kokoro yurubi naki ohom-koto-domo kana!"

 to, sinobi te kikoye keri.
 Kaku nomi ihiyaru kata naku te, kaheri tamahu monokara, hito no mono-ihi mo wadurahasiki wo, warinaki koto ni notamaha se obosi te, Myaubu wo mo, mukasi oboyi tari si yau ni mo, utitoke mutubi tamaha zu. Hitome tatu maziku, nadaraka ni motenasi tamahu monokara, kokorodukinasi to obosu toki mo aru beki wo, ito wabisiku omohi no hoka naru kokoti su besi.

 [3-3 Fujitsubo comes back to the Imperial Court with hew baby in April]

 Uduki ni uti he mawiri tamahu. Hodo yori ha ohoki ni oyosuke tamahi te, yauyau okikaheri nado si tamahu. Asamasiki made, magiredokoro naki ohom-kahotuki wo, obosi yora nu koto ni si are ba, "Mata narabinaki-doti ha, geni kayohi tamaheru ni koso ha." to, omohosi keri. Imiziu omohosi kasiduku koto, kagiri nasi. Genzi-no-kimi wo, kagirinaki mono ni obosimesi nagara, yo no hito no yurusi kikoyu mazikari si ni yori te, bau ni mo suwe tatematura zu nari ni si wo, akazu kutiwosiu, tadaudo nite katazikenaki ohom-arisama, katati ni, nebi mote ohasuru wo goranzuru mama ni, kokorogurusiku obosimesu wo, "Kau yamgotonaki ohom-hara ni, onazi hikari nite sasi-ide tamahe re ba, kizu naki tama." to obosi kasiduku ni, Miya ha ika naru ni tuke te mo, mune no hima naku, yasukara zu mono wo omohosu.

 Rei no, Tiuzyau-no-kimi, konata nite ohom-asobi nado si tamahu ni, idaki ide tatematura se tamahi te,
 "Miko-tati, amata are do, soko wo nomi nam, kakaru hodo yori akekure mi si. Sareba, omohi watasa ruru ni ya ara m? Ito yoku koso oboye tare. Ito tihisaki hodo ha, mina kaku nomi aru waza ni ya ara m?"
 tote, imiziku utukusi to omohi kikoye sase tamahe ri.

 Tiuzyau-no-kimi, omote no iro kaharu kokoti si te, osorosiu mo, katazikenaku mo, uresiku mo, ahare ni mo, katagata uturohu kokoti si te, namida oti nu besi. Monogatari nado si te, uti-wemi tamahe ru ga, ito yuyusiu utukusiki ni, waga mi nagara, kore ni ni tara m ha imiziu itahasiu oboye tamahu zo, anagati naru ya! Miya ha, warinaku kataharaitaki ni, ase mo nagare te zo ohasi keru. Tiuzyau ha, nakanaka naru kokoti no, midaru yau nare ba, makade tamahi nu.

 Waga ohom-kata ni husi tamahi te, "Mune no yaru kata naki hodo sugusi te, Ohoidono he." to obosu. Omahe no sensai no, nani to naku awomi watare ru naka ni, tokonatu no hanayaka ni saki ide taru wo, wora se tamahi te, Myaubu-no-kimi no moto ni, kaki tamahu koto, ohokaru besi.

 "Yosohe tutu miru ni kokoro ha nagusama de
 tuyukesa masaru nadesiko no hana

 Hana ni saka nam, to omohi tamahe si mo, kahi naki yo ni haberi kere ba."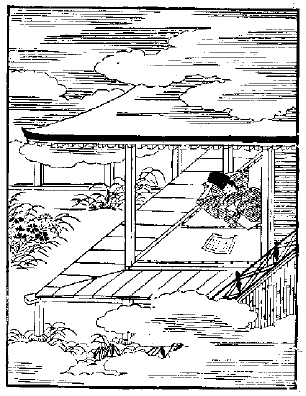 to ari. Sarinubeki hima ni ya ari kem, goranze sase te,
 "Tada tiri bakari, kono hanabira ni."
 to kikoyuru wo, waga mikokoro ni mo, mono ito ahare ni obosi sira ruru hodo nite,

 "Sode nururu tuyu no yukari to omohu ni mo
 naho utomare nu yamatonadesiko"

 to bakari, honoka ni kaki sasi taru yau naru wo, yorokobi nagara tatemature ru, "Rei no koto nare ba, sirusi ara zi kasi." to, kuduhore te nagame husi tamahe ru ni, mune uti-sawagi te, imiziku uresiki ni mo namida oti nu.

 [3-4 Genji comforts himself by seeing Murasaki]

 Tukuduku to husi taru ni mo, yarukatanaki kokoti sure ba, rei no, nagusame ni ha nisi-no-tai ni zo watari tamahu.
 Sidokenaku uti-hukudami tamahe ru binguki, azare taru utiki sugata nite, hue wo natukasiu huki susabi tutu, nozoki tamahe re ba, Womnagimi, arituru hana no tuyu ni nure taru kokoti si te, sohi husi tamahe ru sama, utukusiu rautage nari. Aigyau koboruru yau nite, ohasi nagara toku mo watari tamaha nu, nama-uramesikari kere ba, rei nara zu, somuki tamahe ru naru besi. Hasi no kata ni tui-wi te,
 "Koti ya!"
 to notamahe do, odoroka zu,
 "Iri nuru iso no"
 to kutizusami te, kuti ohohi si tamahe ru sama, imiziu sare te utukusi.
 "Ana, niku! Kakaru koto kuti nare tamahi ni keri na! Mirume ni aku ha, masa naki koto zo yo."
 tote, hito mesi te, ohom-koto toriyose te hika se tatematuri tamahu.
 "Sau-no-koto ha, naka no hosowo no tahe gataki koso tokorosekere."
 tote, Hyaudeu ni osi-kudasi te sirabe tamahu. Kakiahase bakari hiki te, sasi-yari tamahe re ba, e wenzi hate zu, ito utukusiu hiki tamahu.

 Tihisaki ohom-hodo ni, sasi-yari te, yusi tamahu ohom-tetuki, ito utukusikere ba, rautasi to obosi te, hue huki narasi tutu wosihe tamahu. Ito satoku te, kataki teusi-domo wo, tada hito watari ni narahi tori tamahu. Ohokata raurauziu wokasiki mikokorobahe wo, "Omohi si koto kanahu." to obosu. 'Hosoroguseri' to ihu mono ha, na ha nikukere do, omosirou huki susabi tamahe ru ni, kakiahase mada wakakere do, hausi tagaha zu zyauzumeki tari.

 Ohotonabura mawiri te, we-domo nado goranzuru ni, "Ide tamahu besi" to ari ture ba, hitobito kowadukuri kikoye te,
 "Ame huri haberi nu besi."
 nado ihu ni, Himegimi, rei no, kokorobosoku te ku'si tamahe ri. We mo mi sasi te, utubusi te ohasure ba, ito rautaku te, migusi no ito medetaku kobore kakari taru wo, kaki-nade te,
 "Hoka naru hodo ha kohisiku ya aru?"
 to notamahe ba, unaduki tamahu.

 "Ware mo, hitohi mo mi tatematura nu ha ito kurusiu koso are do, wosanaku ohasuru hodo ha, kokoroyasuku omohi kikoye te, madu, kunekunesiku uramuru hito no kokoro yabura zi to omohi te, mutukasikere ba, sibasi kaku mo ariku zo. Otonasiku minasi te ha, hoka he mo sarani iku mazi. Hito no urami oha zi nado omohu mo, yo ni nagau ari te, omohu sama ni miye tatematura m to omohu zo."

 nado, komagoma to katarahi kikoye tamahe ba, sasuga ni hadukasiu te, tomokakumo irahe kikoye tamaha zu. Yagate ohom-hiza ni yorikakari te, neiri tamahi nure ba, ito kokorogurusiu te,
 "Koyohi ha ide zu nari nu."
 to notamahe ba, mina tati te, omono nado konata ni mawirase tari. Himegimi okosi tatematuri tamahi te,
 "Ide zu nari nu."
 to kikoye tamahe ba, nagusami te oki tamahe ri. Morotomoni mono nado mawiru. Ito hakanage ni susabi te,
 "Saraba, ne tamahi ne kasi."
 to, ayahuge ni omohi tamahe re ba, kakaru wo misute te ha, imiziki miti nari to mo, omomuki gataku oboye tamahu.

 Kayau ni, todome rare tamahu woriwori nado mo ohokaru wo, onodukara mori-kiku hito Ohoidono ni kikoye kere ba,
 "Tare nara m? Ito mezamasiki koto ni mo aru kana!"
 "Ima made sono hito to mo kikoye zu, sayau ni matuhasi tahabure nado su ram ha, ateyaka ni kokoronikuki hito ni ha ara zi."
 "Uti watari nado nite, hakanaku mi tamahi kem hito wo, mono-mekasi tamahi te, hito ya togame m to kakusi tamahu na'nari. Kokoronage ni ihake te kikoyuru ha."
 nado, saburahu hitobito mo kikoye ahe ri.

 Uti ni mo, kakaru hito ari to kikosimesi te,
 "Itohosiku, Otodo no omohi nageka ru naru."nado, notamahasure do, kasikomari taru sama nite, ohom-irahe mo kikoye tamaha ne ba, "Kokoro yuka nu na'meri" to, itohosiku obosimesu.

 "Saruha, sukizukisiu uti-midare te, kono miyuru nyoubau ni mare, mata konata kanata no hitobito nado, nabete nara zu nado mo miye kikoye za' meru wo, ikanaru mono no kuma ni kakure ariki te, kaku hito ni mo urami raru ram?" to notamahasu.

4 Tale of Gen-no-Naishi Scandal with an old erotic woman
[4-1 A rumor about an old erotic woman]
 Mikado no ohom-tosi, nebi sase tamahi nure do, kauyau no kata, e sugu sase tamaha zu, Unebe, Nyo-kuraudo nado wo mo, katati, kokoro aru wo ba, kotoni mote-hayasi obosimesi tare ba, yosi aru miyadukahe-bito ohokaru koro nari. Hakanaki koto wo mo ihi hure tamahu ni ha, mote-hanaruru koto mo arigataki ni, me naruru ni ya ara m, "Geni zo, ayasiu sui tamaha za' meru." to, kokoromi ni tahaburegoto wo kikoye kakari nado suru wori are do, nasake nakara nu hodo ni uti-irahe te, makoto ni ha midare tamaha nu wo, "Mameyaka ni sauzausi" to omohi kikoyuru hito mo ari.

 Tosi itau oyi taru Naisinosuke, hito mo yamgotonaku, kokorobase ari, ate ni, oboye takaku ha ari nagara, imiziu adamei taru kokorozama nite, sonata ni ha omokara nu wo, "Kau, sada suguru made, nado sasimo midaru ram?" to, ibukasiku oboye tamahi kere ba, tahaburegoto ihihure te kokoromi tamahu ni, nigenaku mo omoha zari keru. Asamasi, to obosi nagara, sasuga ni kakaru mo wokasiu te, mono nado notamahi te kere ba, hito no mori-kika m mo, hurumekasiki hodo nare ba, turenaku motenasi tamahe ru wo, Womna ha, ito turasi to omohe ri.

 [4-2 Genji and Gen-no-Naishi compose and exchange waka]

 Uhe no mikedurigusi ni saburahi keru wo, hate ni kere ba, Uhe ha miutiki no hito mesi te ide sase tamahi nuru hodo ni, mata hito mo naku te, kono Naisi tune yori mo kiyoge ni, yaudai, kasiratuki namameki te, sauzoku, arisama, ito hanayaka ni konomasige ni miyuru wo, "Samo huri gatau mo!" to, kokorodukinaku mi tamahu monokara, "Ikaga omohu ram?" to, sasuga ni sugusi gataku te, mo no suso wo hiki odorokasi tamahe re ba, kahabori no enarazu wegaki taru wo, sasi-kakusi te mi kaheri taru mami, itau mi nobe tare do, makahara itaku kuromi oti iri te, imiziu hature sosoke tari.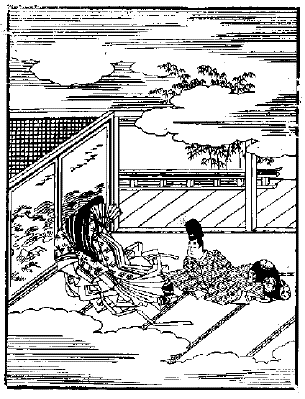 "Nitukahasikara nu ahugi no sama kana!" to mi tamahi te, waga mo' tamahe ru ni, sasi-kahe te mi tamahe ba, akaki kami no, uturu bakari iro hukaki ni, kodakaki mori no kata wo nuri kakusi tari. Katatukata ni, te ha ito sada sugi tare do, yosi nakara zu, "Mori no sita kusa oyi nure ba" nado kaki susabi taru wo, "Koto simo are, utate no kokorobahe ya!" to wema re nagara,
 "Mori koso natu no, to miyu meru."
 tote, nanikure to notamahu mo, nigenaku, hito ya mituke m to kurusiki wo, Womna ha samo, omohi tara zu,

 "Kimi si ko ba tanare no koma ni kari kaha m
 sakari sugi taru sitaba nari to mo"

 to ihu sama, koyonaku iromeki tari.

 "Sasa wake ba hito ya togame m itu to naku
 koma natuku meru mori no kogakure
 Wadurahasisa ni."

 tote, tati tamahu wo, hikahe te,
 "Mada kakaru mono wo koso omohi habera ne. Imasara naru, mi no hadi ni nam."
 tote naku sama, ito imizi.
 "Ima, kikoye m. Omohi nagara zo ya!"
 tote, hiki-hanati te ide tamahu wo, semete oyobi te, "Hasibasira" to urami kakuru wo, Uhe ha miutiki hate te, misauzi yori nozoka se tamahi keri. "Nitukahasikara nu ahahi kana!" to, ito wokasiu obosa re te,
 "Sukigokoro nasi to, tuneni mote-nayamu meru wo, saha ihe do, sugusa zari keru ha!"
 tote, waraha se tamahe ba, Naisi ha, nama-mabayukere do, nikukara nu hito yuwe ha, nureginu wo dani ki mahosigaru taguhi mo a' nare ba ni ya, itau mo aragahi kikoye sase zu.

 Hitobito mo, "Omohi no hoka naru koto kana!" to, atukahu meru wo, Tou-no-tiuzyau, kikituke te, "Itara nu kuma naki kokoro nite, mada omohiyora zari keru yo!" to omohu ni, tuki se nu konomigokoro mo mi mahosiu nari ni kere ba, katarahi tuki ni keri.
 Kono Kimi mo, hito yori ha ito koto naru wo, "Kano turenaki hito no ohom-nagusame ni" to omohi ture do, mi mahosiki ha, kagiri ari keru wo to ya! Utate no konomi ya!

 [4-3 Tou-no-Chujo terrifies that Genji and Naishi had a secret meeting]

 Itau sinobure ba, Genzi-no-kimi ha e siri tamaha zu. Mituke kikoye te ha, madu urami kikoyuru wo, yohahi no hodo itohosikere ba, nagusame m to obose do, kanaha nu mono-usa ni, ito hisasiku nari ni keru wo, yuhudati si te, nagori suzusiki yohi no magire ni, Unmeiden no watari wo, tatazumi ariki tamahe ba, kono Naisi, biha wo ito wokasiu hiki wi tari. Omahe nado nite mo, wotokogata no ohom-asobi ni maziri nado si te, koto ni masaru hito naki zyauzu nare ba, mono-uramesiu oboye keru worikara, ito ahare ni kikoyu.

 "Uri tukuri ni nari ya si na masi."
 to, kowe ha ito wokasiu te utahu zo, sukosi kokorodukinaki. "Gakusiu ni ari kem mukasi no hito mo, kaku ya wokasikari kem?" to, mimi tomari te kiki tamahu. Hiki yami te, ito itau omohi midare taru kehahi nari. Kimi, 'Adumaya' wo sinobiyaka ni utahi te yori tamahe ru ni,
 "Osi hirai te ki mase."
 to, uti-sohe taru mo, rei ni tagahi taru kokoti zo suru.

 "Tati nururu hito simo ara zi Adumaya ni
 utate mo kakaru amasosoki kana"

 to, uti-nageku wo, ware hitori simo kiki ohu mazikere do, "Utomasi ya, nanigoto wo kaku made ha." to, oboyu.

 "Hitoduma ha ana wadurahasi adumaya no
 maya no amari mo nare zi to zo omohu"

 tote, uti-sugi na mahosikere do, "Amari hasitanaku ya!" to omohikahesi te, hito ni sitagahe ba, sukosi hayarika naru tahaburegoto nado ihikahasi te, kore mo medurasiki kokoti zo si tamahu.

 Tou-no-tiuzyau ha, kono Kimi no itau mamedati sugusi te, tuneni modoki tamahu ga netaki wo, turenaku te utiuti sinobi tamahu katagata ohoka' meru wo, "Ikade mi arahasa m" to nomi omohi wataru ni, kore wo mituke taru kokoti, ito uresi. "Kakaru wori ni, sukosi odosi kikoye te, mikokoro madohasi te, kori nu ya to iha m." to omohi te, tayume kikoyu.

 Kaze hiyayaka ni uti-huki te, yaya hukeyuku hodo ni, sukosi madoromu ni ya to miyuru kesiki nare ba, yawora iri kuru ni, Kimi ha, toke te simo ne tamaha nu kokoro nare ba, huto kikituke te, kono Tiuzyau to ha omohiyora zu, "Naho wasure gataku su naru Suri-no-kami ni koso ara me." to obosu ni, otonaotonasiki hito ni, kaku nigenaki hurumahi wo si te, mituke rare m koto ha, hadukasi kere ba,

 "Ana, wadurahasi. Ide na m yo! Kumo no hurumahi ha, sirukari tu ram mono wo. Kokorouku, sukasi tamahi keru yo!"

 tote, nahosi bakari wo tori te, byaubu no usiro ni iri tamahi nu. Tiuzyau, wokasiki wo nenzi te, hiki tatematuru byaubu no moto ni yori te, gohogoho to tatami yose te, odoroodorosiku sawagasu ni, Naisi ha, nebi tare do, itaku yosibami nayobi taru hito no, sakizaki mo kayau nite, kokoro ugokasu woriwori ari kere ba, narahi te, imiziku kokoroawatatasiki ni mo, "Kono Kimi wo ikani si kikoye nuru ka?" to wabisisa ni, huruhu huruhu tuto hikahe tari. "Tare to sira re de ide na baya." to obose do, sidokenaki sugata nite, kauburi nado uti-yugame te hasira m usirode omohu ni, "Ito woko naru besi." to, obosi yasurahu.

 Tiuzyau, "Ikade ware to sira re kikoye zi." to omohi te, mono mo iha zu, tada imiziu ikare ru kesiki ni motenasi te, tati wo hikinuke ba, Womna,
 "Aga kimi, aga kimi!"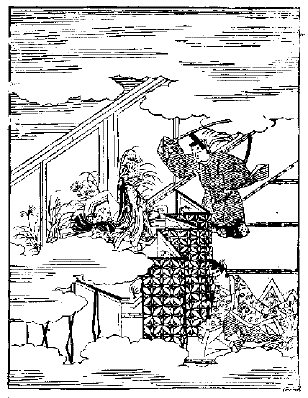 to, mukahi te te wo suru ni, hotohoto warahi nu besi. Konomasiu wakayagi te motenasi taru uhabe koso, sa'ri mo ari kere, gozihu siti, hati no hito no, utitoke te monoihi sawage ru kehahi, enaranu hatati no wakaudo-tati no ohom-naka nite mono-odi si taru, ito tukinasi. Kau aranu sama ni mote-higame te, osorosige naru kesiki wo misure do, nakanaka siruku mituke tamahi te, "Ware to siri te, kotosarani suru nari keri." to, woko ni nari nu. "Sono hito na' meri." to mi tamahu ni, ito wokasi kere ba, tati nuki taru kahina wo torahe te, ito itau tumi tamahe re ba, netaki monokara, e tahe de warahi tamahi nu.

 "Makoto ha, utusigokoro ka to yo! Tahabure nikusi ya! Ide, kono nahosi ki m."
 to notamahe do, tuto torahe te, sarani yurusi kikoye zu.
 "Saraba, morotomoni koso."
 tote, Tiuzyau no obi wo hiki toki te nugase tamahe ba, nuga zi to sumahu wo, tokaku hikisirohu hodo ni, hokorobi ha horohoro to taye nu. Tiuzyau,

 "Tutumu meru na ya mori ide m hikikahasi
 kaku hokoroburu naka no koromo ni
 Uhe ni tori ki ba, sirukara m."

 to ihu. Kimi,

 "Kakure naki mono to siru siru natugoromo
 ki taru wo usuki kokoro to zo miru"

 to ihikahasi te, urayami naki sidokena sugata ni hiki nasa re te, mina ide tamahi nu.

 [4-4 Genji has a quarrel with Tou-no-Chujo on the next day at the Imperial Court]

 Kimi ha, "Ito kutiwosiku mituke rare nuru koto." to omohi, husi tamahe ri. Naisi ha, asamasiku oboye kere ba, oti tomare ru ohom-sasinuki, obi nado, tutomete tatemature ri.

 "Urami te mo ihukahi zo naki tati-kasane
 hiki te kaheri si nami no nagori ni
 Soko mo araha ni."

 to ari. "Omona no sama ya!" to mi tamahu mo nikukere do, warinasi to omohe ri si mo sasuga nite,

 "Aradati si nami ni kokoro ha sawaga ne do
 yose kem iso wo ikaga urami nu"

 to nomi nam ari keru. Obi ha, Tiuzyau no nari keri. Waga ohom-nahosi yori ha iro hukasi, to mi tamahu ni, hatasode mo nakari keri.
 "Ayasi no koto-domo ya! Oritati te midaruru hito ha, mube wokogamasiki koto ha ohokara m." to, itodo mikokoro wosame rare tamahu.
 Tiuzyau, tonowidokoro yori, "Kore, madu todi tuke sase tamahe." tote, osi-tutumi te okose taru wo, "Ikade tori tu ram?" to, kokoroyamasi. "Kono obi wo e zara masika ba." to obosu. Sono iro no kami ni tutumi te,

 "Naka taye ba kakoto ya ohu to ayahusa ni
 hanada no obi wo tori te dani mi zu"

 tote, yari tamahu. Tati-kaheri,

 "Kimi ni kaku hiki-tora re nuru obi nare ba
 kaku te taye nuru naka to kakota m
 E nogare sase tamaha zi."
 to ari.

 Hi take te, onoono tenzyau ni mawiri tamahe ri. Ito siduka ni, mono-tohoki sama si te ohasuru ni, Tou-no-kimi mo ito wokasikere do, ohoyakegoto ohoku sousi kudasu hi nite, ito uruhasiku sukuyoka naru wo miru mo, katamini hohowema ru. Hitoma ni sasi-yori te,
 "Mono-gakusi ha kori nu ram kasi."
 tote, ito netage naru sirime nari.
 "Nadote ka, sasimo ara m? Tati nagara kaheri kem hito koso, itohosikere. Makoto ha, usi ya, yononaka yo!"
 to ihi ahase te, "Toko-no-yama naru" to, katami ni kuti gatamu.

 Sate, sono noti, tomosureba koto no tuide goto ni, ihi mukahuru kusahahi naru wo, itodo mono-mutukasiki hito yuwe to, obosi siru besi. Womna ha, naho ito en ni urami kakuru wo, wabisi to omohi ariki tamahu.

 Tiuzyau ha, Imouto-no-kimi ni mo kikoye ide zu, tada, "Sarubeki wori no odosi gusa ni se m." to zo omohi keru. Yamgotonaki ohom-harabara no Miko-tati dani, Uhe no ohom-motenasi no koyonaki ni wadurahasigari te, ito koto ni sari kikoye tamahe ru wo, kono Tiuzyau ha, "Sarani osi-keta re kikoe zi." to, hakanaki koto ni tuke te mo, omohi idomi kikoye tamahu.

 Kono Kimi hitori zo, Himegimi no ohom-hitotubara nari keru. Mikado no miko to ihu bakari ni koso are, ware mo, onazi otodo to kikoyure do, ohom-oboye koto naru ga, Mikobara nite matanaku kasiduka re taru ha, nani bakari otoru beki kiha to, oboye tamaha nu naru besi. Hitogara mo, aru beki kagiri totonohi te, nanigoto mo aramahosiku, tarahi te zo monosi tamahi keru. Kono ohom-naka-domo no idomi koso, ayasikari sika. Saredo, urusaku te nam.

5 Tale of Fujitsubo(3) Fujitsubo ascends the empress, and Genji is promoted Saisho in July
[5-1 Fujitsubo ascends the empress in July]
 Siti-gwati ni zo Kisaki wi tamahu meri si. Genzi-no-kimi, saisyau ni nari tamahi nu. Mikado, oriwi sase tamaha m no mikokorodukahi tikau nari te, kono Wakamiya wo bau ni, to omohi kikoye sase tamahu ni, ohom-usiromi si tamahu beki hito ohase zu. Ohom-hahagata no, mina Miko-tati nite, Genzi no ohoyakegoto siri tamahu sudi nara ne ba, Hahamiya wo dani ugoki naki sama ni si oki tatematuri te, tuyori ni to obosu ni nam ari keru.

 Koukiden, itodo mikokoro ugoki tamahu, kotowari nari. Saredo,
 "Touguu no miyo, ito tikau nari nure ba, utagahi naki mikurawi nari. Omohosi nodome yo."
 to zo kikoye sase tamahi keru. "Geni, Touguu no ohom-haha nite nizihu-yo-nen ni nari tamahe ru Nyougo wo oki tatematuri te ha, hiki-kosi tatematuri tamahi gataki koto nari kasi." to, rei no, yasukara zu yohito mo kikoye keri.

 Mawiri tamahu yo no ohom-tomo ni, Saisyau-no-kimi mo tukaumaturi tamahu. Onazi Miya to kikoyuru naka ni mo, Kisakibara no Miko, tama hikari kakayaki te, taguhinaki ohom-oboye ni sahe monosi tamahe ba, hito mo ito koto ni omohi kasiduki kikoye tari. Masite, warinaki mikokoro ni ha, mikosi no uti mo omohiyara re te, itodo oyobi naki kokoti si tamahu ni, suzurohasiki made nam.

 "Tuki mo se nu kokoro no yami ni kururu kana
 kumowi ni hito wo miru ni tuke te mo"

 to nomi, hitorigota re tutu, mono ito ahare nari.
 Miko ha, oyosuke tamahu tukihi ni sitagahi te, ito mi tatematuri waki gatage naru wo, Miya, ito kurusi, to obose do, omohiyoru hito naki na'meri kasi. Geni, ika sama ni tukurikahe te ka ha, otora nu ohom-arisama ha, yo ni ide monosi tamaha masi. Tukihi no hikari no sora ni kayohi taru yau ni, zo yohito mo omohe ru.

to HomePage
Classic Text
Modern Version
Original Text
Teika's Note

---