First updated 08/11/2002(ver.1-3)
Last updated 12/01/2021(ver.2-4)
Written in Japanese roman letters by Eiichi Shibuya(C)
Picture "Eiri Genji Monogatari"(1650 1st edition)


  
SAKAKI
Tale of Hikaru-Genji's Konoe-Daisho era from September at the age of 23 to summer at the age of 25

1 Tale of Lady Rokujo A parting in fall

2 Tale of Hikaru-Genji Mikado Kiritubo, Genji's father, died

3 Tale of Fujitsubo

Genji meets persistently to Fujitsubo---Uti ni mawiri tamaha m koto ha
Fujitsubo determines to become a nun---"Iduko wo omote ni te ka ha, mata mo miye tatematura m
4 Tale of Hikaru-Genji

5 Tale of Fujitsubo She becommes a nun

The first anniversary of Kiritsbo's death on November 1---Tyuuguu ha, Win no ohom-hate no koto ni uti-tuduki
Fujitsubo becommes a nun after her Hokehako ceremony---Sihasu no towo-yo-ka bakari, Tyuuguu no mi-Ha'kau nari
Genji is left behind Fujitsbo gotten into religion---Tono nite mo, waga ohom-kata ni hitori uti-husi tamahi te
6 Tale of Hikaru-Genji

It becomes a happy New Year---Tosi mo kahari nure ba, Uti watari hanayaka ni
A group of Genji are obliged to have unfortunate life---Tukasa-mesi no koro, kono Miya no hito ha
Genji and his friends play with a game of In-futagi---Natu no ame, nodoka ni huri te, ture-dure naru koro
7 Tale of Oborozukiyo Their secret meeting in summer-rain is discovered by Udaijin

Genji and Oborozukiyo's secret meeting is discovered by her father---Sonokoro, Kam-no-Kimi makade tamahe ri
Udaijin wants to banish Genji from the Court---Otodo ha, omohi no mama ni, kome taru tokoro
1 Tale of Lady Rokujo A parting in fall
[1-1 Lady Rokujo determines to go to Ise with her daughter]
 Saiguu no ohom-kudari, tikau nari yuku mama ni, Miyasumdokoro, mono-kokorobosoku omohosu. Yamgotonaku wadurahasiki mono ni oboye tamaheri si Ohoidono-no-Kimi mo use tamahi te noti, saritomo to yohito mo kikoye atukahi, Miya no uti ni mo kokorotokimeki se si wo, sono noti simo, kaki-taye, asamasiki ohom-motenasi wo mi tamahu ni, makoto ni usi to obosu koto koso ari keme to, siri hate tamahi nure ba, yorodu no ahare wo obosi sute te, hitamiti ni ide-tati tamahu.

 Oya sohi te kudari tamahu rei mo kotoni nakere do, ito mihanati-gataki ohom-arisama naru ni kototuke te, "Ukiyo wo yuki hanare m" to obosu ni, Daisyau-no-Kimi, sasuga ni, ima ha to kake-hanare tamahi na m mo, kutiwosiku obosa re te, ohom-seusoko bakari ha, ahare naru sama nite, tabi-tabi kayohu. Taimen si tamaha m koto wo ba, imasara ni arumaziki koto to, Womna-Gimi mo obosu. "Hito ha kokorodukinasi to, omohi-oki tamahu koto mo ara m ni, ware ha, ima sukosi omohi midaruru koto no masaru beki wo, ainasi." to, kokoroduyoku obosu naru besi.

 Moto no tono ni ha, akarasama ni watari tamahu wori-wori are do, itau sinobi tamahe ba, Daisyau-dono, e siri tamaha zu. Tahayasuku mi-kokoro ni makase te, maude tamahu beki ohom-sumika ni hata ara ne ba, obotukanaku te tukihi mo hedatari nuru ni, Win-no-Uhe, odoro-odorosiki ohom-nayami ni ha ara de, rei nara zu, toki-doki nayama se tamahe ba, itodo mikokoro no itoma nakeredo, "Turaki mono ni omohi hate tamahi na m mo, itohosiku, hitogiki nasakenaku ya" to obosi okosi te, Nonomiya ni maude tamahu.

 [1-2 A parting at daybreak in Nonomiya]

 Nagatuki nanuka bakari nare ba, "Muge ni kehu asu" to obosu ni, Womna-gata mo kokoroawatatasikere do, "Tati nagara." to, tabitabi ohom-seusoko ari kere ba, "Ide ya?" to ha obosi wadurahi nagara, "Ito amari umore itaki wo, monogosi bakari no taimen ha." to, hitosirezu mati kikoye tamahi keri.

 Harukeki nobe wo wakeiri tamahu yori, ito mono ahare nari. Aki no hana, mina otorohe tutu, asadigahara mo karegare naru musi no ne ni, matukaze, sugoku huki ahase te, sono koto to mo kikiwaka re nu hodo ni, mono no ne-domo tayedaye kikoye taru, ito en nari.

 Mutumasiki gozen, zihuyo-nin bakari, mizuizin, kotokotosiki sugata nara de, itau sinobi tamahe re do, koto ni hiki-tukurohi tamahe ru ohom-youi, ito medetaku miye tamahe ba, ohom-tomo naru sukimono-domo, tokorokara sahe mi ni simi te omohe ri. Mikokoro ni mo, "Nadote, ima made tatinarasa zari tu ram?" to, sugi nuru kata, kuyasiu obosa ru.

 Mono-hakanage naru kosibagaki wo ohogaki nite, itaya-domo atari-atari ito karisome nari. Kuroki no toriwi-domo, sasuga ni kaugausiu miwatasa re te, wadurahasiki kesiki naru ni, kamdukasa no mono-domo, kokokasiko ni uti-sihabuki te, onoga-doti, mono uti-ihi taru kehahi nado mo, hoka ni ha sama kahari te miyu. Hitakiya kasuka ni hikari te, hitoge sukunaku, simezime to si te, koko ni mono omohasiki hito no, tukihi wo hedate tamahe ra m hodo wo obosi-yaru ni, ito imiziu ahare ni kokorogurusi.

 Kita-no-tai no sarubeki tokoro ni tati kakure tamahi te, ohom-seusoko kikoye tamahu ni, asobi ha mina yame te, kokoro-nikuki kehahi, amata kikoyu.
 Nanikure no hitodute no ohom-seusoko bakari nite, midukara ha taimen si tamahu beki sama ni mo ara ne ba, "Ito monosi." to obosi te,

 "Kauyau no ariki mo, ima ha tukinaki hodo ni nari ni te haberu wo, omohosi sira ba, kau sime no hoka ni ha motenasi tamaha de. Ibuseu haberu koto wo mo, akirame haberi ni si gana."
 to, mameyaka ni kikoye tamahe ba, hitobito,
 "Geni, ito kataharaitau."
 "Tatiwaduraha se tamahu ni, itohosiu."
 nado, atukahi kikoyure ba, "Isaya! Koko no hitome mo migurusiu, kano obosa m koto mo, wakawakasiu, ide wi m ga, imasara ni tutumasiki koto." to obosu ni, ito mono-ukere do, nasakenau motenasa m ni mo takekara ne ba, tokaku uti-nageki, yasurahi te, wizari ide tamahe ru ohom-kehahi, ito kokoronikusi.

 "Konata ha, sunoko bakari no yurusa re ha haberi ya?"
 tote, nobori wi tamahe ri.
 Hanayaka ni sasi-ide taru yuhudukuyo ni, uti-hurumahi tamahe ru sama, nihohi, niru mono naku medetasi. Tukigoro no tumori wo, tukidukisiu kikoye tamaha m mo, mabayuki hodo ni nari ni kere ba, sakaki wo isasaka wori te mo' tamahe ri keru wo, sasiire te,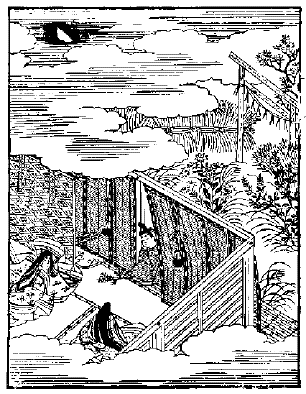 "Kahara nu iro wo sirube nite koso, igaki mo koye haberi ni kere. Samo kokorouku."
 to kikoye tamahe ba,

 "Kamigaki ha sirusi no sugi mo naki mono wo
 ika ni magahe te wore ru sakaki zo"
 to kikoye tamahe ba,

 "Wotomego ga atari to omohe ba sakakiba no
 ka wo natukasimi tome te koso wore"
 Ohokata no kehahi wadurahasikere do, misu bakari ha hiki-ki te, nagesi ni osikakari te wi tamahe ri.

 Kokoro ni makase te mi tatematuri tu beku, hito mo sitahi zama ni obosi tari turu tosituki ha, nodoka nari turu mikokoro-ogori ni, sasimo obosa re zari ki.
 Mata, kokoro no uti ni, "Ikani zo ya? Kizu ari te" omohi kikoye tamahi ni si noti, hata, ahare mo same tutu, kaku ohom-naka mo hedatari nuru wo, medurasiki ohom-taimen no mukasi oboye taru ni, "Ahare!" to, obosi midaruru koto kagiri nasi. Kisikata, yukusaki, obosi tuduke rare te, kokoroyowaku naki tamahi nu.

 Womna ha, sasimo miye zi to obosi tutumu mere do, e sinobi tamaha nu mikesiki wo, iyoiyo kokorogurusiu, naho obosi tomaru beki sama ni zo, kikoye tamahu meru.

 Tuki mo iri nuru ni ya, ahare naru sora wo nagame tutu, urami kikoye tamahu ni, kokora omohi atume tamahe ru turasa mo kiye nu besi. Yauyau, "Ima ha." to, omohi hanare tamahe ru ni, "Sareba yo!" to, nakanaka kokoro ugoki te, obosi midaru.

 Tenzyau no waka-Kimdati nado utiture te, tokaku tatiwadurahu naru niha no tatazumahi mo, geni en naru kata ni, ukebari taru arisama nari. Omohosi nokosu koto naki ohom-nakarahi ni, kikoyekahasi tamahu koto-domo, manebi yara m kata nasi.

 Yauyau akeyuku sora no kesiki, kotosara ni tukuri-ide tara m yau nari.
 "Akatuki no wakare ha itumo tuyukeki wo
 ko ha yo ni sira nu aki no sora kana"
 Ide-gate ni, ohom-te wo torahe te yasurahi tamahe ru, imiziu natukasi.

 Kaze, ito hiyayaka ni huki te, matumusi no naki karasi taru kowe mo, worisirigaho naru wo, sasite omohu koto naki dani, kiki sugusi gatage naru ni, masite, warinaki mikokoromadohi-domo ni nakanaka, koto mo yuka nu ni ya.
 "Ohokata no aki no wakare mo kanasiki ni
 naku ne na sohe so nobe no matumusi"
 Kuyasiki koto ohokare do, kahi nakere ba, akeyuku sora mo hasitanau te, ide tamahu. Miti no hodo ito tuyukesi.

 Womna mo, e kokoroduyokara zu, nagori ahare ni te nagame tamahu. Hono-mi tatematuri tamahe ru tukikage no ohom-katati, naho tomare ru nihohi nado, wakaki hitobito ha mi ni sime te, ayamati mo si tu beku, mede kikoyu.
 "Ikabakari no miti nite ka, kakaru ohom-arisama wo misute te ha, wakare kikoye m."
 to, ainaku namidagumi ahe ri.

 [1-3 It is decided the day to go to Ise]

 Ohom-humi, tune yori mo komayaka naru ha, obosi nabiku bakari nare do, mata uti-kahesi, sadame-kane tamahu beki koto nara ne ba, ito kahi nasi.
 Wotoko ha, sasimo obosa nu koto wo dani, nasake no tame ni ha yoku ihi tuduke tamahu beka' mere ba, masite, osinabete no tura ni ha omohi kikoye tamaha zari si ohom-naka no, kakute somuki tamahi na m to suru wo, kutiwosiu mo itohosiu mo, obosi nayamu besi.

 Tabi no ohom-sauzoku yori hazime, hitobito no made, nanikure no miteudo nado, ikamesiu medurasiki sama nite, toburahi kikoye tamahe do, nani to mo obosa re zu. Ahaahasiu kokorouki na wo nomi nagasi te, asamasiki mi no arisama wo, ima hazime tara m yau ni, hodo tikaku naru mama ni, okihusi nageki tamahu.

 Saiguu ha, wakaki mikokoti ni, hudyau nari turu ohom-idetati no, kaku sadamari yuku wo, uresi, to nomi obosi tari. Yohito ha, rei naki koto to, modoki mo aharegari mo, samazama ni kikoyu besi. Nanigoto mo, hito ni modoki atukaha re nu kiha ha yasuge nari. Nakanaka yo ni nuke-ide nuru hito no ohom-atari ha, tokoroseki koto ohoku nam.

 Zihuroku-niti, Katura-gaha nite, ohom-harahe si tamahu. Tune no gisiki ni masari te, Tyaubusousi nado, saranu Kamdatime mo, yamgotonaku, oboye aru wo era se tamahe ri. Win no mikokoroyose mo are ba naru besi. Ide tamahu hodo ni, Daisyau-dono yori rei no tuki se nu koto-domo kikoye tamahe ri. "Kakemakumo kasikoki omahe nite." to, yuhu ni tuke te,

 "Narukami dani koso,
 Yasima moru Kuni-tu-mikami mo kokoro ara ba
 aka nu wakare no naka wo kotoware
 Omou tamahuru ni, aka nu kokoti si haberu kana!"
 to ari. Ito sawagasiki hodo nare do, ohom-kaheri ari. Miya no ohom wo ba, Nyobe'tau site kaka se tamahe ri.

 "Kuni-tu-Kami sora ni kotowaru naka nara ba
 nahozarigoto wo madu ya tadasa m"
 Daisyau ha, ohom-arisama yukasiu te, Uti ni mo mawira mahosiku obose do, uti-sute rare te miokura m mo, hitowaroki kokoti si tamahe ba, obosi tomari te, turedure ni nagame wi tamahe ri.

 Miya no ohom-kaheri no otonaotonasiki wo, hohowemi te mi wi tamahe ri. "Ohom-tosi no hodo yori ha, wokasiu mo ohasu beki kana!" to, tadanarazu. Kauyau ni rei ni tagahe ru wadurahasisa ni, kanarazu kokoro kakaru ohom-kuse nite, "Ito you mi tatematuri tu bekari si ihakenaki ohom-hodo wo, mi zu nari nuru koso netakere. Yononaka sadame nakere ba, taimen suru yau mo ari na m kasi." nado obosu.

 [1-5 Saigu starts off the Court for Ise]

 Kokoronikuku yosi aru ohom-kehahi nare ba, monomi-guruma ohokaru hi nari. Saru no toki ni Uti ni mawiri tamahu.
 Miyasumdokoro, mikosi ni nori tamahe ru ni tuke te mo, Titi-Otodo no kagirinaki sudi ni obosi kokorozasi te, ituki tatematuri tamahi si arisama, kahari te, suwe-no-yo ni Uti wo mi tamahu ni mo, mono nomi tuki se zu, ahare ni obosa ru. Zihuroku nite ko-Miya ni mawiri tamahi te, nizihu nite okure tatematuri tamahu. Samzihu nite zo, kehu mata Kokonohe wo mi tamahi keru.

 "Sonokami wo kehu ha kake zi to sinobure do
 kokoro no uti ni mono zo kanasiki"

 Saiguu ha, zihusi ni zo nari tamahi keru. Ito utukusiu ohasuru sama wo, uruhasiu sitate tatematuri tamahe ru zo, ito yuyusiki made miye tamahu wo, Mikado, mikokoro ugoki te, wakare no kusi tatematuri tamahu hodo, ito ahare nite, sihotare sase tamahi nu.
 Ide tamahu wo mati tatematuru tote, Ha'syau ni tatetuduke taru idasiguruma-domo no sodeguti, iroahi mo, menare nu sama ni, kokoronikuki kesiki nare ba, Tenzyaubito-domo mo, watakusi no wakare wosimu ohokari.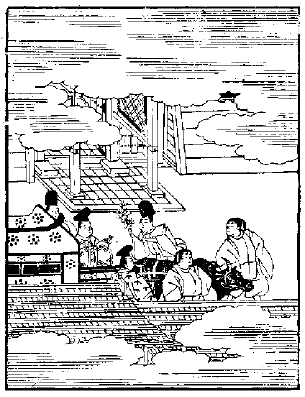 Kurau ide tamahi te, Nideu yori Touwin-no-ohodi wo wore tamahu hodo, Nideu-no-win no mahe nare ba, Daisyau-no-Kimi, ito ahare ni obosa re te, sakaki ni sasi te,

 "Hurisute te kehu ha yuku tomo Suzuka-gaha
 yasose no nami ni sode ha nure zi ya?"

 to kikoye tamahe re do, ito kurau, mono-sawagasiki hodo nare ba, mata-no-hi, seki no anata yori zo, ohom-kahesi aru.

 "Suzuka-gaha yasose no nami ni nure nure zu
 Ise made tare ka omohi okose m?"

 Kotosogi te kaki tamahe ru simo, ohom-te ito yosiyosisiku namameki taru ni, "Ahare naru ke wo sukosi sohe tamahe ra masika ba." to obosu.
 Kiri itau huri te, tada nara nu asaborake ni, uti-nagame te hitorigoti ohasu.

 "Yukukata wo nagame mo yara m kono aki ha
 Ahusaka-yama wo kiri na hedate so

 Nisi-no-tai ni mo watari tamaha de, hitoyarinarazu, monosabisige ni nagame kurasi tamahu. Masite, tabi no sora ha, ikani mikokorodukusi naru koto ohokari kem.

2 Tale of Hikaru-Genji Mikado Kiritubo, Genji's father, died
[2-1 Kiritubo falls into a critical condition in August]
 Win no ohom-nayami, kamnaduki ni nari te ha, ito omoku ohasimasu. Yononaka ni wosimi kikoye nu hito nasi. Uti ni mo, obosi nageki te gyaugau ari. Yowaki mikokoti ni mo, Touguu no ohom-koto wo, kahesu-gahesu kikoye sase tamahi te, tugi ni ha Daisyau no ohom-koto,

 "Haberi turu yo ni kahara zu, daiseu no koto wo hedate zu, nanigoto mo ohom-usiromi to obose. Yohahi no hodo yori ha, yo wo maturigota m ni mo, wosawosa habakari aru maziu nam, mi tamahuru. Kanarazu, yononaka tamotu beki sau aru hito nari. Saru ni yori te, wadurahasisa ni, miko ni mo nasa zu, tadaudo nite, ohoyake no ohom-usiromi wo se sase m to, omohi tamahe si nari. Sono kokoro tagahe sase tamahu na."

 to, ahare naru ohom-yuigon-domo ohokari kere do, womna no manebu beki koto ni si ara ne ba, kono katahasi dani kataharaitasi.

 Mikado mo, ito kanasi to obosi te, sarani tagahe kikoye sasu maziki yosi wo, kahesu-gahesu kikoye sase tamahu. Ohom-katati mo, ito kiyora ni nebi masara se tamahe ru wo, uresiku tanomosiku mi tatematura se tamahu. Kagiri are ba, isogi kahera se tamahu ni mo, nakanaka naru koto ohoku nam.

 Touguu mo, hitotabi ni to obosimesi kere do, mono-sawagasiki ni yori, hi wo kahe te, watara se tamahe ri. Ohom-tosi no hodo yori ha, otonabi utukusiki ohom-sama nite, kohisi to omohi kikoye sase tamahi keru tumori ni, nanigokoro mo naku uresi to obosi, mi tatematuri tamahu mikesiki, ito ahare nari.
 Tiuguu ha, namida ni sidumi tamahe ru wo, mi tatematura se tamahu mo, samazama mikokoro midare te obosimesa ru. Yorodu no koto wo kikoye sirase tamahe do, ito mono-hakanaki ohom-hodo nare ba, usirometaku kanasi to mi tatematura se tamahu.

 Daisyau ni mo, Ohoyake ni tukaumaturi tamahu beki mikokorodukahi, kono Miya no ohom-usiromi si tamahu beki koto wo, kahesu-gahesu notamaha su.
 Yo huke te zo kahera se tamahu. Nokoru hito naku tukaumaturi te nonosiru sama, gyaugau ni otoru kedime nasi. Aka nu hodo nite kahera se tamahu wo, imiziu obosimesu.

 [2-2 Kiritubo died in November 1]

 Ohokisaki mo, mawiri tamaha m to suru wo, Tiuguu no kaku sohi ohasuru ni, mikokoro oka re te, obosi yasurahu hodo ni, odoro-odorosiki sama ni mo ohasimasa de, kakure sase tamahi nu. Asi wo sora ni, omohi madohu hito ohokari.

 Mikurawi wo sara se tamahu to ihu bakari ni koso are, yo no maturigoto wo sidume sase tamahe ru koto mo, waga miyo no onazi koto nite ohasimai turu wo, Mikado ha ito wakau ohasimasu, ohodi-Otodo, ito kihu ni saganaku ohasi te, sono ohom-mama ni nari na m yo wo, ika nara m to, Kamdatime, Tenzyaubito, mina omohi nageku.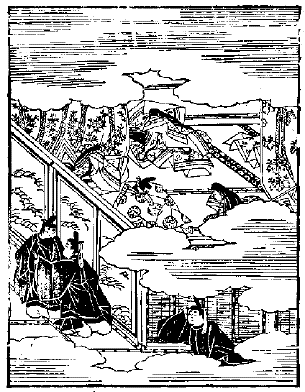 Tiuguu, Daisyau-dono nado ha, masite sugurete, mono mo obosi waka re zu, notinoti no ohom-waza nado, keuzi tukaumaturi tamahu sama mo, sokora no Mikotati no ohom-naka ni sugure tamahe ru wo, kotowari nagara, ito ahare ni, yohito mo mi tatematuru. Hudi no ohom-zo ni yature tamahe ru ni tuke te mo, kagirinaku kiyora ni kokorogurusige nari. Kozo, kotosi to uti-tuduki, kakaru koto wo mi tamahu ni, yo mo ito adikinau obosa rure do, kakaru tuide ni mo, madu obosi tata ruru koto ha are do, mata, samazama no ohom-hodasi ohokari.

 Ohom-nanananuka made ha, Nyougo, Miyasumdokoro-tati, mina, Win ni tudohi tamahe ri turu wo, sugi nure ba, tiridiri ni makade tamahu. Sihasu no hatuka nare ba, ohokata no yononaka todimuru sora no kesiki ni tukete mo, masite haruru yo naki, Tiuguu no mi-kokoro no uti nari. Ohokisaki no mi-kokoro mo siri tamahe re ba, kokoro ni makase tamahe ra m yo no, hasitanaku sumi ukara m wo obosu yori mo, nare kikoye tamahe ru tosigoro no ohom-arisama wo, omohiide kikoye tamaha nu toki no ma naki ni, kakute mo ohasimasu maziu, mina hokahoka he to ide tamahu hodo ni, kanasiki koto kagiri nasi.

 Miya ha, Samdeu-no-miya ni watari tamahu. Ohom-mukahe ni Hyaubukyau-no-Miya mawiri tamahe ri. Yuki uti-tiri, kaze hagesiu te, Win no uti, yauyau hitome kare yuki te, simeyaka naru ni, Daisyau-dono, konata ni mawiri tamahi te, huruki ohom-monogatatri kikoye tamahu. Omahe no goehu no yuki ni siwore te, sitaba kare taru wo mi tamahi te, Miko,

 "Kage hiromi tanomi si matu ya kare ni kem
 sitaba tiri yuku tosi no kure kana"

 Nani bakari no koto ni mo ara nu ni, worikara, mono-ahare nite, Daisyau no ohom-sode, itau nure nu. Ike no hima nau kohore ru ni,

 "Saye wataru ike no kagami no sayakeki ni
 minare si kage wo mi nu zo kanasiki"

 to, obosu mama ni, amari wakawakasiu zo aru ya! Wau-Myaubu,

 "Tosi kure te ihawi no midu mo kohori todi
 mi si hitokage no ase mo yuku kana!"

 Sono tuide ni, ito ohokare do, sa nomi kaki tuduku beki koto kaha.
 Watara se tamahu gisiki, kahara ne do, omohinasi ni ahare nite, huruki Miya ha, kaheri te tabigokoti si tamahu ni mo, ohom-satozumi taye taru tosituki no hodo, obosi megurasa ru besi.

 [2-3 The time passed into next New Year]

 Tosi kaheri nure do, yononaka imamekasiki koto naku siduka nari. Masite Daisyau-dono ha, mono-uku te komori wi tamahe ri. Dimoku no koro nado, Win no ohom-toki wo ba sarani mo iha zu, tosigoro otoru kedime naku te, mikado no watari, tokoronaku tatikomi tari si muma, kuruma usuragi te, tonowimono no hukuro wosawosa miye zu, sitasiki keisi-domo bakari, koto ni isogu koto nage nite aru wo mi tamahu ni mo, "Ima yori ha, kaku koso ha." to omohiyara re te, mono-susamaziku nam.

 Mikusige-dono ha, kisaragi ni, naisi-no-kami ni nari tamahi nu. Win no ohom-omohi ni yagate ama ni nari tamahe ru, kahari nari keri. Yamgotonaku motenasi, hitogara mo ito yoku ohasure ba, amata mawiri atumari tamahu naka ni mo, sugure te tokimeki tamahu. Kisaki ha, sato-gati ni ohasimai te, mawiri tamahu toki no mitubone ni ha Mumetubo wo si tare ba, Koukiden ni ha Kam-no-Kimi sumi tamahu. Toukwaden no mumore tari turu ni, harebaresiu nari te, nyoubau nado mo kazusirazu tudohi mawiri te, imamekasiu hanayagi tamahe do, mikokoro no uti ha, omohi no hoka nari si koto-domo wo, wasure gataku nageki tamahu. Ito sinobi te kayohasi tamahu koto ha, naho onazi sama naru besi. "Mono no kikoye mo ara ba ika nara m?" to obosi nagara, rei no ohom-kuse nare ba, ima simo mikokorozasi masaru beka' meri.

 Win no ohasimasi turu yo koso habakari tamahi ture, Kisaki no mikokoro itihayaku te, katagata obosi tume taru koto-domo no mukuhi se m to, obosu beka' meri. Koto ni hure te, hasitanaki koto nomi ide kure ba, kakaru beki koto to ha obosi sika do, misiri tamaha nu yo no usa ni, tatimahu beku mo obosa re zu.

 Hidari-no-Ohoidono mo, susamaziki kokoti si tamahi te, koto ni Uti ni mo mawiri tamaha zu. Ko-Himegimi wo, hiki-yoki te kono Daisyau-no-Kimi ni kikoye tuke tamahi si mikokoro wo, Kisaki ha obosioki te, yorosiu mo omohi kikoye tamaha zu. Otodo no ohom-naka mo, motoyori sobasobasiu ohasuru ni, ko-Win no miyo ni ha waga mama ni ohase si wo, toki uturi te, sitarigaho ni ohasuru wo, adikinasi to obosi taru, kotowari nari.

 Daisyau ha, arisi ni kahara zu watari kayohi tamahi te, saburahi si hitobito wo mo, nakanaka ni komaka ni obosioki te, Wakagimi wo kasiduki omohi kikoye tamahe ru koto, kagirinakere ba, ahare ni arigataki mikokoro to, itodo itatuki kikoye tamahu koto-domo, onazi sama nari. Kagirinaki ohom-oboye no, amari mono-sawagasiki made, itoma nage ni miye tamahi si wo, kayohi tamahi si tokorodokoro mo, katagata ni taye tamahu koto-domo ari, karugarusiki ohom-sinobiariki mo, ainau obosi nari te, koto ni si tamaha ne ba, ito nodoyaka ni, ima simo aramahosiki ohom-arisama nari.

 Nisinotai-no-Himegimi no ohom-saihahi wo, yohito mo mede kikoyu. Seunagon nado mo, hitosirezu, "Ko-Amauhe no ohom-inori no sirusi." to mi tatematuru. Titi-Miko mo omohu sama ni kikoye kahasi tamahu. Mukahibara no, kagirinaku to obosu ha, hakabakasiu mo e ara nu ni, netage naru koto ohoku te, mamahaha no Kitanokata ha, yasukara zu obosu besi. Monogatari ni kotosara ni tukuri ide taru yau naru ohom-arisama nari.

 Saiwin ha, ohom-buku nite oriwi tamahi ni sika ba, Asagaho-no-Himegimi ha, kahari ni wi tamahi ni ki. Kamo-no-Ituki ni ha, Sonwau no wi tamahu rei, ohoku mo ara zari kere do, sarubeki womna-miko ya ohase zari kem. Daisyau-no-Kimi, tosituki hure do, naho mikokoro hanare tamaha zari turu wo, kau sudi koto ni nari tamahi nure ba, kutiwosiku to obosu. Tiuzyau ni otodure tamahu koto mo, onazi koto nite, ohom-humi nado ha taye zaru besi. Mukasi ni kaharu ohom-arisama nado wo ba, koto ni nani to mo obosi tara zu, kayau no hakanasigoto-domo wo, magiruru koto naki mama ni, konata kanata to obosi nayame ri.

 [2-4 Genji meets repeatedly to Oborozukiyo]

 Mikado ha, Win no ohom-yuigon tagahe zu, ahare ni obosi tare do, wakau ohasimasu uti ni mo, mikokoro nayobi taru kata ni sugi te, tuyoki tokoro ohasimasa nu naru besi, Haha-Gisaki, Ohodi-Otodo toridori si tamahu koto ha, e somuka se tamaha zu, yo no maturigoto, mikokoro ni kanaha nu yau nari.

 Wadurahasisa nomi masare do, Kam-no-kimi ha, hitosirenu mikokoro si kayohe ba, warinaku te to, obotukanaku ha ara zu. Godan no misyuhohu no hazime nite, tutusimi ohasimasu hima wo ukagahi te, rei no, yume no yau ni kikoye tamahu. Kano, mukasi oboye taru hosodono no tubone ni, Tiunagon-no-Kimi, magirahasi te ire tatematuru. Hitome mo sigeki koro nare ba, tune yori mo hasidika naru, sora-osorosiu oboyu.

 Asayuhu ni mi tatematuru hito dani, aka nu ohom-sama nare ba, masite, medurasiki hodo ni nomi aru ohom-taimen no, ikadekaha oroka nara m? Womna no ohom-sama mo, geni zo medetaki ohom-sakari naru. Omorika naru kata ha, ikaga ara m, wokasiu namameki wakabi taru kokoti si te, mi mahosiki ohom-kehahi nari.

 Hodo naku akeyuku ni ya, to oboyuru ni, tada koko ni simo,
 "Tonow-imausi, saburahu."
 to, kowadukuru nari. "Mata, kono watari ni kakurohe taru Konowe-dukasa zo aru beki. Haragitanaki katahe no wosihe okosuru zo kasi." to, Daisyau ha kiki tamahu. Wokasiki monokara, wadurahasi.

 Kokokasiko tadune ariki te,
 "Tora hitotu."
 to mausu nari. Womna-gimi,

 "Kokorokara katagata sode wo nurasu kana!
 aku to wosihuru kowe ni tuke te mo"

 to notamahu sama, hakanadati te, ito wokasi.

 "Nageki tutu waga yo ha kakute suguse to ya
 mune no aku beki toki zo to mo naku"

 Sidugokoro naku te, ide tamahi nu.
 Yobukaki akatuki-dukuyo no, e mo iha zu kiri watare ru ni, ito itau yature te, hurumahi nasi tamahe ru simo, niru mono naki ohom-arisama nite, Syoukyauden no ohom-seuto no Tou-Seusyau, Huditubo yori ide te, tuki no sukosi kuma aru tatezitomi no moto ni tate ri keru wo, sira de sugi tamahi kem koso itohosikere. Modoki kikoyuru yau mo ari na m kasi.
 Kayau no koto ni tuke te mo, mote-hanare turenaki hito no mikokoro wo, katu ha medetasi to omohi kikoye tamahu monokara, waga kokoro no hikukata nite ha, naho turau kokorousi to oboye tamahu wori ohokari.

3 Tale of Fujitsubo
[3-1 Genji meets persistently to Fujitsubo]
 Uti ni mawiri tamaha m koto ha, uhiuhisiku, tokoroseku obosi nari te, Touguu wo mi tatematuri tamaha nu wo, obotukanaku omohoye tamahu. Mata, tanomosiki hito mo monosi tamaha ne ba, tada kono Daisyau-no-Kimi wo zo, yorodu ni tanomi kikoye tamahe ru ni, naho, kono nikuki mikokoro no yama nu ni, tomosureba ohom-mune wo tubusi tamahi tutu, isasaka mo kesiki wo goranzi sira zu nari ni si wo omohu dani, ito osorosiki ni, imasara ni mata, saru koto no kikoye ari te, waga mi ha saru mono nite, Touguu no ohom-tame ni kanarazu yokara nu koto ideki na m, to obosu ni, ito osorosikere ba, ohom-inori wo sahe se sase te, kono koto omohi yama se tatematura m to, obosi itara nu koto naku nogare tamahu wo, ika naru wori ni ka ari kem, asamasiu te, tikaduki mawiri tamahe ri. Kokorohukaku tabakari tamahi kem koto wo, siru hito nakari kere ba, yume no yau ni zo ari keru.

 Manebu beki yau naku kikoye tuduke tamahe do, Miya, ito koyonaku mote-hanare kikoye tamahi te, hatehate ha, ohom-mune wo itau nayami tamahe ba, tikau saburahi turu Myaubu, Ben nado zo, asamasiu mi tatematuri atukahu. Wotoko ha, usi, turasi, to omohi kikoye tamahu koto, kagiri naki ni, kisikata yukusaki, kakikurasu kokoti si te, utusigokoro use ni kere ba, ake hate ni kere do, ide tamaha zu nari nu.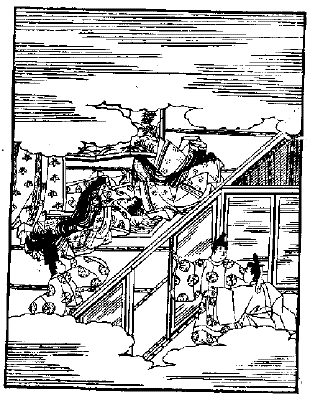 Ohom-nayami ni odoroki te, hitobito tikau mawiri te, sigeu magahe ba, ware ni mo ara de, nurigome ni osi-ire rare te ohasu. Ohom-zo-domo kakusi mo' taru hito no kokoti-domo, ito mutukasi. Miya ha, mono wo ito wabisi, to obosi keru ni, ohom-ke agari te, naho nayamasiu se sase tamahu. Hyaubukyau-no-Miya, Daibu nado mawiri te,
 "Sou mese."
 nado sawagu wo, Daisyau, ito wabisiu kiki ohasu. Karausite, kure yuku hodo ni zo okotari tamahe ru.

 Kaku komori wi tamahe ra m to ha obosi mo kake zu, hitobito mo, mata mikokoro madohasa zi tote, kaku nam to mo mausa nu naru besi. Hiru no omasi ni wizari ide te ohasimasu. Yorosiu obosa ruru na' meri tote, Miya mo makade tamahi nado si te, omahe hitozukuna ni nari nu. Rei mo kedikaku narasa se tamahu hito sukunakere ba, koko kasiko no mono no usiro nado ni zo saburahu. Myaubu-no-Kimi nado ha,
 "Ikani tabakari te, idasi tatematura m? Koyohi sahe, ohom-ke agara se tamaha m, itohosiu."
 nado, uti-sasameki atukahu.

 Kimi ha, nurigome no to no hosome ni aki taru wo yawora osiake te, mibyaubu no hasama ni tutahi iri tamahi nu. Medurasiku uresiki ni mo, namida oti te mi tatematuri tamahu.
 "Naho, ito kurusiu koso are. Yo ya tuki nu ram?"
 tote, to no kata wo miidasi tamahe ru kataharame, ihisirazu namamekasiu miyu. Ohom-kudamono wo dani, tote mawiri suwe tari. Hako no huta nado ni mo, natukasiki sama nite are do, miire tamaha zu. Yononaka wo itau obosi nayame ru kesiki nite, nodoka ni nagame iri tamahe ru, imiziu rautage nari. Kamzasi, kasiratuki, migusi no kakari taru sama, kagirinaki nihohasisa nado, tada, kano Tai-no-Himegimi ni tagahu tokoro nasi. Tosigoro, sukosi omohi wasure tamahe ri turu wo, "Asamasiki made oboye tamahe ru kana!" to mi tamahu mama ni, sukosi mono-omohi no harukedokoro aru kokoti si tamahu.

 Kedakau hadukasige naru sama nado mo, sarani kotobito to mo omohiwaki gataki wo, naho, kagirinaku mukasi yori omohisime kikoye te si kokoro no omohinasi ni ya, "Sama koto ni, imiziu nebi masari tamahi ni keru kana!" to, taguhinaku oboye tamahu ni, kokoromadohi si te, yawora mityau no uti ni kakadurahi iri te, ohom-zo no tuma wo hiki-narasi tamahu. Kehahi siruku, sato nihohi taru ni, asamasiu mukutukeu obosa re te, yagate hirehusi tamahe ri. "Mi dani muki tamahe kasi." to kokoroyamasiu turau te, hikiyose tamahe ru ni, ohom-zo wo subesi oki te, wizari noki tamahu ni, kokoro ni mo ara zu, migusi no tori sohe rare tari kere ba, ito kokorouku, sukuse no hodo, obosisira re te, imizi, to obosi tari.

 Wotoko mo, kokora yo wo mote-sidume tamahu mikokoro mina midare te, utusizama ni mo ara zu, yorodu no koto wo nakunaku urami kikoye tamahe do, makoto ni kokorodukinasi, to obosi te, irahe mo kikoye tamaha zu. Tada,
 "Kokoti no, ito nayamasiki wo. Kakara nu wori mo ara ba, kikoye te m."
 to notamahe do, tuki se nu mikokoro no hodo wo ihi tuduke tamahu.
 Sasuga ni, imizi to kiki tamahu husi mo maziru ram. Ara zari si koto ni ha ara ne do, aratame te, ito kutiwosiu obosa rure ba, natukasiki monokara, ito you notamahi nogare te, koyohi mo ake yuku.

 Semete sitagahi kikoye zara m mo katazikenaku, kokorohadukasiki ohom-kehahi nare ba,
 "Tada, kabakari nite mo, tokidoki, imiziki urehe wo dani, haruke haberi nu beku ha, nani no ohokenaki kokoro mo habera zi."
 nado, tayume kikoye tamahu besi. Nanome naru koto dani, kayau naru nakarahi ha, ahare naru koto mo sohu naru wo, masite, taguhi nage nari.

 Ake hature ba, hutari si te, imiziki koto-domo wo kikoye, Miya ha, nakaba ha naki yau naru mikesiki no kokorogurusikere ba,
 "Yononaka ni ari to kikosimesa re m mo, ito hadukasikere ba, yagate use haberi na m mo, mata, konoyo nara nu tumi to nari haberi nu beki koto."
 nado kikoye tamahu mo, mukutukeki made obosi ire ri.

 "Ahu koto no kataki wo kehu ni kagira zu ha
 ima ikuyo wo ka nageki tutu he m
 Ohom-hodasi ni mo koso."

 to kikoye tamahe ba, sasuga ni, uti-nageki tamahi te,

 "Nagaki yo no urami wo hito ni nokosi te mo
 katu ha kokoro wo ada to sira nam"

 Hakanaku ihinasa se tamahe ru sama no, ihu yosi naki kokoti sure do, hito no obosa m tokoro mo, waga ohom-tame mo kurusikere ba, ware ni mo ara de, ide tamahi nu.

 [3-2 Fujitsubo determines to become a nun]

 "Iduko wo omote nite ka ha, mata mo miye tatematura m? Itohosi to obosi siru bakari." to obosi te, ohom-humi mo kikoye tamaha zu. Uti-taye te, Uti, Touguu ni mo mawiri tamaha zu, komori ohasi te, okihusi, "Imizikari keru hito no mikokoro kana!" to, hitowaroku kohisiu kanasiki ni, kokoro-damasihi mo use ni keru ni ya, nayamasiu sahe obosa ru. Mono-kokorobosoku, "Nazoya, yo ni hure ba usa koso masare." to, obosi tatu ni ha, kono Womnagimi no ito rautage nite, ahare ni uti-tanomi kikoye tamahe ru wo, hurisute m koto, ito katasi.

 Miya mo, sono nagori, rei ni mo ohasimasa zu. Kau kotosarameki te komoriwi, otodure tamaha nu wo, Myaubu nado ha itohosigari kikoyu. Miya mo, Touguu no ohom-tame wo obosu ni ha, "Mikokorooki tamaha m koto, itohosiku, yo wo adikinaki mono ni omohi nari tamaha ba, hitamiti ni obosi tatu koto mo ya?" to, sasuga ni kurusiu obosa ru besi.
 "Kakaru koto taye zu ha, itodosiki yo ni, ukina sahe moriide na m. Ohokisaki no, aru maziki koto ni notamahu naru kurawi wo mo sari na m." to, yauyau obosi naru. Win no obosi notamahase si sama no, nanome-nara-zari si wo obosi iduru ni mo, "Yorodu no koto, arisi ni mo ara zu, kahari yuku yo ni koso a' mere. Sekihuzin no mi kem me no yau ni ha ara zu tomo, kanarazu, hitowarahe naru koto ha, ari nu beki mi ni koso a' mere." nado, yo no utomasiku, sugusi gatau obosa rure ba, somuki na m koto wo obositoru ni, Touguu, mi tatematura de omogahari se m koto, ahare ni obosa rure ba, sinobiyaka nite mawiri tamahe ri.

 Daisyau-no-Kimi ha, saranu koto dani, obosiyora nu koto naku tukaumaturi tamahu wo, mikokoti nayamasiki ni kototuke te, ohom-okuri ni mo mawiri tamaha zu. Ohokata no ohom-toburahi ha, onazi yau nare do, "Mugeni, obosi ku'si ni keru." to, kokorosiru-doti ha, itohosigari kikoyu.

 Miya ha, imiziu utukusiu otonabi tamahi te, medurasiu uresi to obosi te, muture kikoye tamahu wo, kanasi to mi tatematuri tamahu ni mo, obositatu sudi ha ito katakere do, Uti watari wo mi tamahu ni tuke te mo, yo no arisama, ahare ni hakanaku, uturikaharu koto nomi ohokari.
 Ohokisaki no mikokoro mo ito wadurahasiku te, kaku ideiri tamahu ni mo, hasitanaku, koto ni hure te kurusikere ba, Miya no ohom-tame ni mo ayahuku yuyusiu, yorodu ni tuke te omohosi midare te,

 "Goranze de, hisasikara mu hodo ni, katati no kotozama nite utatege ni kahari te habera ba, ikaga obosa ru beki?"
 to kikoye tamahe ba, ohom-kaho uti-mamori tamahi te,
 "Sikibu ga yau ni ya? Ikadeka, saha nari tamaha m."
 to, wemi te notamahu. Ihukahinaku ahare nite,
 "Sore ha, oyi te habere ba minikuki zo. Saha ara de, kami ha sore yori mo mizikaku te, kuroki kinu nado wo ki te, yowi-no-sou no yau ni nari habera m to sure ba, mi tatematura m koto mo, itodo hisasikaru beki zo."
 tote, naki tamahe ba, mamedati te,
 "Hisasiu ohase nu ha, kohisiki mono wo!"

 tote, namida no oture ba, hadukasi to obosi te, sasuga ni somuki tamahe ru, migusi ha yurayura to kiyora nite, mami no natukasige ni nihohi tamahe ru sama, otonabi tamahu mama ni, tada kano ohom-kaho wo nugisube tamahe ri. Ohom-ha no sukosi kuti te, kuti no uti kuromi te, wemi tamahe ru kawori utukusiki ha, womna nite mi tatematura mahosiu kiyora nari. "Ito, kau simo oboye tamahe ru koso, kokoroukere." to, tamanokizu ni obosa ruru mo, yo no wadurahasisa no, sora-osorosiu oboye tamahu nari keri.

4 Tale of Hikaru-Genji
[4-1 Genji visits to the temple of Unrin-in in Murasaki-no]
 Daisyau-no-Kimi ha, Miya wo ito kohisiu omohi kikoye tamahe do, "Asamasiki mikokoro no hodo wo, tokidoki ha, omohi-siru sama ni mo mise tatematura m." to, nenzi tutu sugusi tamahu ni, hitowaroku, turedure ni obosa rure ba, aki no no mo mi tamahi gatera, U'rinwin ni maude tamahe ri.
 "Ko-haha-Miyasumdokoro no ohom-seuto no Ri'si no komori tamahe ru bau nite, hohumon nado yomi, okonahi se m." to obosi te, ni, sam-niti ohasuru ni, ahare naru koto ohokari.

 Momidi yauyau iroduki watari te, aki no no no ito namameki taru nado mi tamahi te, hurusato mo wasure nu beku obosa ru. Hohusibara no, zae aru kagiri mesiide te, rongi se sase te, kikosimesa se tamahu. Tokorokara ni, itodo yononaka no tune nasa wo obosi akasi te mo, naho, "Uki hito simo zo." to, obosi ide raruru osiakegata no tukikage ni, hohusibara no aka tatematuru tote, karakara to narasi tutu, kiku no hana, koki usuki momidi nado, wori tirasi taru mo, hakanage nare do,
 "Kono kata no itonami ha, konoyo mo turedure nara zu, notinoyo hata, tanomosige nari. Samo, adikinaki mi wo mote-nayamu kana!"
 nado, obosi tuduke tamahu. Ri'si no, ito tahutoki kowe nite,
 "Nenbutu syuzyau sehusyu husya."
 to, uti-nobe te okonahi tamahe ru ha, ito urayamasikere ba, "Nazo ya?" to obosi naru ni, madu, Himegimi no kokoro ni kakari te omohi ide rare tamahu zo, ito waroki kokoro naru ya!

 Rei nara nu hikazu mo, obotukanaku nomi obosa rure ba, ohom-humi bakari zo, sigeu kikoye tamahu meru.

 "Yuki hanare nu besi ya to, kokoromi haberu miti nare do, turedure mo nagusame gatau, kokorobososa masari te nam. Kikisasi taru koto ari te, yasurahi haberu hodo, ikani?"

 nado, Mitinokunigami ni uti-toke kaki tamahe ru sahe zo, medetaki.

 "Asadihu no tuyu no yadori ni Kimi wo oki te
 yomo no arasi zo sidugokoro naki"

 nado, komayaka naru ni, Womnagimi mo uti-naki tamahi nu. Ohom-kahesi, siroki sikisi ni,

 "Kaze huke ba madu zo midaruru iro kaharu
 Asadi ga tuyu ni kakaru sasagani"

 to nomi ari te, "Ohom-te ha ito wokasiu nomi nari masaru mono kana!" to, hitorigoti te, utukusi to hohowemi tamahu.
 Tune ni kaki kahasi tamahe ba, waga ohom-te ni ito yoku ni te, imasukosi namamekasiu, womnasiki tokoro kaki sohe tamane ri. "Nanigoto ni tuke te mo, kesiu ha ara zu ohositate tari kasi." to omohosu.

 [4-2 Genji and Asagao send a mail each other]

 Hukikahu kaze mo tikaki hodo nite, Saiwin ni mo kikoye tamahi keri. Tiuzyau-no-Kimi ni,
 "Kaku, tabi no sora ni nam, mono-omohi ni akugare ni keru wo, obosi siru ni mo arazi kasi."
 nado, urami tamahi te, omahe ni ha,

 "Kakemaku ha kasikokere domo sonokami no
 aki omohoyuru yuhudasuki kana!
 Mukasi wo ima ni, to omohi tamahuru mo kahinaku, torikahesa re m mono no yau ni."

 to, narenaresige ni, kara no asamidori no kami ni, sakaki ni yuhu tuke nado, kaugausiu si nasi te mawira se tamahu.
 Ohom-kaheri, Tiuzyau,
 "Magiruru koto naku te, kisikata no koto wo omohi tamahe iduru turedure no mama ni ha, omohiyari kikoye sasuru koto ohoku habere do, kahinaku nomi nam."
 to, sukosi kokoro todome te ohokari. Omahe no ha, yuhu no katahasi ni,

 "Sonokami ya ikaga ha ari si yuhudasuki
 kokoro ni kake te sinobu ram yuwe
 Tikaki yo ni."

 to zo aru.
 "Ohom-te, komayaka ni ha ara ne do, raurauziu, sau nado wokasiu nari ni keri. Masite, asagaho mo nebimasari tamahe ra m kasi." to omohoyuru mo, tada nara zu, osorosi ya!

 "Ahare, konokoro zo kasi. Nonomiya no ahare nari si koto." to obosi ide te, "Ayasiu, yau no mono." to, Kami uramesiu obosa ruru ohom-kuse no, migurusiki zo kasi. Warinau obosa ba, samo ari nu bekari si tosigoro ha, nodoka ni sugui tamahi te, ima ha kuyasiu obosa ru beka' meru mo, ayasiki mikokoro nari ya!

 Win mo, kaku nabete nara nu mikokorobahe wo misiri kikoye tamahe re ba, tamasaka naru ohom-kaheri nado ha, e simo mote-hanare kikoye tamahu mazika' meri. Sukosi ainaki koto nari kasi.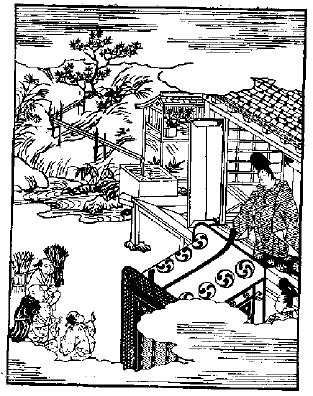 Rokuzihu-kwan to ihu humi, yomi tamahi, obotukanaki tokorodokoro toka se nado si te ohasimasu wo, "Yamadera ni ha, imiziki hikari okonahi idasi tatemature ri." to, "Hotoke no ohom-menboku ari." to, ayasi no hohusibara made yorokobi ahe ri. Simeyaka nite, yononaka wo omohosi tudukuru ni, kahera m koto mo mono-ukari nu bekere do, hito hitori no ohom-koto obosiyaru ga hodasi nare ba, hisasiu mo e ohasimasa de, tera ni mo mizukyau ikamesiu se sase tamahu. Aru beki kagiri, kami simo no sou-domo, sono watari no yamagatu made mono tabi, tahutoki koto no kagiri wo tukusi te ide tamahu. Mi tatematuri okuru tote, konomo-kanomo ni, ayasiki sihahuruhi-domo mo atumari te wi te, namida wo otosi tutu mi tatematuru. Kuroki mikuruma no uti nite, hudi no ohom-tamoto ni yature tamahe re ba, koto ni miye tamaha ne do, honoka naru ohom-arisama wo, yo ni naku omohi kikoyu beka' meri.

 [4-3 Genji gets back to Nijo-in]

 Womnagimi ha, higoro no hodo ni, nebi masari tamahe ru kokoti si te, ito itau sidumari tamahi te, yononaka ikaga ara m to omohe ru kesiki no, kokorogurusiu ahare ni oboye tamahe ba, ainaki kokoro no samazama midaruru ya sirukara m, "Iro kaharu" to ari si mo rautau oboye te, tune yori koto ni katarahi kikoye tamahu.

 Yamaduto ni mota se tamahe ri si momidi, omahe no ni goranzi kurabure ba, kotoni some masi keru tuyu no kokoro mo misugusi gatau, obotukanasa mo, hitowaruki made oboye tamahe ba, tada ohokata nite Miya ni mawira se tamahu. Myaubu no moto ni,

 "Ira se tamahi ni keru wo, medurasiki koto to uketamaharu ni, Miya no ahida no koto, obotukanaku nari haberi ni kere ba, sidugokoro naku omohi tamahe nagara, okonahi mo tutome m nado, omohitati haberi si hikazu wo, kokoronarazu ya tote nam, higoro ni nari haberi ni keru. Momidi ha, hitori mi haberu ni, nisiki kurau omohi tamahure ba nam. Wori yoku te goranze sase tamahe."

 nado ari.
 Geni, imiziki eda-domo nare ba, ohom-me tomaru ni, rei no, isasaka naru mono ari keri. Hitobito mi tatematuru ni, ohom-kaho no iro mo uturohi te,
 "Naho, kakaru kokoro no taye tamaha nu koso, ito utomasiker! Atara omohiyari hukau monosi tamahu hito no, yukurinaku, kauyau naru koto, woriwori maze tamahu wo, hito mo ayasi to miru ram kasi."
 to, kokorodukinaku obosa re te, kame ni sasa se te, hisasi no hasira no moto ni osiyara se tamahi tu.

 [4-4 Genji visits the Imperial Court to meet Mikado of his brother]

 Ohokata no koto-domo, Miya no ohom-koto ni hure taru koto nado wo ba, uti-tanome ru sama ni, sukuyoka naru ohom-kaheri bakari kikoye tamahe ru wo, "Samo kokorokasikoku, tukisezu mo." to, uramesiu ha mi tamahe do, nanigoto mo usiromi kikoye narahi tamahi ni tare ba, "Hito ayasi to, mitogame mo koso sure." to obosi te, makade tamahu beki hi, mawiri tamahe ri.

 Madu, Uti no ohom-kata ni mawiri tamahe re ba, nodoyaka ni ohasimasu hodo nite, mukasi ima no ohom-monogatari kikoye tamahu. Ohom-katati mo, Win ni ito you ni tatematuri tamahi te, imasukosi namamekasiki ke sohi te, natukasiu nagoyaka ni zo ohasimasu. Katamini ahare to mi tatematuri tamahu.
 Kam-no-Kimi no ohom-koto mo, naho taye nu sama ni kikosimesi, kesiki goranzuru wori mo are do,
 "Nanikaha, ima hazime taru koto nara ba koso ara me, samo kokoro kahasa m ni, nigenakaru maziki hito no ahahi nari kasi."
 to zo obosi nasi te, togame sase tamaha zari keru.

 Yorodu no ohom-monogatari, humi no miti no obotukanaku obosa ruru koto-domo nado, toha se tamahi te, mata, sukizukisiki utagatari nado mo, katamini kikoye kahasa se tamahu tuide ni, kano Saiguu no kudari tamahi si hi no koto, katati no wokasiku ohase si nado, katara se tamahu ni, ware mo utitoke te, Nonomiya no ahare nari si akebono mo mina kikoye ide tamahi te keri.

 Hatuka no tuki, yauyau sasi-ide te, wokasiki hodo naru ni,
 "Asobi nado mo, se mahosiki hodo kana!"
 to notamahasu.
 "Tiuguu no, koyohi, makade tamahu naru, toburahi ni monosi habera m. Win no notamaha se oku koto haberi sika ba. Mata, usiromi tukaumaturu hito mo habera za' meru ni. Touguu no ohom-yukari, itohosiu omohi tamahe rare haberi te."
 to sousi tamahu.

 "Touguu wo ba, Ima no Miko ni nasi te nado, notamahase oki sika ba, toriwaki te kokorozasi monosure do, kotoni sasiwaki taru sama ni mo, nanigoto wo kaha tote koso. Tosi no hodo yori mo, ohom-te nado no wazato kasikou koso monosi tamahu bekere. Nanigoto ni mo, hakabakasikara nu midukara no omoteokosi ni nam."
 to, notamaha sure ba,
 "Ohokata, si tamahu waza nado, ito satoku otonabi taru sama ni monosi tamahe do, mada, ito katanari ni."

 nado, sono ohom-arisama mo sousi tamahi te, makade tamahu ni, Ohomiya no ohom-seuto no Tou-Dainagon no ko no, Tou-no-Ben to ihu ga, yo ni ahi, hanayaka naru wakaudo nite, omohu koto naki naru besi, imouto no Reikeiden no ohom-Kata ni yuku ni, Daisyau no ohom-saki wo sinobiyaka ni ohe ba, sibasi tatitomari te,

 "Hakukou hi wo turanuke ri. Taisi wodi tari."
 to, ito yururuka ni uti-zuzi taru wo, Daisyau, ito mabayusi to kiki tamahe do, togamu beki koto kaha. Kisaki no mikesiki ha, ito osorosiu, wadurahasige ni nomi kikoyuru wo, kau sitasiki hitobito mo, kesikidati ihu beka' meru koto-domo mo aru ni, wadurahasiu obosa re kere do, turenau nomi motenasi tamahe ri.

 [4-5 Genji greets Fujitsubo in the Imperial Court]

 "Omahe ni saburahi te, ima made, hukasi haberi ni keru."
 to, kikoye tamahu.
 Tuki no hanayaka naru ni, "Mukasi, kauyau naru wori ha, ohom-asobi se sase tamahi te, imamekasiu motenasa se tamahi si." nado, obosi iduru ni, onazi mikaki no uti nagara, kahare ru koto ohoku kanasi.

 "Kokonohe ni kiri ya hedaturu kumo no uhe no
 tuki wo haruka ni omohiyaru kana!"

 to, Myaubu site, kikoye tutahe tamahu. Hodo nakere ba, ohom-kehahi mo, honoka nare do, natukasiu kikoyuru ni, turasa mo wasura re te, madu namida zo oturu.

 "Tukikage ha mi si yo no aki ni kahara nu wo
 hedaturu kiri no turaku mo aru kana!

 "Kasumi mo hito no" to ka, mukasi mo haberi keru koto ni ya?"
 nado kikoye tamahu.

 Miya ha, Touguu wo akazu omohi kikoye tamahi te, yorodu no koto wo kikoye sase tamahe do, hukau mo obosi ire tara nu wo, ito usirometaku omohi kikoye tamahu. Rei ha, ito toku ohotonogomoru wo, "Ide tamahu made ha oki tara m." to obosu naru besi. Uramesige ni obosi tare do, sasuga ni, e sitahi kikoye tamaha nu wo, ito ahare to, mi tatematuri tamahu.

 [4-6 Genji and Oborozukiyo send a mail each other]

 Daisyau, Tou-no-Ben no zuzi turu koto wo omohu ni, mikokoro-no-oni ni, yononaka wadurahasiu oboye tamahi te, Kam-no-Kimi ni mo otodure kikoye tamaha de, hisasiu nari ni keri.
 Hatusigure, itusika to kesikidatu ni, ikaga obosi kem, kare yori,

 "Kogarasi no huku ni tuke tutu mati si ma ni
 obotukanasa no koro mo he ni keri"

 to kikoye tamahe ri. Wori mo ahare ni, anagati ni sinobi kaki tamahe ra m mikokorobahe mo, nikukara ne ba, ohom-tukahi todome sase te, kara no kami-domo ire sase tamahe ru midusi ake sase tamahi te, nabete nara nu wo eri ide tutu, hude nado mo kokoro koto ni hikitukurohi tamahe ru kesiki, en naru wo, omahe naru hitobito, "Tare bakari nara m?" to tukisirohu.
 "Kikoyesase te mo, kahinaki monogori ni koso, muge ni kuduhore ni kere. Mi nomi monouki hodo ni,

 Ahi mi zu te sinoburu koro no namida wo mo
 nabete no sora no sigure to ya miru

 Kokoro no kayohu nara ba, ikani nagame no sora mo mono-wasure si habera m."
 nado, komayaka ni nari ni keri.
 Kauyau ni odorokasi kikoyuru taguhi ohoka' mere do, nasake-nakara zu uti-kaherigoti tamahi te, mikokoro ni ha hukau sima zaru besi.

5 Tale of Fujitsubo She becommes a nun
[5-1 The first anniversary of Kiritsbo's death on November 1]
 Tiuguu ha, Win no ohom-hate no koto ni uti-tuduki, miha'kau no isogi wo samazama ni kokorodukahi se sase tamahi keri.
 Simotuki no tuitati goro, miko'ki naru ni, yuki itau huri tari. Daisyau-dono yori Miya ni kikoye tamahu.

 "Wakare ni si kehu ha kure domo mi si hito ni
 yuki ahu hodo wo itu to tanoma m"

 Iduko ni mo, kehu ha mono-ganasiu obosa ruru hodo nite, ohom-kaheri ari.

 "Nagarahuru hodo ha ukere do yuki meguri
 kehu ha sono yo ni ahu kokoti si te"

 Koto ni tukurohi te mo ara nu ohom-kakizama nare do, ate ni kedakaki ha omohinasi naru besi. Sudi kahari imamekasiu ha ara ne do, hito ni ha koto ni kaka se tamahe ri. Kehu ha, kono ohom-koto mo omohiketi te, ahare naru yuki no siduku ni nure nure okonahi tamahu.

 [5-2 Fujitsubo becommes a nun after her Hokehako ceremony]

 Sihasu no towo-yo-ka bakari, Tiuguu no miha'kau nari. Imiziu tahutosi. Hibi ni kuyauze sase tamahu mikyau yori hazime, tama no diku, ra no heusi, disu no kazari mo, yo ni naki sama ni totonohe sase tamahe ri. Saranu koto no kiyora dani, yo no tune nara zu ohasimase ba, masite kotowari nari. Hotoke no ohom-kazari, hana-dukuye no ohohi nado made, makoto no Gokuraku omohiyara ru.

 Hazime no hi ha, Sendai no goreu. Tugi no hi ha, Hahakisaki no ohom-tame. Mata no hi ha, Win no goreu. Gokwan no hi nare ba, Kamdatime nado mo, yo no tutumasisa wo e simo habakari tamaha de, ito amata mawiri tamahe ri. Kehu no Kauzi ha, kokoro koto ni era se tamahe re ba, "Takigi koru" hodo yori uti-hazime, onaziu ihu kotonoha mo, imiziu tahutosi. Miko-tati mo, samazama no houmoti sasage te meguri tamahu ni, Daisyau-dono no ohom-youi nado, naho niru mono nasi. Tune ni onazi koto no yau nare do, mi tatematuru tabi goto ni, medurasikara m wo ba, ikaga ha se m.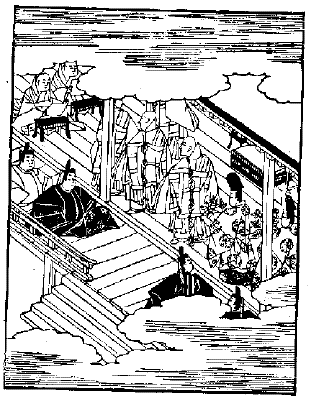 Hate no hi, waga ohom-koto wo ketigwan nite, yo wo somuki tamahu yosi, Hotoke ni mausa se tamahu ni, mina hitobito odoroki tamahi nu. Hyaubukyau-no-Miya, Daisyau no mikokoro mo ugoki te, asamasi to obosu.

 Miko ha, nakaba no hodo ni tati te, iri tamahi nu. Kokoroduyou obositatu sama notamahi te, haturu hodo ni, Yama-no-Zasu mesi te, imu-koto uke tamahu beki yosi, notamaha su. Ohom-wodi no Yokaha-no-Soudu, tikau mawiri tamahi te, migusi orosi tamahu hodo ni, Miya no uti yusuri te, yuyusiu naki miti tari. Nani to naki oyi otorohe taru hito dani, ima-ha to yo wo somuku hodo ha, ayasiu ahare naru waza wo, masite, kanete no mikesiki ni mo idasi tamaha zari turu koto nare ba, Miko mo imiziu naki tamahu.
 Mawiri tamahe ru hitobito mo, ohokata no koto no sama mo, aharei tahutokere ba, mina, sode nurasi te zo kaheri tamahi keru.

 Ko-Win no Miko-tati ha, mukasi no ohom-arisama wo obosi iduru ni, itodo, ahare ni kanasiu obosa re te, mina, toburahi kikoye tamahu. Daisyau ha, tatitomari tamahi te, kikoye ide tamahu beki kata mo naku, kuremadohi te obosa rure do, "Nadoka, sasimo." to, hito mitatematuru bekere ba, Miko nado ide tamahi nuru noti ni zo, omahe ni mawiri tamahe ru.

 Yauyau hito sidumari te, nyoubau-domo, hana uti-kami tutu, tokorodokoro ni mure wi tari. Tuki ha kuma naki ni, yuki no hikari ahi taru niha no arisama mo, mukasi no koto omohi yara ruru ni, ito tahegatau obosa rure do, ito you obosi sidume te,
 "Ikayau ni obosi tata se tamahi te, kau nihaka ni ha?"
 to kikoye tamahu.
 "Ima hazime te, omohi tamahuru koto ni mo ara nu wo, mono-sawagasiki yau nari ture ba, kokoro midare nu beku."
 nado, rei no, Myaubu site kikoye tamahu.
 Misu no uti no kehahi, sokora tudohi saburahu hito no kinu no otonahi, simeyaka ni hurumahi nasi te, uti-miziroki tutu, kanasigesa no nagusame gatage ni mori kikoyuru kesiki, kotowari ni, imizi to kiki tamahu.

 Kaze, hagesiu huki hubuki te, misu no uti no nihohi, ito mono-hukaki kurobou ni simi te, myaugau no keburi mo honoka nari. Daisyau no ohom-nihohi sahe kawori ahi, medetaku, Gokuraku omohiyara ruru yo no sama nari.
 Touguu no ohom-tukahi mo mawire ri. Notamahi si sama, omohi ide kikoye sase tamahu ni zo, mikokoroduyosa mo tahegataku te, ohom-kaheri mo kikoye sase yara se tamaha ne ba, Daisyau zo, koto kuhahe kikoye tamahi keru.
 Tare mo tare mo, aru kagiri kokoro wosamara nu hodo nare ba, obosu koto-domo mo, e uti-ide tamaha zu.

 "Tuki no sumu kumowi wo kake te sitahu tomo
 konoyo no yami ni naho ya madoha m
 to omohi tamahe ra ruru koso, kahinaku. Obositata se tamahe ru uramesisa ha, kagirinau."

 to bakari kikoye tamahi te, hitobito tikau saburahe ba, samazama midaruru kokoro no uti wo dani, e kikoye arahasi tamaha zu, ibusesi.

 "Ohohukata no uki ni tuke te ha itohe domo
 ituka konoyo wo somuki hatu beki
 Katu, nigori tutu."

 nado, katahe ha ohom-tukahi no kokorosirahi naru besi. Ahare nomi tukise ne ba, mune kurusiu te makade tamahi nu.

 [5-3 Genji is left behind Fujitsbo gotten into religion]

 Tono nite mo, waga ohom-kata ni hitori uti-husi tamahi te, ohom-me mo aha zu, yononaka itohasiu obosa ruru ni mo, Touguu no ohom-koto nomi zo kokorogurusiki.
 "Hahamiya wo dani ohoyakegata zama ni to, obosioki si wo, yo no usa ni tahe zu, kaku nari tamahi ni tare ba, moto no mikurawi nite mo e ohase zi. Ware sahe mi tatematuri sute te ha." nado, obosi akasu koto kagirinasi.

 "Ima ha, kakaru kata zama no miteudo-domo wo koso ha." to obose ba, tosi no uti ni to, isoga se tamahu. Myaubu-no-Kimi mo ohom-tomo ni nari ni kere ba, sore mo kokorohukau toburahi tamahu. Kuhasiu ihi tuduke m ni, kotokotosiki sama nare ba, morasi te keru na' meri. Saruha, kauyau no wori koso, wokasiki uta nado ide kuru yau mo are, sauzausi ya!
 Mawiri tamahu mo, ima ha tutumasisa usuragi te, ohom-midukara kikoye tamahu wori mo ari keri. Omohisime te si koto ha, sarani mikokoro ni hanare ne do, masite, aru maziki koto nari kasi.

6 Tale of Hikaru-Genji
[6-1 It becomes a happy New Year]
 Tosi mo kahari nure ba, Uti watari hanayaka ni, naien, tahuka nado kiki tamahu mo, mono nomi ahare nite, ohom-okonahi simeyaka ni si tamahi tutu, noti-no-yo no koto wo nomi obosu ni, tanomosiku, mutukari si koto, hanare te omohosa ru. Tune no ohom-nenzudau wo ba saru mono nite, koto ni tate rare taru midau no, nisi-no-tai no minami ni atari te, sukosi hanare taru ni watara se tamahi te, toriwaki taru ohom-okonahi se sase tamahu.

 Daisyau, mawiri tamahe ri. Aratamaru sirusi mo naku, Miya no uti nodoka ni, hitome mare nite, Miyadukasa-domo no sitasiki bakari, uti-unadare te, minasi ni ya ara m, ku'si itage ni omohe ri.
 Awomuma bakari zo, naho hiki-kahe nu mono nite, nyoubau nado no mi keru. Tokoroseu mawiri tudohi tamahi si Kamdatime nado, miti wo yoki tutu hiki-sugi te, mukahi no Ohoidono ni tudohi tamahu wo, kakaru beki koto nare do, ahare ni obosa ruru ni, sen-nin ni mo kahe tu beki ohom-sama nite, hukau tadune mawiri tamahe ru wo miru ni, ainaku namidagumaru.

 Marauto mo, ito mono-ahare naru kesiki ni, uti-mimahasi tamahi te, tomi ni mono mo notamaha zu. Sama kahare ru ohom-sumahi ni, misu no hasi, mikityau mo awonibi nite, hima hima yori hono-miye taru usunibi, kutinasi no sodeguti nado, nakanaka namamekasiu, okuyukasiu omohiyara re tamahu. "Toke wataru ike no usugohori, kisi no yanagi no kesiki bakari ha, toki wo wasure nu." nado, samazama nagame rare tamahi te, "Mube mo kokoro aru." to, sinobiyaka ni uti-zuzi tamahe ru, mata nau namamekasi.

 "Nagame karu ama no sumika to miru kara ni
 madu sihotaruru Matu-ga-urasima"

 to kikoye tamahe ba, okuhukau mo ara zu, mina Hotoke ni yuduri kikoye tamahe ru omasi dokoro nare ba, sukosi kedikaki kokoti si te,

 "Arisi yo no nagori dani naki Urasima ni
 tatiyoru nami no medurasiki kana"

 to notamahu mo, hono-kikoyure ba, sinobure do, namida horohoro to kobore tamahi nu. Yo wo omohi sumasi taru Amagimi-tati no miru ram mo, hasitanakere ba, koto zukuna nite ide tamahi nu.
 "Samo, taguhinaku nebimasari tamahu kana!"
 "Kokoromotonaki tokoro naku yo ni sakaye, toki ni ahi tamahi si toki ha, saru hitotu mono nite, nani ni tukete ka yo wo obosi sira m to, osihakara re tamahi si wo."
 "Ima ha ito itau obosi sidume te, hakanaki koto ni tuke te mo, mono-ahare naru kesiki sahe soha se tamahe ru ha, ainau kokorogurusiu mo aru kana!"
 nado, oyi sirahe ru hitobito, uti-naki tutu, mede kikoyu. Miya mo obosi iduru koto ohokari.

 [6-2 A group of Genji are obliged to have unfortunate life]

 Tukasamesi no koro, kono Miya no hito ha, tamaha ru beki tukasa mo e zu, ohokata no dauri nite mo, Miya no ohom-tamahari nite mo, kanarazu aru beki kakai nado wo dani se zu nado si te, nageku taguhi ito ohokari. Kakute mo, itusika to ohom-kurawi wo sari, mihu nado no tomaru beki ni mo ara nu wo, kototuke te kaharu koto ohokari. Mina kanete obosi sute te si yo nare do, Miyabito-domo mo, yoridokoro nage ni kanasi to omohe ru kesiki-domo ni tuke te zo, mikokoro ugoku woriwori are do, "Waga mi wo naki ni nasi te mo, Touguu no miyo wo tahiraka ni ohasimasa ba." to nomi obosi tutu, ohom-okonahi tayumi naku tutome sase tamahu.
 Hitosirezu ayahuku yuyusiu omohi kikoye sase tamahu koto si are ba, "Ware ni sono tumi wo karome te, yurusi tamah." to, Hotoke wo nenzi kikoye tamahu ni, yorodu wo nagusame tamahu.
 Daisyau mo, sika mi tatematuri tamahi te, kotowari ni obosu. Kono Tono no hito-domo mo, mata onaziki sama ni, karaki koto nomi are ba, yononaka hasitanaku obosa re te, komori ohasu.

 Hidari-no-Otodo mo, ohoyake watakusi hiki-kahe taru yo no arisama ni, mono-uku obosi te, tizi-no-heu tatematuri tamahu wo, Mikado ha, ko-Win no yamgotonaku omoki ohom-usiromi to obosi te, nagaki yo no katame to kikoye oki tamahi si ohom-yuigon wo obosimesu ni, sute gataki mono ni omohi kikoye tamahe ru ni, kahinaki koto to, tabitabi motiwi sase tamaha ne do, semete kahesahi mausi tamahi te, komori wi tamahi nu.
 Ima ha, itodo hitozou nomi, kahesu gahesu sakaye tamahu koto, kagiri nasi. Yo no omosi to monosi tamahe ru Otodo no, kaku yo wo nogare tamahe ba, Ohoyake mo kokorobosou obosa re, yo no hito mo, kokoro aru kagiri ha nageki keri.

 Miko-domo ha, idure to mo naku hitogara meyasuku yo ni motiwi rare te, kokotiyoge ni monosi tamahi si wo, koyonau sidumari te, Samwi-no-Tiuzyau nado mo, yo wo omohi sidume ru sama, koyonasi. Kano Si-no-Kimi wo mo, naho, karegare ni uti-kayohi tutu, mezamasiu motenasa re tare ba, kokorotoke taru ohom-muko no uti ni mo ire tamaha zu. Omohisire to ni ya, konotabi no tukasamesi ni mo more nure do, ito simo omohi ire zu.

 Daisyau-dono, kau siduka nite ohasuru ni, yo ha hakanaki mono to miye nuru wo, masite kotowari, to obosi nasi te, tune ni mawiri kayohi tamahi tutu, gakumon wo mo asobi wo mo, morotomoni si tamahu.
 Inisihe mo, monoguruhosiki made, idomi kikoye tamahi si wo obosi ide te, katamini ima mo hakanaki koto ni tuke tutu, sasugani idomi tamahe ri.

 Haru aki no midokyau wo ba saru mono nite, rinzi ni mo, samazama tahutoki koto-domo wo se sase tamahi nado si te, mata, itadura ni itoma arige naru Hakase-domo mesi atume te, humitukuri, winhutagi nado yau no susabiwaza-domo wo mo si nado, kokoro wo yari te, miyadukahe wo mo wosawosa si tamaha zu, mikokoro ni makase te uti-asobi te ohasuru wo, yononaka ni ha, wadurahasiki koto-domo yauyau ihi iduru hitobito aru besi.

 [6-3 Genji and his friends play with a game of In-futagi]

 Natu no ame, nodoka ni huri te, turedure naru koro, Tiuzyau, sarubeki sihu-domo amata motase te mawiri tamahe ri. Tono ni mo, hudono ake sase tamahi te, mada hiraka nu midusi-domo no, medurasiki kosihu no yuwe nakara nu, sukosi eri ide sase tamahi te, sono miti no hitobito, wazato ha ara ne do amata mesi tari. Tenzyaubito mo Daigaku no mo, ito ohou tudohi te, hidari migi ni komadori ni kata waka se tamahe ri. Kakemono-domo nado, ito ninaku te, idomi ahe ri.

 Hutagi mote-yuku mama ni, kataki win no mozi-domo ito ohoku te, oboye aru Hakase-domo nado no madohu tokorodokoro wo, tokidoki uti-notamahu sama, ito koyonaki ohom-zae no hodo nari.
 "Ikade, kau simo tarahi tamahi kem!"
 "Naho sarubeki nite, yorodu no koto, hito ni sugure tamahe ru nari keri!"
 to, mede kikoyu. Tuhini, migi make ni keri.

 Hutuka bakari ari te, Tiuzyau makewaza si tamahe ri. Kotokotosiu ha ara de, namameki taru hiwarigo-domo, kakemono nado samazama nite, kehu mo rei no hitobito, ohoku mesi te, humi nado tukura se tamahu.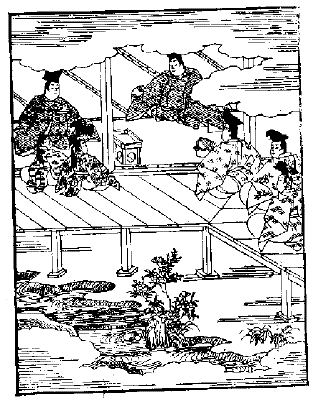 Hasi no moto no saubi, kesiki bakari saki te, haru aki no hanazakari yori mo simeyaka ni wokasiki hodo naru ni, utitoke asobi tamahu.
 Tiuzyau-no-miko no, kotosi hazimete tenzyau suru, yatu, kokonotu bakari nite, kowe ito omosiroku, sau no hue huki nado suru wo, utukusibi mote-asobi tamahu. Si-no-Kimi bara no zirau nari keri. Yonohito no omohe ru yose omoku te, oboye koto ni kasiduke ri. Kokorobahe mo kadokadosiu, katati mo wokasiku te, ohom-asobi no sukosi midare yuku hodo ni, Takasago wo idasi te utahu, ito utukusi. Daisyau-no-Kimi, ohom-zo nugi te kaduke tamahu.

 Rei yori ha, uti-midare tamahe ru ohom-kaho no nihohi, niru mono naku miyu. Usumono no nahosi, hitohe wo ki tamahe ru ni, suki tamahe ru hadatuki, masite imiziu miyuru wo, tosi oyi taru Hakase-domo nado, tohoku mi tatematuri te, namida otosi tutu wi tari. "Aha masi mono wo, sayuri ba no" to utahu todime ni, Tiuzyau, ohom-kaharake mawiri tamahu.

 "Sore mo ga to kesa hirake taru hatuhana ni
 otora nu Kimi ga nihohi wo zo miru"

 Hohowemi te, tori tamahu.

 "Toki nara de kesa saku hana ha natu no ame ni
 siwore ni ke' rasi nihohu hodo naku

 Otorohe ni taru mono wo."
 to, uti-saudoki te, raugahasiku kikosimesi nasu wo, togame ide tutu, sihi kikoye tamahu.

 Ohoka' meri si koto-domo mo, kauyau naru wori no maho nara nu koto, kazukazu ni kaki tukuru, kokotinaki waza to ka, Turayuki ga isame, taururu kata nite, mutukasikere ba, todome tu. Mina, kono ohom-koto wo home taru sudi ni nomi, Yamato no mo Kara no mo tukuri tuduke tari. Waga mikokoti ni mo, itau obosi ogori te,
 "Bunwau no ko, Buwau no otouto."
 to, uti-zuzi tamahe ru ohom-nanori sahe zo, geni medetaki. "Seiwau no nani" to ka, notamaha m to su ram? Sore bakari ya, mata kokoromotonakara m.

 Hyaubukyau-no-Miya mo tune ni watari tamahi tutu, ohom-asobi nado mo, wokasiu ohasuru Miya nare ba, imamekasiki ohom-asobi-domo nari.

7 Tale of Oborozukiyo Their secret meeting in summer-rain is discovered by Udaijin
[7-1 Genji and Oborozukiyo's secret meeting is discovered by her father]
 Sonokoro, Kam-no-Kimi makade tamahe ri. Warahayami ni hisasiu nayami tamahi te, mazinahi nado mo kokoroyasuku se m tote nari keri. Suhohu nado hazime te, okotari tamahi nure ba, tare mo tare mo, uresiu obosu ni, rei no, medurasiki hima naru wo to, kikoye kahasi tamahi te, warinaki sama nite, yonayona taimen si tamahu.
 Ito sakari ni, nigihahasiki kehahi si tamahe ru hito no, sukosi uti-nayami te, yase yase ni nari tamahe ru hodo, ito wokasige nari.
 Kisai-no-Miya mo hitotokoro ni ohasuru koro nare ba, kehahi ito osorosikere do, kakaru koto simo masaru ohom-kuse nare ba, ito sinobi te, tabikasanari yuke ba, kesiki miru hitobito mo aru beka' mere do, wadurahasiu te, Miya ni ha, sa nam to keise zu.

 Otodo, hata omohikake tamaha nu ni, ame nihakani odoroodorosiu huri te, Kami itau nari sawagu akatuki ni, Tono no Kimdati, Miyadukasa nado tati-sawagi te, konata kanata no hitome sigeku, nyoubau-domo mo odi madohi te, tikau tudohi mawiru ni, ito warinaku, ide tamaha m kata naku te, ake hate nu.
 Mityau no meguri ni mo, hitobito sigeku nami wi tare ba, ito mune tuburahasiku obosa ru. Kokorosiri no hito hutari bakari, kokoro wo madoha su.

 Kami nari yami, ame sukosi woyami nuru hodo ni, Otodo watari tamahi te, madu, Miya no ohom-kata ni ohasi keru wo, murasame no magire nite e siri tamaha nu ni, karoraka ni huto hahi-iri tamahi te, misu hikiage tamahu mama ni,
 "Ikani zo? Ito utate ari turu yo no sama ni, omohiyari kikoye nagara, mawiri ko de nam. Tiuzyau, Miya-no-Suke nado, saburahi tu ua?"
 nado, notamahu kehahi no, sitado ni ahatukeki wo, Daisyau ha, mono-no-magire ni mo, Hidari-no-Otodo no ohom-arisama, huto, obosi-kurabe rare te, tatosihe nau zo, hohowema re tamahu. Geni, iri hate te mo notamahe kasi na.

 Kam-no-Kimi, ito wabisiu obosa re te, yawora wizari ide tamahu ni, omote no itau akami taru wo, "Naho nayamasiu obosa ruru ni ya?" to mi tamahi te,
 "Nado, mikesiki no rei nara nu? Mononoke nado no mutukasiki wo, Suhohu nobe sasu bekari keri."
 to notamahu ni, usu-hutaawi naru obi no, ohom-zo ni matuha re te hikiide rare taru wo, mituke tamahi te, ayasi to obosu ni, mata tatamgami no tenarahi nado si taru, mikityau no moto ni oti tari. "Kore ha ikanaru mono-domo zo?" to, mikokoro odoroka re te,
 "Kare ha, tare ga zo? Kesiki koto naru mono no sama kana! Tamahe. Sore tori te taga zo to mi habera m."
 to notamahu ni zo, uti-mikaheri te, ware mo mituke tamahe ru. Magirahasu beki kata mo nakere ba, ikaga ha irahe kikoye tamaha m. Ware ni mo ara de ohasuru wo, "Ko nagara mo hadukasi to obosu ram kasi." to, sabakari no hito ha, obosi habakaru beki zo kasi. Saredo, ito kihuni, nodome taru tokoro ohase nu Otodo no, obosi mo mahasa zu nari te, tataugami wo tori tamahu mama ni, kityau yori miire tamahe ru ni, ito itau nayobi te, tutumasikara zu sohihusi taru wotoko mo ari. Ima zo, yawora kaho hiki-kakusi te, tokau magirahasu. Asamasiu, mezamasiu kokoroyamasikere do, hitaomote ni ha, ikadeka arahasi tamaha m? Me mo kururu kokoti sure ba, kono tatamgami wo tori te, sinden ni watari tamahi nu.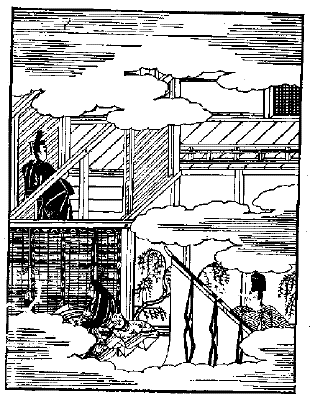 Kam-no-Kimi ha, wareka no kokoti si te, sinu beku obosa ru. Daisyau-dono mo, "Itohosiu, tuhini you naki hurumahi no tumori te, hito no modoki wo oha m to suru koto." to obose do, Omnagimi no kokorogurusiki mikesiki wo, tokaku nagusame kikoye tamahu.

 [7-2 Udaijin wants to banish Genji from the Court]

 Otodo ha, omohi no mama ni, kome taru tokoro ohase nu honzyau ni, itodo oyi no ohom-higami sahe sohi tamahu ni, kore ha nanigoto ni ka ha todokohori tamaha m. Yukuyuku to, Miya ni mo urehe kikoye tamahu.

 "Kaukau no koto nam haberu. Kono tatamgami ha, Udaisyau no mite nari. Mukasi mo, kokoro yurusa re de arisome ni keru koto nare do, hitogara ni yorodu no tumi wo yurusi te, satemo mi m to, ihi haberi si wori ha, kokoro mo todome zu, mezamasige ni motenasa re ni sika ba, yasukara zu omohi tamahe sika do, saru beki ni koso ha tote, yo ni kegare tari tomo, obosi sutu maziki wo tanomi nite, kaku ho'i no gotoku tatematuri nagara, naho, sono habakari ari te, ukebari taru Nyougo nado mo ihase tamaha nu wo dani, akazu kutiwosiu omohi tamahuru ni, mata, kakaru koto sahe haberi kere ba, sarani ito kokorouku nam omohi nari haberi nuru. Wotoko no rei to ha ihi nagara, Daisyau mo ito kesikara nu mikokoro nari keri. Saiwin wo mo naho kikoye wokasi tutu, sinobi ni ohom-humi kayohasi nado si te, kesiki aru koto nado, hito no katari haberi si wo mo, yo no tame nomi ni mo ara zu, waga tame mo yokaru maziki koto nare ba, yo mo saru omohi-yari naki waza, si ide rare zi to nam, toki no iusoku to amenosita wo nabikasi tamahe ru sama, koto na' mere ba, Daisyau no mikokoro wo, utagahi habera zari turu."

 nado, notamahu ni, Miya ha, itodosiki mikokoro nare ba, ito monosiki mikesiki nite,

 "Mikado to kikoyure do, mukasi yori minahito omohi otosi kikoye te, Tizi-no-Otodo mo, matanaku kasiduku hitotu Musume wo, konokami no Bau nite ohasuru ni ha tatematura de, otouto no Genzi nite, itokinaki ga genpuku no sohibusi ni toriwaki, mata, kono Kimi wo mo miyadukahe ni to kokorozasi te haberi si ni, wokogamasikari si arisama nari si wo, tare mo tare mo ayasi to yaha obosi tari si. Mina, kano mikata ni koso mikokoroyose haberu meri si wo, sono ho'i tagahu sama nite koso ha, kaku te mo saburahi tamahu mere do, itohosisa ni, ikade saru kata nite mo, hito ni otora nu sama ni motenasi kikoye m, sabakari netage nari si hito no miru tokoro mo ari, nado koso ha omohi haberi ture do, sinobi te waga kokoro no iru kata ni, nabiki tamahu ni koso ha habera me. Saiwin no ohom-koto ha, masite samo ara m. Nanigoto ni tuke te mo, ohoyake no ohom-kata ni usiro yasukara zu miyuru ha, Touguu no miyo, kokoroyose koto naru hito nare ba, kotowari ni nam a' meru."

 to, sukusukusiu notamahi tudukuru ni, sasugani itohosiu, "Nado, kikoye turu koto zo." to, obosa rure ba,
 "Sahare, sibasi, kono koto morasi habera zi. Uti ni mo souse sase tamahu na. Kaku no goto, tumi haberi tomo, obosi sutu maziki wo tanomi nite, amaye te haberu naru besi. Utiuti ni seisi notamaha m ni, kiki habera zu ha, sono tumi ni, tada midukara atari habera m."
 nado, kikoye nahosi tamahe do, kotoni mikesiki mo nahora zu.
 "Kaku, hitotokoro ni ohasi te hima mo naki ni, tutumu tokoro naku, sate iri monose raru ram ha, kotosarani karome rouze raruru ni koso ha." to obosi nasu ni, itodo imiziu mezamasiku, "Kono tuide ni, saru beki koto-domo kamahe ide m ni, yoki tayori nari." to, obosi megurasu besi.

to HomePage
Classic Text
Modern Version
Original Text(Ohoshima-bon)
Teika's Note

---